Ginger milk tea is a warming and comforting brew and is easy to prepare at home. It fills your kitchen with fragrance and is ready in less than 15 minutes.
Customize it with dairy or plant milk, caffeinated or decaf tea, and any sweetener.
Drink it in the morning for an energizing metabolic boost or in the early afternoon to give your day a lift!
As an Amazon Associate, I earn from purchases made through links in this blog at no increased cost to you. Thank you!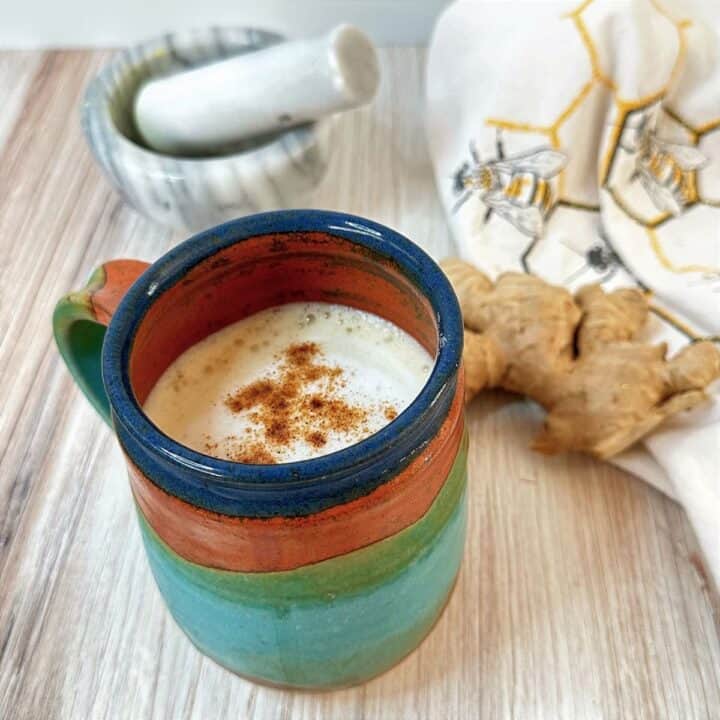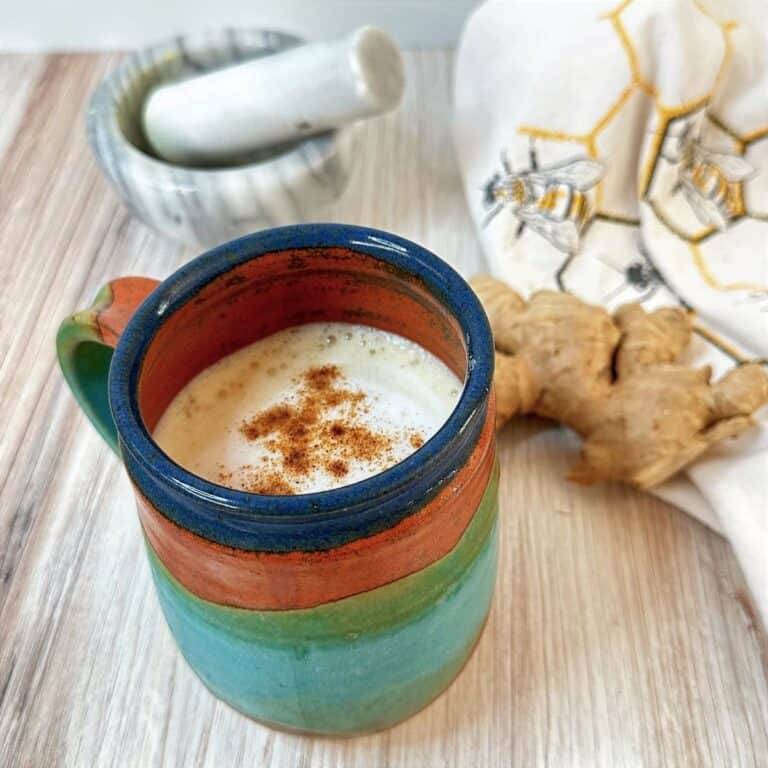 Ingredients
Water
Ginger root
Black Tea
Milk
Sweetener
These are the basic, necessary ingredients. Add any spices you enjoy, especially cinnamon or cardamom.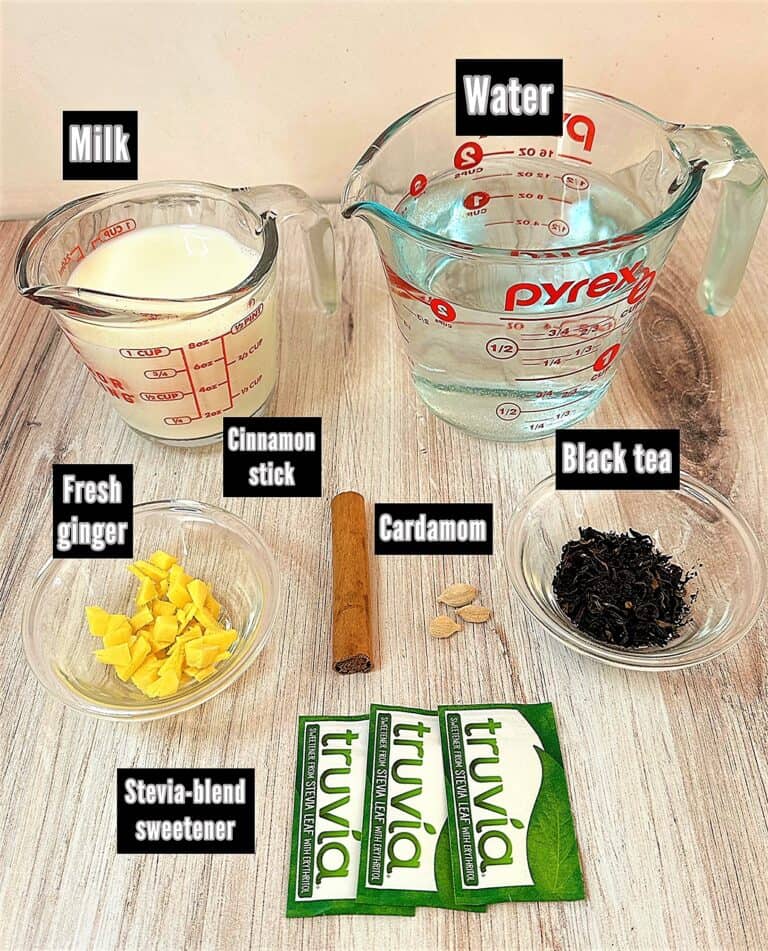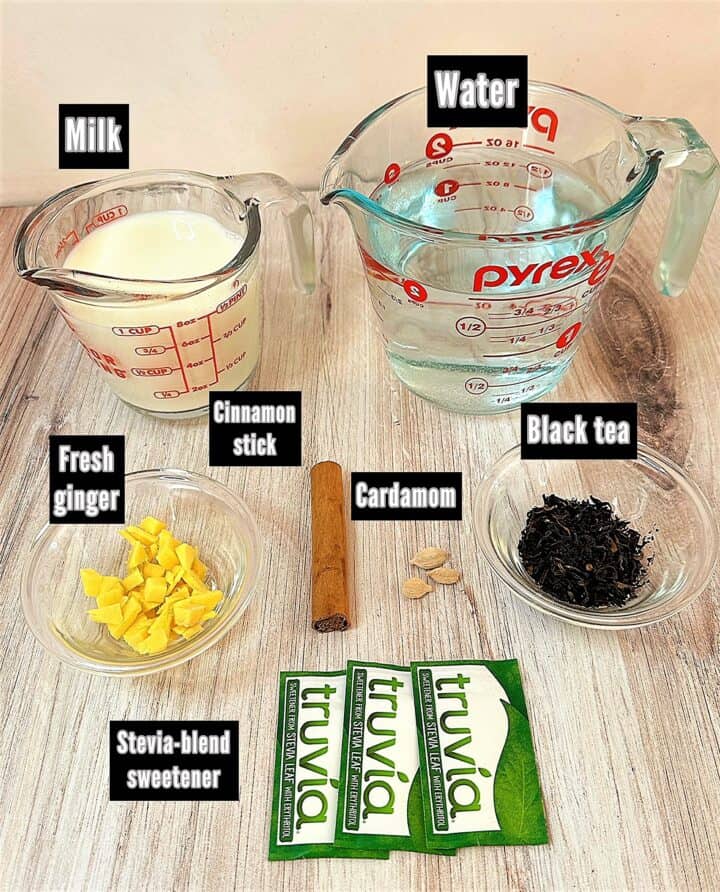 Ginger root: Prepare by peeling and chopping into small pieces. Using a mortar and pestle or the side of a knife (BE CAREFUL!), crush the ginger pieces to release the juices.
Tea: Use loose tea leaves or good-quality bags of tea. Black Assam teas like English Breakfast are most commonly used for ginger milk tea, but you can select a decaf variety. Or you can choose a lighter tea like Darjeeling or green tea.
I like the loose-leaf teas from the New Mexico Tea Company. I used their New Mexico Breakfast Blend in this recipe, which combines Assam and Darjeeling black teas.
Twinings English Breakfast is Assam and would be tasty in this tea.
Sweetener: Stevia-based sweeteners are delicious and save grams of sugar and carbohydrates. Granulated sugar, honey, maple syrup, and agave syrup are also delicious.
One teaspoon per cup is a general guide. Use as much or little as pleases your tastebuds!
Milk: Dairy milk is traditional, but cashew and oat milk have a nice creaminess if you prefer plant milk. More care is necessary when heating plant-based milks because they split when boiled.
Other spices: I love to add a stick of cinnamon or sprinkle the spice over the top of the finished milk tea. Include crushed green cardamom if you like the flavor of chai tea.
How to make
Boil water in a small saucepan with the crushed ginger pieces (and cardamom, if you want this spice) until the water becomes lightly colored. If adding sugar, boil for another minute or two until the sugar dissolves.
Add the tea leaves and cinnamon stick (if desired). Cover and steep for four minutes if you're using black tea; lighter teas will need less time. Add stevia-based or liquid sweetener and stir.
While the tea steeps, heat the milk on the stovetop, microwave, or a frother. If using plant milk, heat it just below the boiling point so it doesn't split.
Pour the ginger tea through a sieve to remove all solids (ginger, cardamom pods, tea leaves, and cinnamon stick).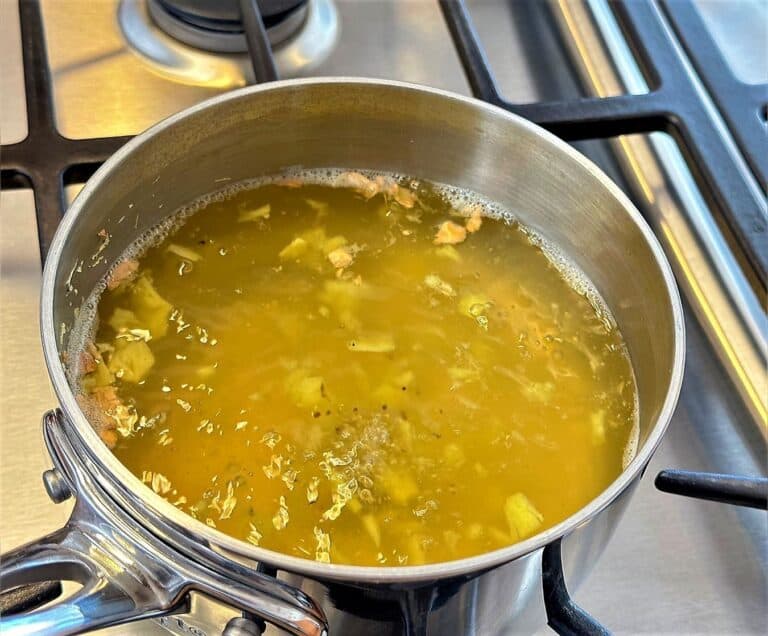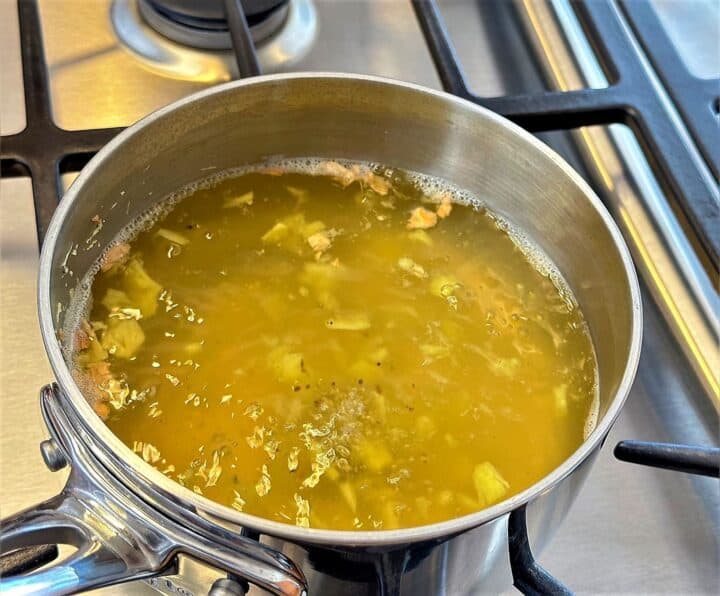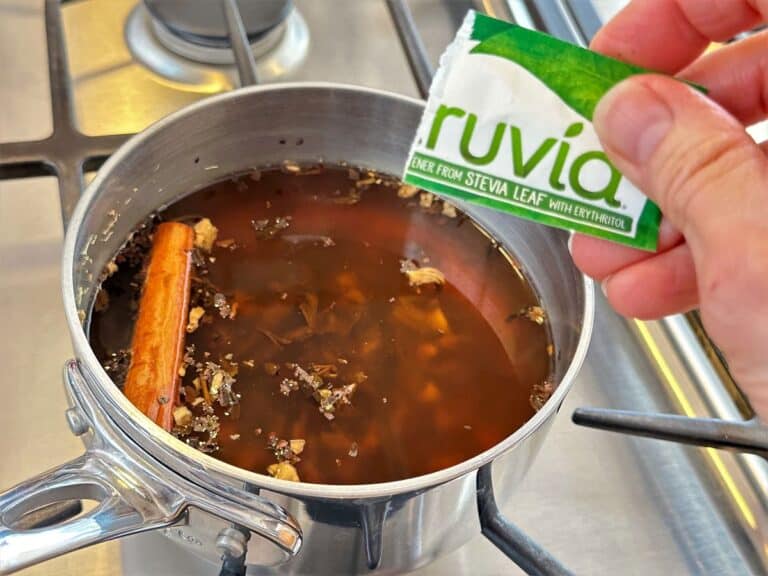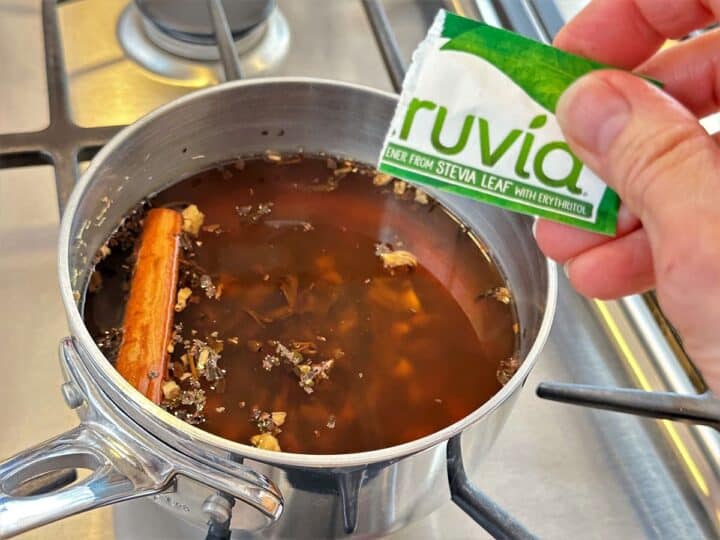 Fill your favorite mug halfway with the ginger tea and top with hot milk. Sip the creamy, comforting milk tea by itself, or enjoy it with breakfast or tea snacks!
Equipment needs
Small saucepan: A one-quart saucepan works well for this recipe.
Mortar and pestle: Use a small one to crush the ginger and the cardamom pods.
Medium sieve: This is necessary to remove the ginger bits, tea leaves, and other whole spices. If you use tea bags, you may be able to use a smaller sieve.
Milk frother: This is completely optional but a nice addition if you will use it for other delicious hot drinks, like lattes and cappuccinos.
How to store
Milk ginger tea is best when you drink it fresh. Sip it immediately after adding the hot milk.
If you want to prep for later, make the ginger black tea base and refrigerate it in an airtight container for a day or two.
Reheat the black ginger tea and heat or froth the milk when ready for a cuppa!
Black ginger tea is also delicious without milk. Enjoy it hot or iced.
Variations
Decaf teas: If caffeine is not your jam, choose a rooibos or herbal tea instead of a black variety. This is especially wise in the afternoon when the lingering effects of caffeine may keep you from falling asleep at bedtime.
Green tea or lighter varieties of black tea: Ginger milk tea is tasty with green teas and with Darjeeling or Oolong teas.
😝 Unsavory choices: Earl Grey and Lady Grey teas have a bergamot flavor that is not complementary.
Spicing: Boil crushed green cardamom pods with the ginger pieces to make your milk tea taste more chai-like.
Use a cinnamon stick in the ginger tea base, or sprinkle the powdered spice on top of your cuppa. A grating of nutmeg is nice, too!
Origins of ginger tea
The roots (pun intended) of ginger tea are Asian. Medical traditions in China, India, and Japan have included ginger for thousands of years.
You'll find the brew in Traditional Chinese Medicine and Indian healing (Ayurveda) and culinary traditions. In India, it's called Adrak Chai, which is Hindi for ginger tea. With milk, it is Adrak wali Chai.
Chai is the Hindi word for tea.
In America, the usual type of chai tea (a la Starbucks) is based on Masala Chai, which features strong black tea mixed with cardamom, and other spices.
Nutrition benefits and bonuses
😲 WOW! Where to start? Combining ginger with black tea and milk is a potent health-giving symbiosis. It's hydrating and loaded with antioxidants, polyphenols, catechins, vitamins, minerals, and many micronutrients!
Ginger: Ginger contains more than 400 chemical compounds. Some are responsible for the fresh, vital aroma and others have nutritional health benefits.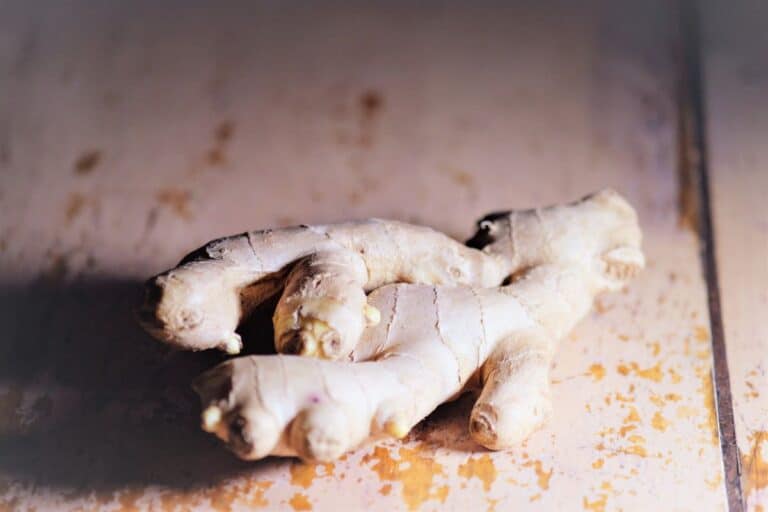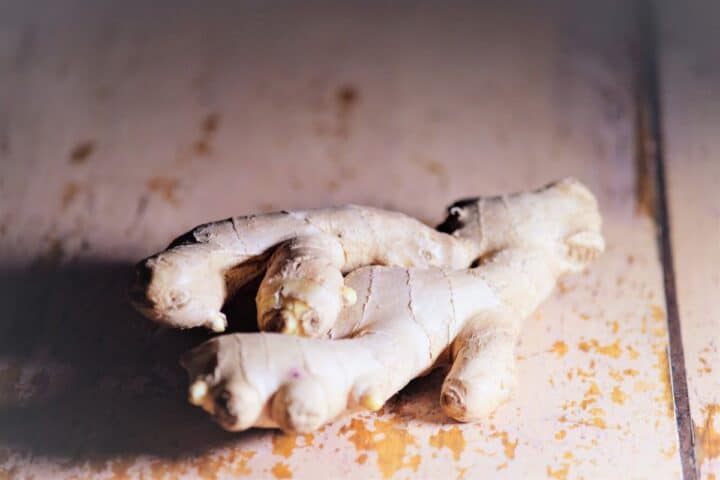 The effects of ginger are anti-inflammatory. Eastern medicine traditions employ ginger as an overall calming and warming tonic. Likely, the antioxidants and phenolic compounds are responsible.
Ginger tea is a Chinese remedy for the common cold and sore throat. In India, it's sometimes used for soothing digestion. (Source)
Anti-inflammatory effects may reduce osteoarthritis and muscle pain following exercise. (Source)
Weight-loss: A recent review found that it decreases body weight in obesity and increases HDL-cholesterol (good cholesterol), which could help with heart disease. (Source)
Nausea control: It's often recommended for morning sickness, but probably is not effective for motion sickness and chemotherapy nausea.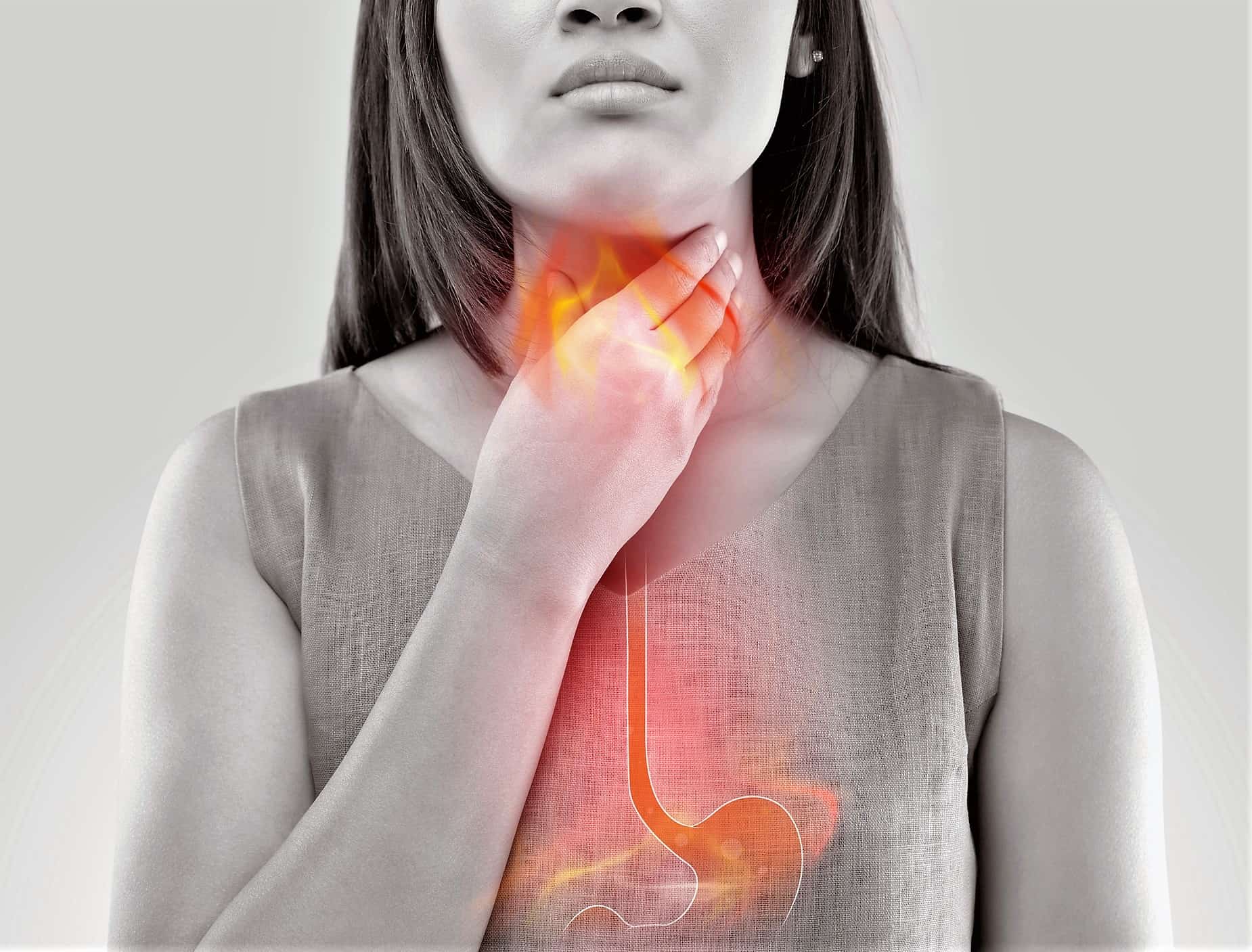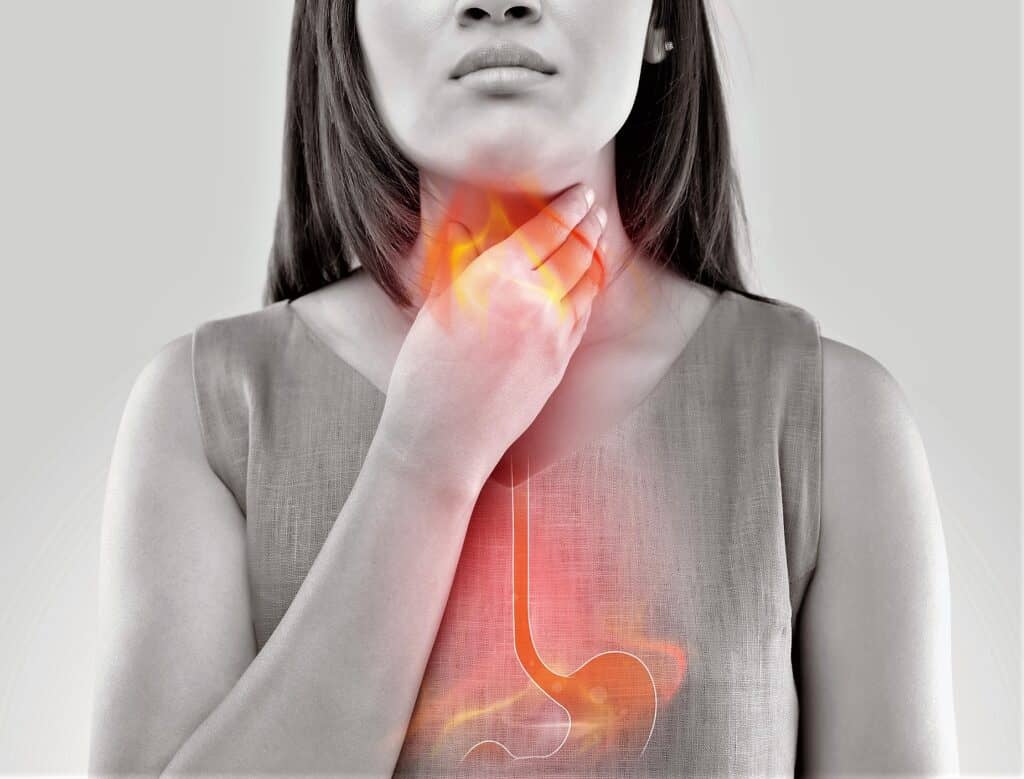 Digestion, including heartburn and acid reflux: The anti-inflammatory effects may help conditions like acid reflux by reducing irritation and gastric contractions. (Source)
Cutting the tea with milk may help ease digestion if you routinely combat acid reflux or GERD.
Note: Large amounts of ginger may cause stomach irritation, which is one reason taking it in tea may be more helpful than eating raw ginger or downing it as a supplement.
Other benefits of ginger milk tea
💪🏽💪🏽 Calcium and protein: Thanks to the addition of milk, you'll get help keeping your bones and muscles strong. Depending on the type of milk, it also adds many micronutrients and vitamins.
Black tea is known to offer a large number of polyphenols and antioxidants that have benefits.
⚡⚡ Caffeine and L-theanine: These chemicals keep you alert and focused. There's supporting evidence black tea may also fight cancer, improve gut health, and bump up your metabolism. (Source)
You can hope for reducing blood sugar and cholesterol levels and lessening the risks of kidney stones and osteoporosis, but there's less support for these plus points.
⚠ Caution when combining ginger with medications
Blood-thinners: Ginger may increase the risk of bleeding if you take blood thinners, such as Coumadin or Plavix. So, while it's okay to enjoy ginger milk tea once in while, don't drink the tea every day if you also take a blood thinner.
Low blood sugar: Ginger may interact with medications used for type 2 diabetes and increase their effect, causing hypoglycemia.
Low blood pressure: Ginger can increase the effect of medicines for high blood pressure, causing low blood pressure and even an irregular heartbeat.
About 3 to 4 grams of ginger per day is thought to be safe. (Source)

FAQs
🥛 Is it okay to mix ginger with milk?
Ginger contains a protease enzyme that causes milk to curdle when heated together. (Source) The ginger milk tea recipe below heats the milk separately to avoid this problem.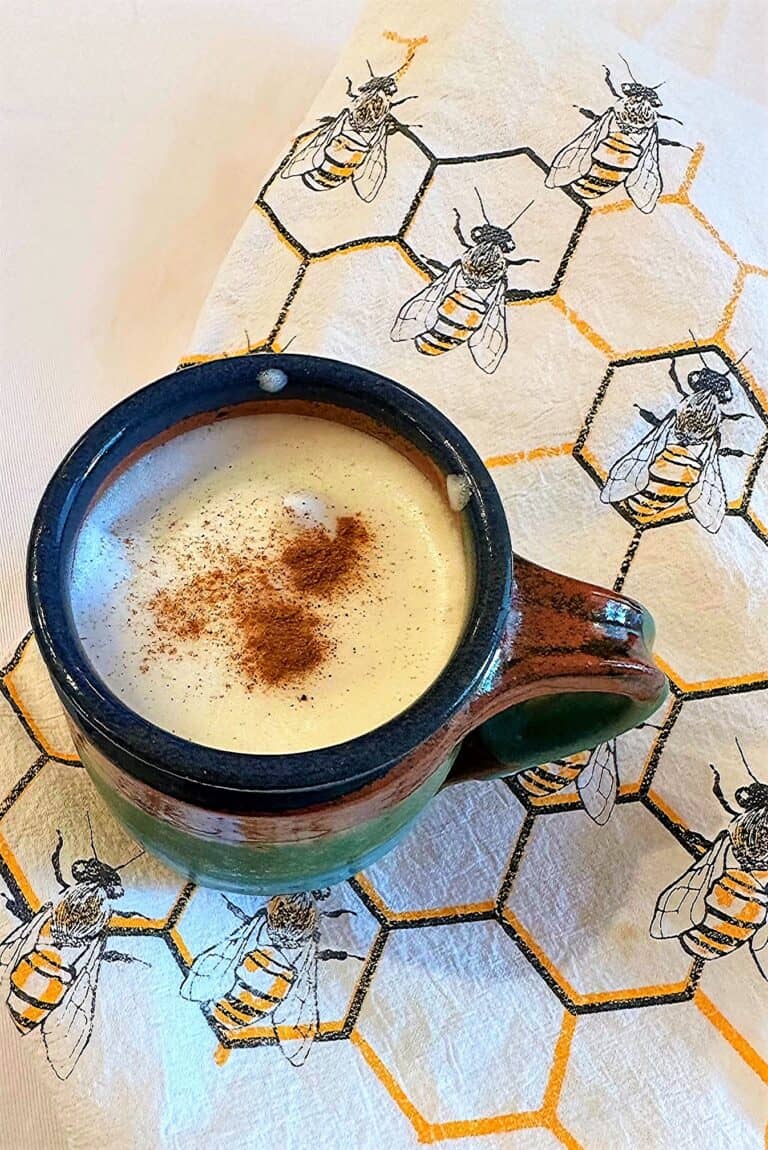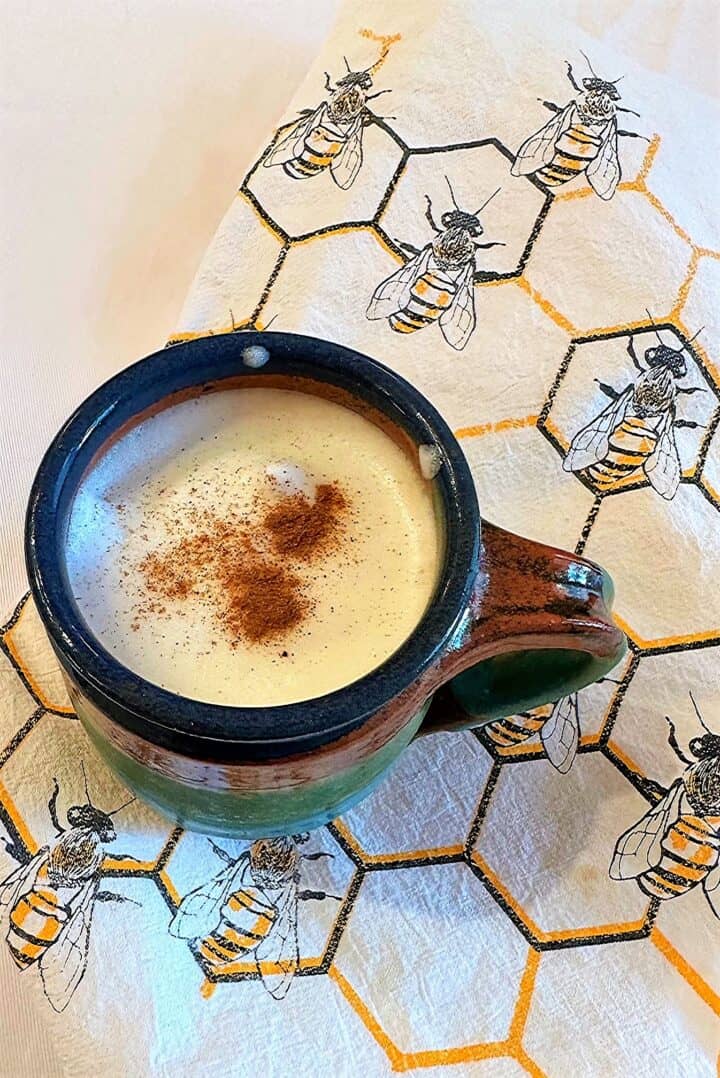 Does ginger milk tea have caffeine?
Usually, yes, but you can choose a decaf tea.
Is ginger milk tea good for weight loss?
Ginger and black tea are metabolism boosters, plus tea is a filling, warm drink that can help you feel full. Just be sure not to pair it with high-calorie snacks like cookies.
Can I use sliced ginger to brew ginger tea with or without milk?
No. Sliced ginger will not give your tea base a strong enough flavor. But, you can garnish your cuppa with a fresh slice of ginger.
Can I use grated ginger to make the tea?
Yes, but It may increase the pungency of the ginger flavor, so I don't recommend it.
Other recipes to enjoy with ginger milk tea
Date scones don't contain much refined sugar and pair perfectly with the tea.
Slices of Apple Pear Bread or Banana Sunflower Seed Muffins would also be delicious at breakfast or as afternoon tea snacks.
For a different snack with the tea, dip pretzels or whole strawberries in Chocolate Pumpin Seed Butter.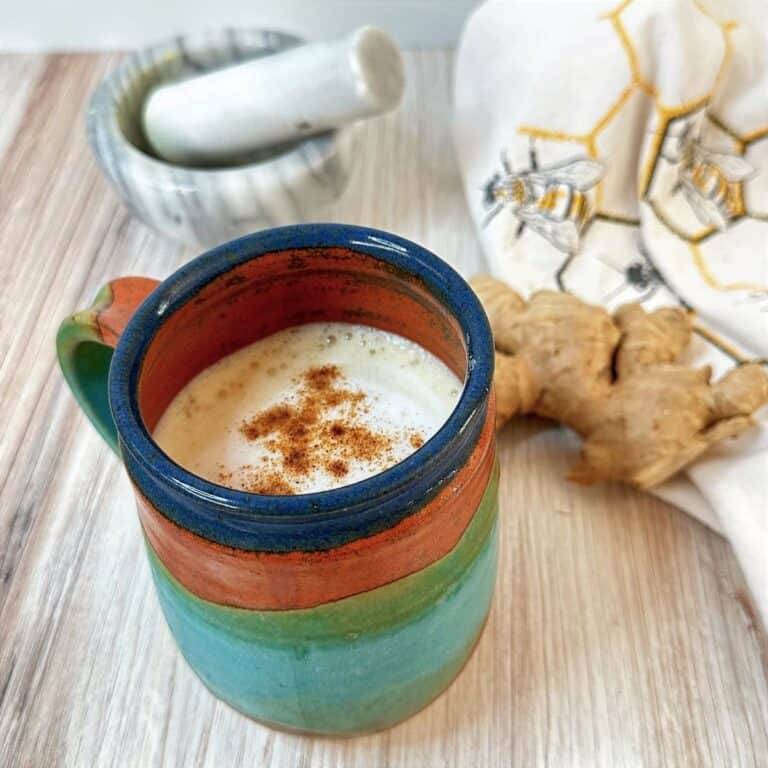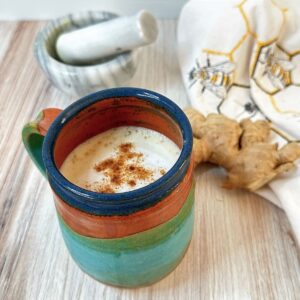 Ginger Milk Tea
A comforting and delicious anti-inflammatory tea that contributes to health and wellness.
Ingredients
2

cups

water

1

inch

raw ginger

chopped into small pieces

3

pods

green cardamom

(optional), crushed in a mortar and pestle

1

Tablespoon

black tea leaves

or use 2 black tea bags

1

stick

cinnamon

(optional)

3

sachets

stevia-blend sweetener

or use a Tablespoon sugar, honey, or agave syrup

1

cup

milk

dairy or plant, do not use non-fat

sprinkle

ground cinnamon
Instructions
Wash hands thoroughly for 20 seconds before beginning recipe.

Mash ginger pieces in a mortar and pestle to bruise and release juices from the root.

Place water in a small (1-quart) saucepan and add the ginger (and crushed cardamom, if using).

Bring to a boil and boil over medium heat for 3 minutes so that the water turns a light yellow color from the ginger.

(If using sugar, add it to the saucepan and boil for another minute to dissolve.)

Add the tea leaves or bags. (Add the cinnamon stick at this point, if desired) Cover and allow to steep for four minutes.

Meanwhile, froth the milk or heat it in the microwave or on the stovetop.

Add the stevia or liquid sweetener and stir.

Strain the ginger tea through a medium sieve.

Fill your favorite mug halfway with hot ginger tea and top with hot milk. Sprinkle with cinnamon, and enjoy sipping this comforting, warming brew!
Notes
The nutrition calculations for this recipe are for tea made with whole milk and stevia sweetener. To cut the fat slightly, use 2% milk.
A Tablespoon of sugar adds 48 calories and 12 grams of carbohydrates. Honey has 64 calories and 17 grams of carbohydrates, while agave has 63 calories and 15 grams of carbohydrates.
You can make the recipe without adding milk and drink it hot or cold.
Making the black ginger tea base is the best method if you want to make the tea ahead of time. You can store the base in the refrigerator for a couple of days.
Froth the milk while you heat the stored black tea if you'd like a hot ginger milk tea in a jiffy!
Nutrition
Calories:
90
kcal
Carbohydrates:
10
g
Protein:
4
g
Fat:
4
g
Saturated Fat:
2
g
Polyunsaturated Fat:
0.1
g
Monounsaturated Fat:
1
g
Cholesterol:
15
mg
Sodium:
59
mg
Potassium:
239
mg
Fiber:
2
g
Sugar:
6
g
Vitamin A:
203
IU
Vitamin C:
1
mg
Calcium:
187
mg
Iron:
1
mg
Copyright © 2023 Jani H. Leuschel