Poached salmon is fast and fuss-free. It's such an uber-healthy prep! A heap of fresh dill on atop the fish and lemon wedges on the side amp up the deliciousness.
This elegant but easy entrée is full of anti-inflammatory fats and protein. Calling all pescatarians!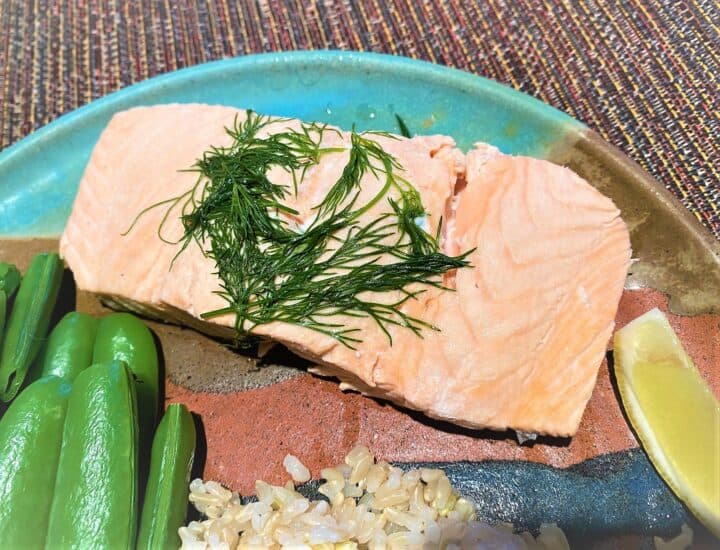 Ingredients and Equipment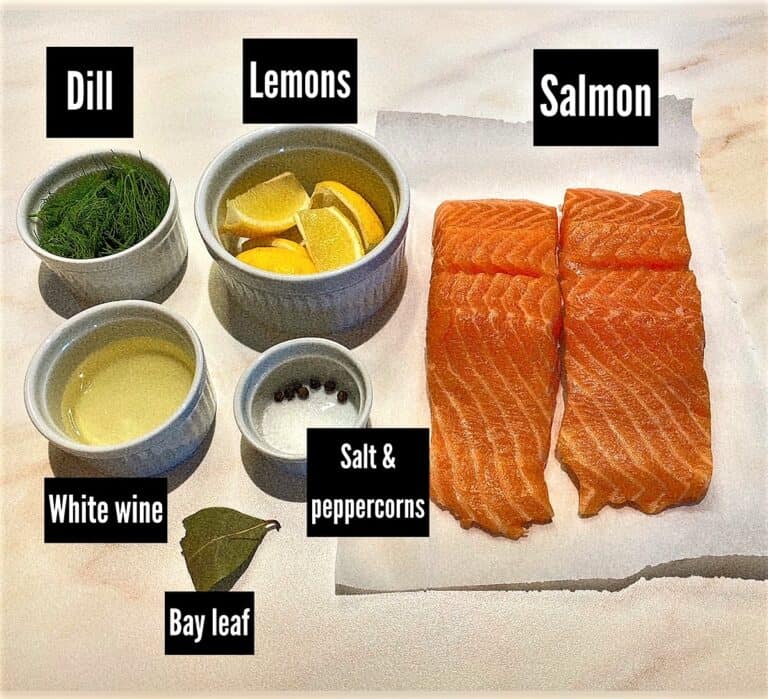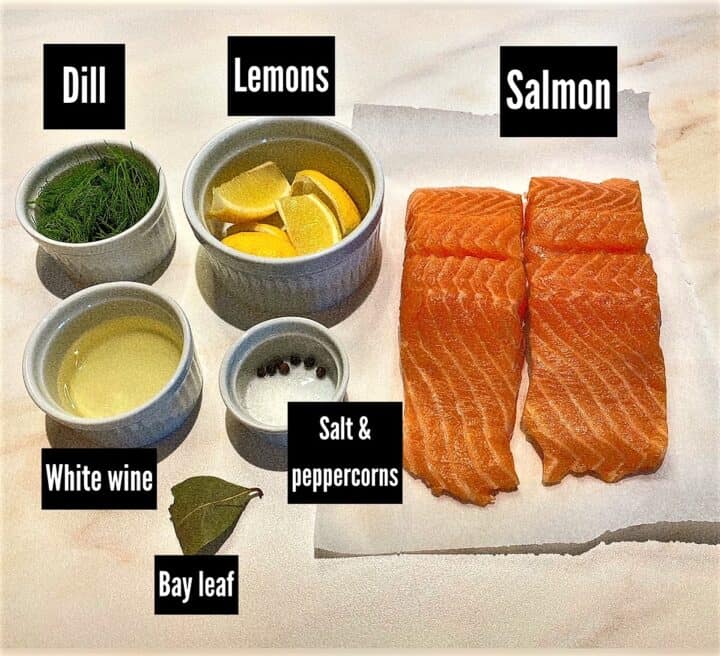 5- to 6-ounce salmon fillets
Water
Vermouth or white wine (optional)
Kosher salt
Black peppercorns
Fresh dill
Lemon wedges
You could also use a whole fillet weighing up to a pound and a half.
How to Poach
In a heavy, deep skillet, add water to a depth of at least three inches. Add a splash of white wine or vermouth, if desired. You need enough liquid to almost cover the fillets.
Season the water with salt, peppercorns, and half a large bay leaf.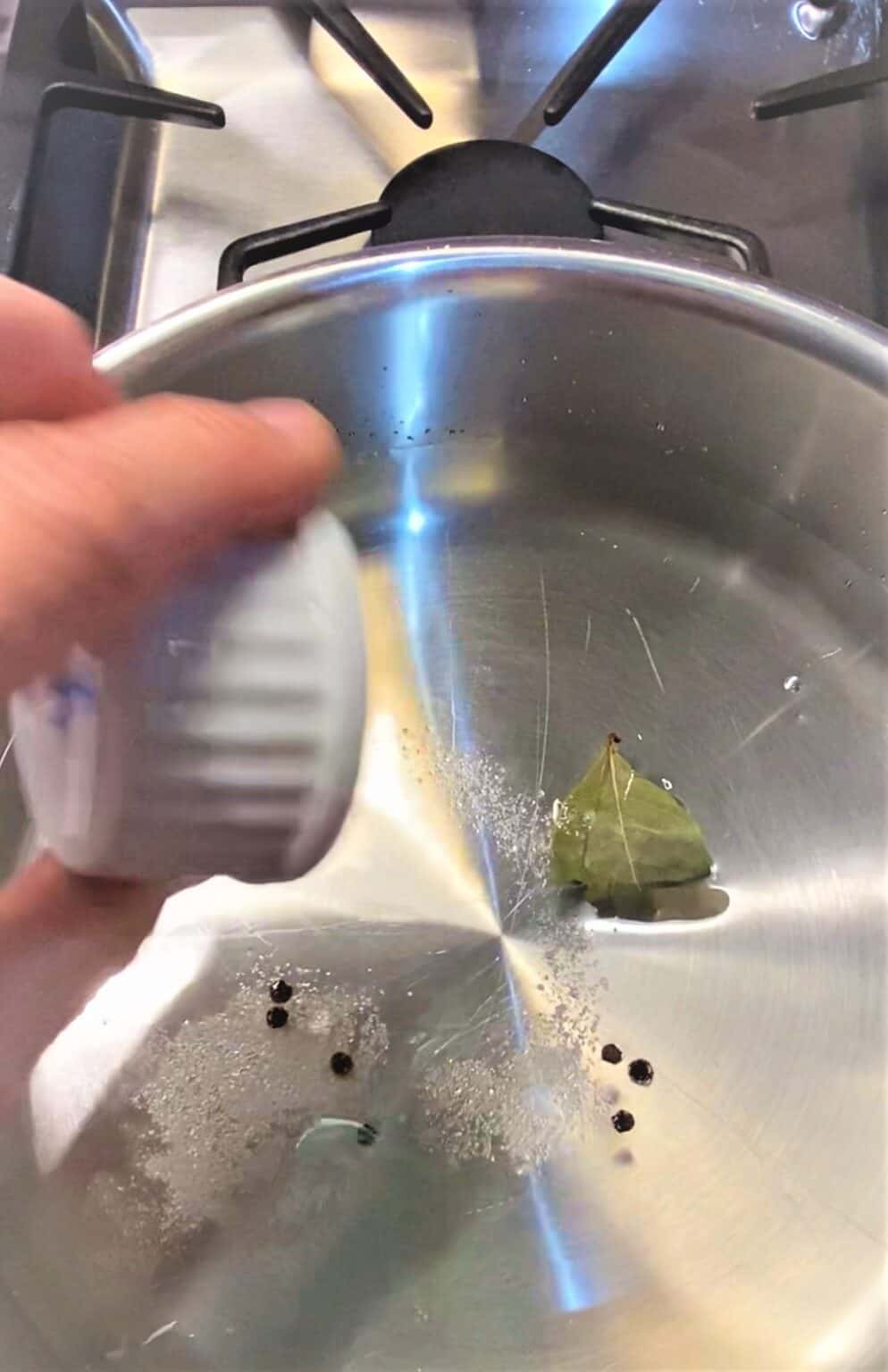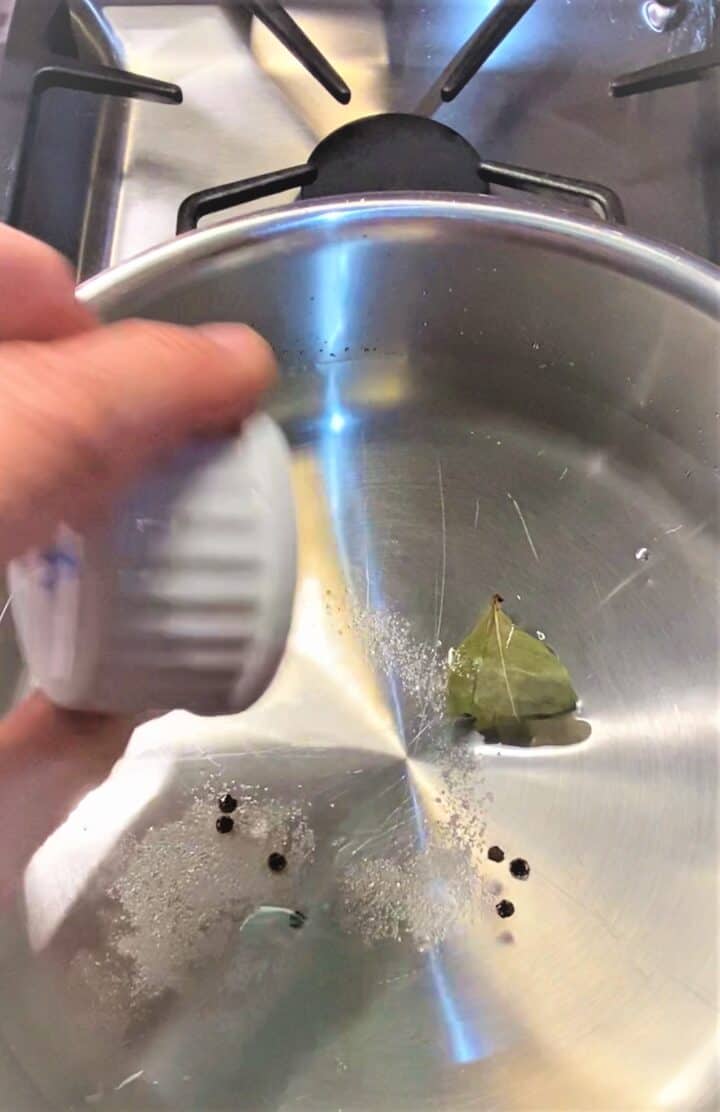 Bring the water to a boil. This helps to release flavor from the seasonings. Slide in the fillets.
Top with fresh dill. Return the water to a boil and then turn the heat to low and cover the pan.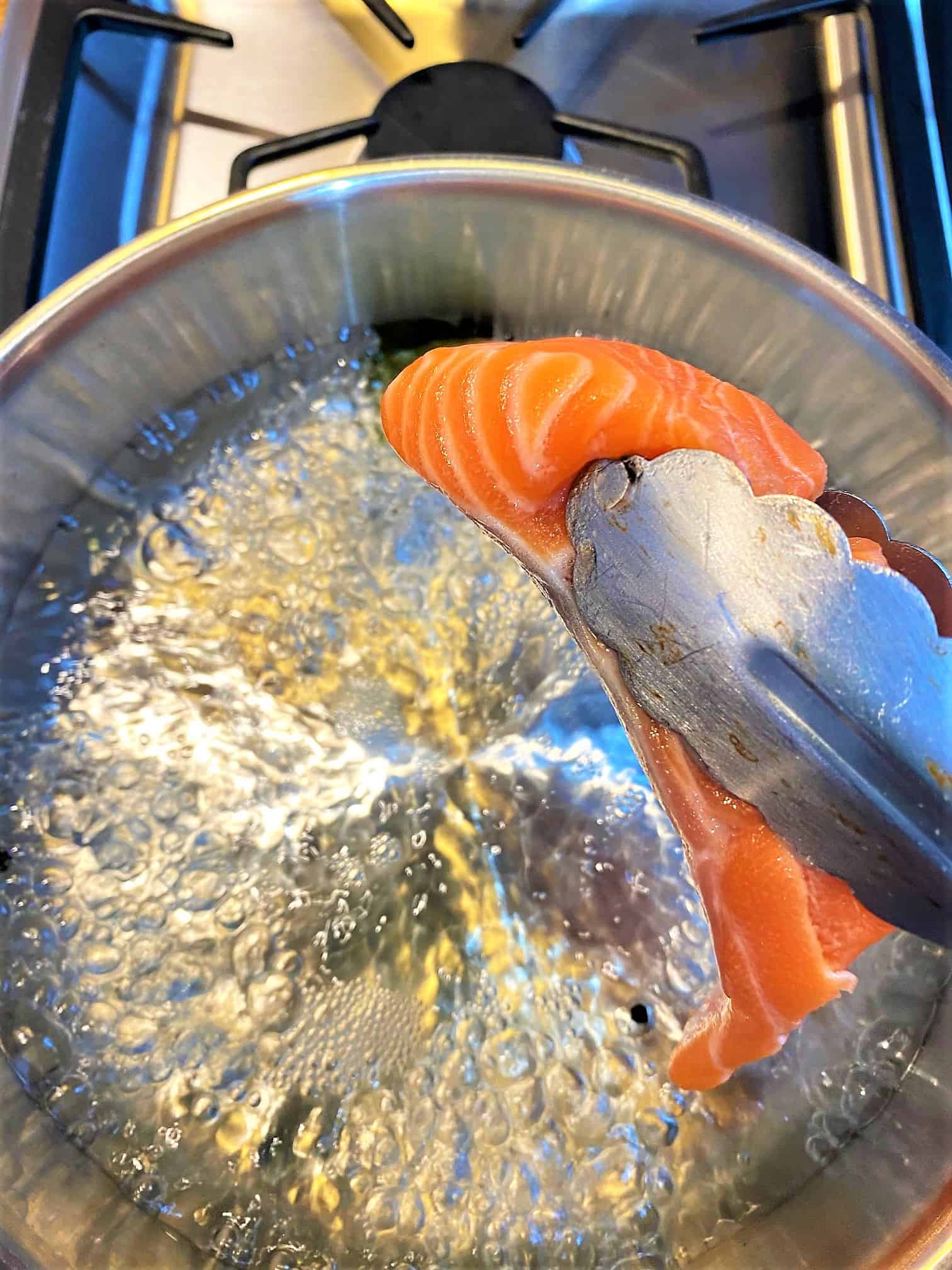 Check the center of the fish after six minutes. Salmon is cooked at 140 to145 F. This may take up to 10 minutes. The fish should be flaky with a moist pink, not red, center.
Use an instant-read thermometer to quickly check for doneness.
Remove fillets and let drain on paper towels.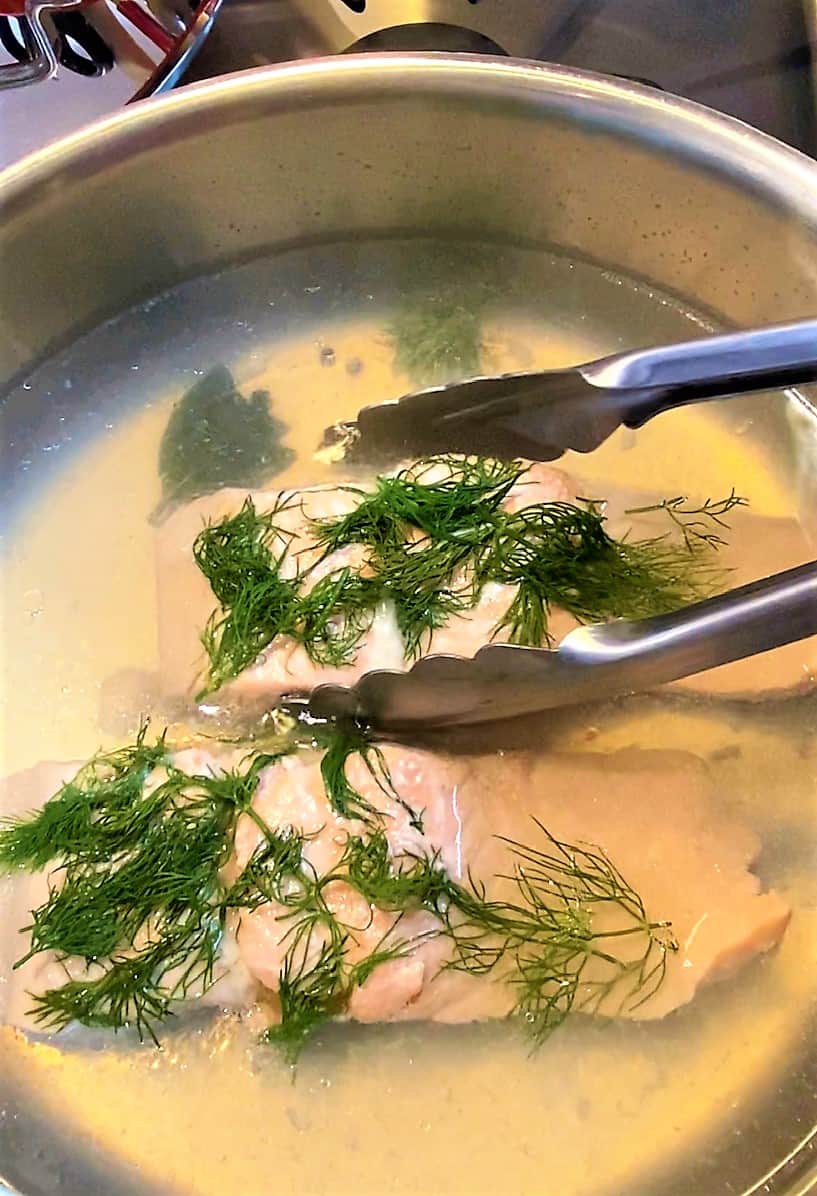 Do not leave the fish in the poaching liquid for a long time because this toughens the flesh. You want flaky, not rubbery fish fillets! 😝
Cooking tip: Skinned fillets are easier and slightly faster to poach than skin-on. Removing the skin will also create less fishy odor in your kitchen!
Why choose poaching for fish?
It's easy, quick, healthy, and cleanup is a breeze!
Fish is a light menu choice--terrific if the weather is hot! Poached fish only needs 5 to 10 minutes on the stovetop. No fancy equipment is required

.

Depending on how much fish your crew will eat, all you'll need is a

deep frying pan

with a lid. (To poach a large amount, you can use a high-sided roasting pan.)
Unfortunately, fish can be delicate, falling apart easily. To keep it in one piece, many chefs and cookbook authors recommend poaching a large piece of fish, i.e., the entire side of a large fish or smaller whole fish.
I have had success, however, with the individual portions of thicker fillets, which are a better size when you're only feeding one to four people.
Why choose salmon?
Since everyone in my house likes salmon, it's the first choice for fish. We sometimes have it twice a week, per current health recommendations.
If you're following the Mediterranean Diet, fish can be eaten often, unlike red meat, which should be consumed infrequently.
Salmon is touted for its omega-3 fats, particularly EPA (eicosapentaenoic acid) and DHA (docosahexaenoic acid), long-chain fatty acids that are anti-inflammatory and cardioprotective.
Populations that regularly eat fish, such as the Inuits and Japanese, have fewer heart attacks and problems with fatty plaques lining their blood vessels.
Eating fish may be more protective than taking fish oil supplements.
Studies attribute many other well-body effects to DHA, including benefits for the nervous system, vision, and memory. Fish oils may contribute to successful aging.
Nutrition bonuses of salmon
More than 20 grams of protein

About 13 grams of fat

Niacin (vitamin B3), more than half the Recommended Daily Allowance (RDA)

Vitamin B6, more than a third of the RDA

Vitamin B12, almost 1.5X the RDA

Choline, excellent source (20% or more)

Vitamin D, one of the few foods that contain vitamin D!

Appropriate for pregnant women due to high levels of EPA and DHA (beneficial for infant health) and low levels of mercury
Nutrition information for a 3.5-ounce serving from FoodData Central, from the USDA's Agricultural Research Service.
How to store
Poaching is perfect for make-ahead meals.
Refrigerator: Store the salmon in a container or zip-top plastic bag for up to four days although it will taste best when eaten within two days.
Freezer: Store it tightly wrapped for up to three months. Thaw in the refrigerator or submerge the freezer container in cold water. Use thawed fish in casseroles or add it to pasta dishes.
How to serve
As an entree with a cooked grain or pilaf and a green vegetable
As a salad topper
In a salmon bowl with chunks of avocado, cooked sweet or white potatoes, or noodles, and shaved onion
As salmon patties. Flake fish into a bowl and combine with bread crumbs, pickle relish, mayo or Greek yogurt, dried thyme, and a raw egg. Fry or bake the patties.
Poached salmon tastes best with a sauce, such as my Savory Greek Yogurt Sauce, bright with lemon and garlic.
Classic sauces to serve alongside are aioli (garlic mayonnaise) or a green sauce of herbs.
Asparagus Grilled in Foil or marinated zucchini salad are fresh side dishes!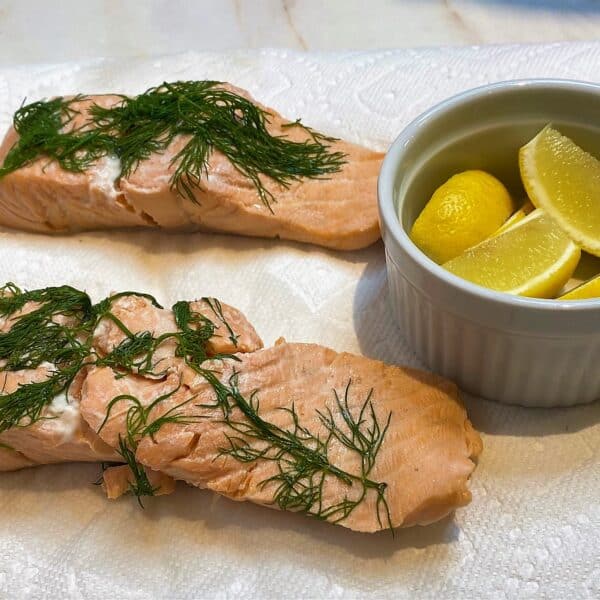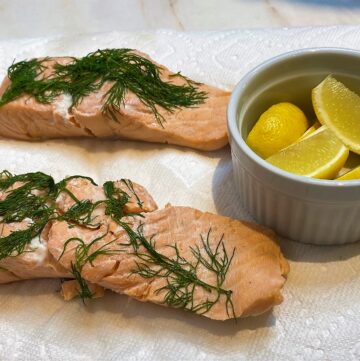 Poached Salmon Fillets with Dill and Lemon
Poaching is an easy, healthy way to cook salmon or other meaty fish fillets. Top with dill and serve with lemon wedges to amp the flavor.
Ingredients
12

ounces

salmon,

about 2 fillets, without skin

Splash of white wine or vermouth,

optional

½

bay leaf

½

teaspoon

Kosher salt

5

peppercorns,

use more if you like pepper

2

Tablespoons

fresh dill

lemon wedges
Instructions
Wash hands thoroughly before beginning the recipe.

Fill a deep, high-sided skillet with about three inches of water. Splash in some white wine or vermouth, if desired. Add the bay leaf, salt, and a few peppercorns, and bring to a boil over high heat.

Add the salmon fillets and turn the heat to low. Top the fillets with fresh dill. Cover the pan and allow to simmer for about six minutes.

Remove the lid and carefully test for doneness with an instant-read thermometer or a fork. Leave them for another two to three minutes if the interior appears raw and red or they have not reached 140 to 145 F.

When cooked, remove fillets to a bed of paper towels to drain. They should have moist, pink centers and flake easily.
Notes
Poached fish is a classic for summer meals when the heat makes cool food more appetizing. The fillets can be served simply with lemon wedges, good-quality mayonnaise, or another sauce. (Read the post!)
Beware of leaving the fish in the poaching liquid for too long! It will toughen up.
Poached salmon can stand in for tuna in a Salad Nicoise, or combine it with a bowlful of romaine lettuce. Add Parmesan cheese and croutons and -- Boom! -- Salmon Caesar for dinner or lunch. 🥗
Nutrition
Serving:
6
ounces
Calories:
242
kcal
Carbohydrates:
0.2
g
Protein:
34
g
Fat:
11
g
Saturated Fat:
2
g
Polyunsaturated Fat:
4
g
Monounsaturated Fat:
4
g
Cholesterol:
94
mg
Sodium:
657
mg
Potassium:
840
mg
Fiber:
0.1
g
Vitamin A:
102
IU
Vitamin C:
0.4
mg
Calcium:
23
mg
Iron:
1
mg