Saving scraps from your veggies may look like a lot of trouble for little return. But this simple sustainability practice will reward you with delicious broth and save you money.
Higher food costs in recent months mean that trashing the hairy ends of onions, carrots, etc., is like tossing loose change in the garbage. Saving them in a freezer bag (that can be reused) is similar to keeping a coin jar to catch the dimes, nickels, and pennies that line your pockets.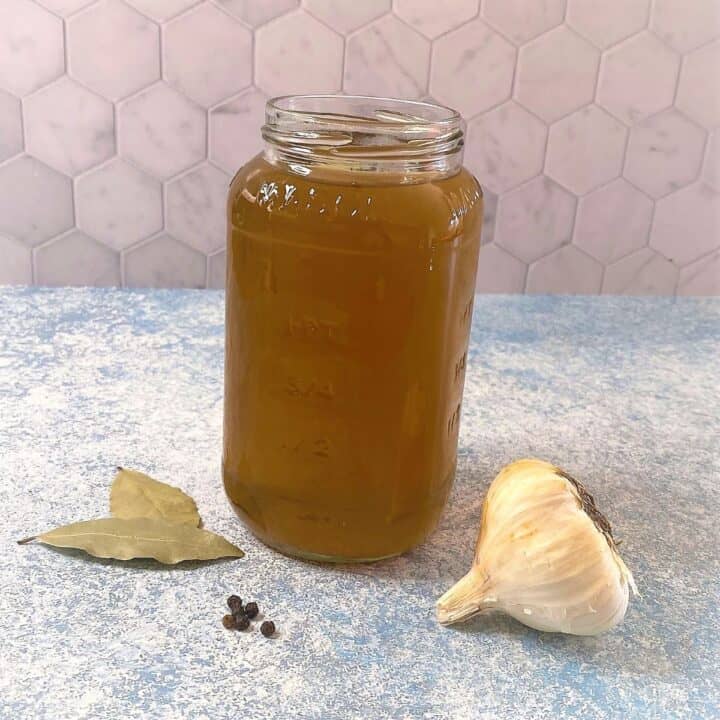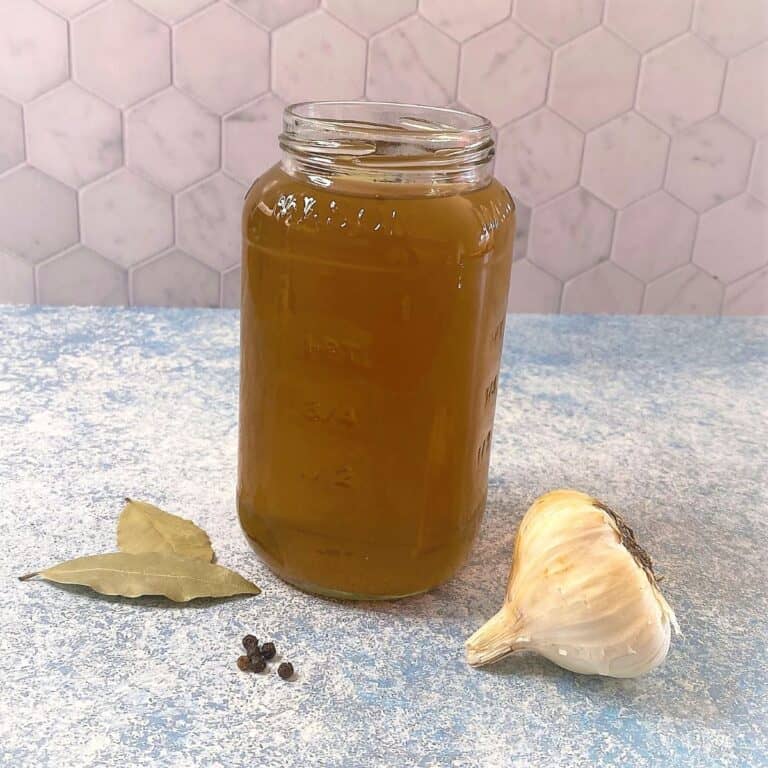 The easiest way to transform your veggie scraps into a nutritious and tasty broth is with an Instant Pot or slow cooker. In under an hour, the Instant Pot makes quarts of mineral-rich broth free of preservatives and excess sodium.
This broth is superior to store-bought options in all respects. Plus, you'll end up wasting fewer vegetables that you've grown or purchased.
Soups, of course, are a no-brainer use for veggie broth. You can also put it to work in grain cookery, fish poaching, or braising.
How to save veggie scraps
To get started, you'll need a gallon size zip bag. Every time you prep vegetables, throw the odds and ends into the bag and put it in the freezer. When it's full, it's time to prepare your broth.
Cook from scratch often? You may fill the bag in two weeks. It can take longer if you order meal delivery or eat meals mostly prepared outside the house. (As Covid days drag on and on, home-cooking is ever the norm.)
The bag of veggie scraps will last in the freezer for up to six months. Please don't remove the bag from the freezer and let it sit on the counter while you're shaving and chopping.
Once you're finished with prep, pull the bag out and add the veggie refuse all at once. This method avoids previously frozen scraps thawing and turning to mush.
Can I save all of my veggie scraps?
Yes, but not all will make a good broth. Use clean scraps from washed vegetables. You don't want broth with an off-putting, earthy flavor!
Best types of veggie scraps for broth
Onions and shallots: skins and ends
Carrots: peels and ends
Celery: ends and leaves
Garlic: papery skins and trim
Parsnips: peels and ends
Turnips: peels and ends
Leeks: ends and trim
Green onion: ends and trim
Tomatoes: cores and trim
Sweet potatoes: peels and ends
Tender herbs: parsley and cilantro
Any vegetable starting to go off in your refrigerator is fair game for broth. Just don't use moldy or completely rotten veggies. (Those can be composted, and you can cut off the rotten part and freeze the good piece.)
Worst veggie scraps for broth
Some veggies will cloud your broth. Others can give it a bitter taste or strange color.
⯀Bitter, not better
Cruciferous veggies: broccoli, cauliflower, kale, cabbage, Brussels sprouts
Miscellaneous: green beans, zucchini,
⯀Cloudy, not clear
Russet and small potato peels and trim, starchy vegetables like squash
⯀Deeply colored
Eggplants, beets (flavor is too strong, also)
Tender greens are not suitable for broth, either.
Uses for non-broth veggie scraps
Sometimes, I use my countertop composter to recycle veggie and feed our garden beds. Often, the vegetable matter inside almost decomposes to tea, but the bin is a cinch to clean, which is why I like it.
If you're interested in a countertop composter, check out this story on countertop composting. It compares many different bins.
For tips on how to eat your veg scraps in fritters and roasted snacks, read this blog on the Feel Good Foodie.
How to make veggie scraps broth
You'll need:
gallon size zip bag of frozen veggie scraps
bay leaves
peppercorns
kosher salt
any miscellaneous roots or spices for taste or nutrition.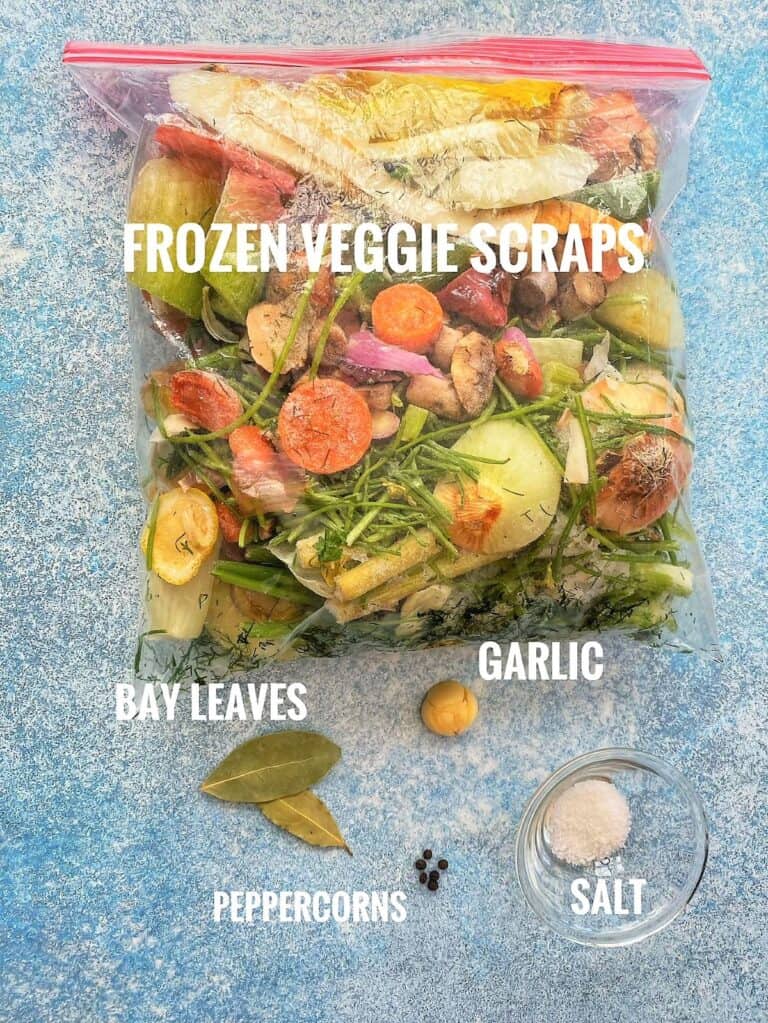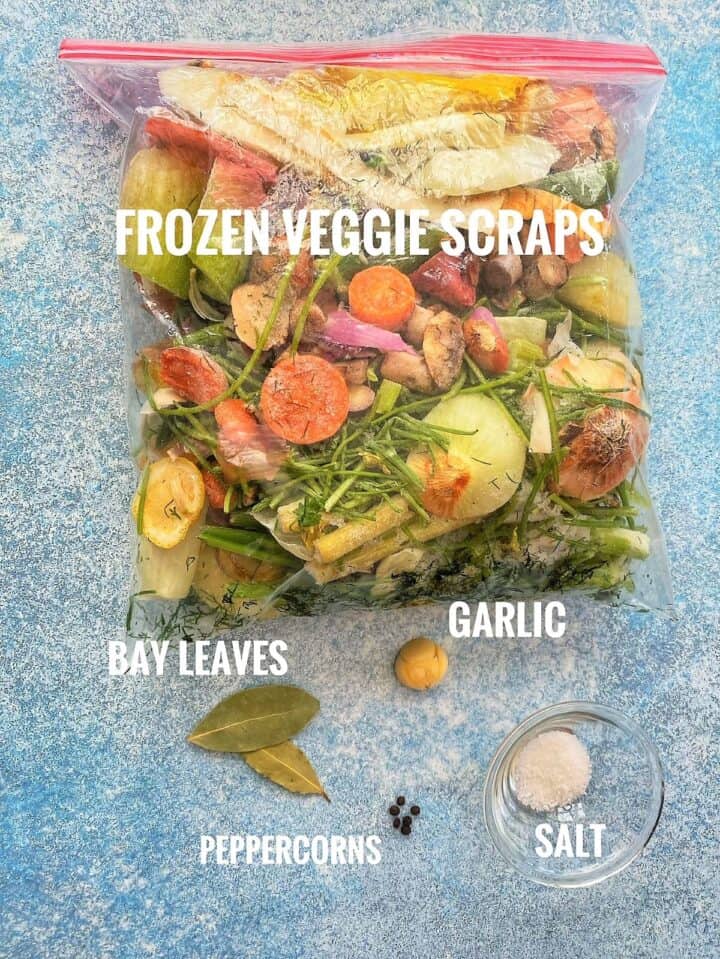 Here's the nitty-gritty of broth-making with illustrations using the Instant Pot.
In the recipe card below, there are slow cooker instructions, too. If you prefer to simmer your scraps in an old-fashioned stockpot, check out this recipe from Homestead and Chill.
To start, pour the frozen scraps of your gallon zip bag into an Instant Pot steamer basket. I use a green silicone basket from Avokado. You can also use a wire mesh type of basket.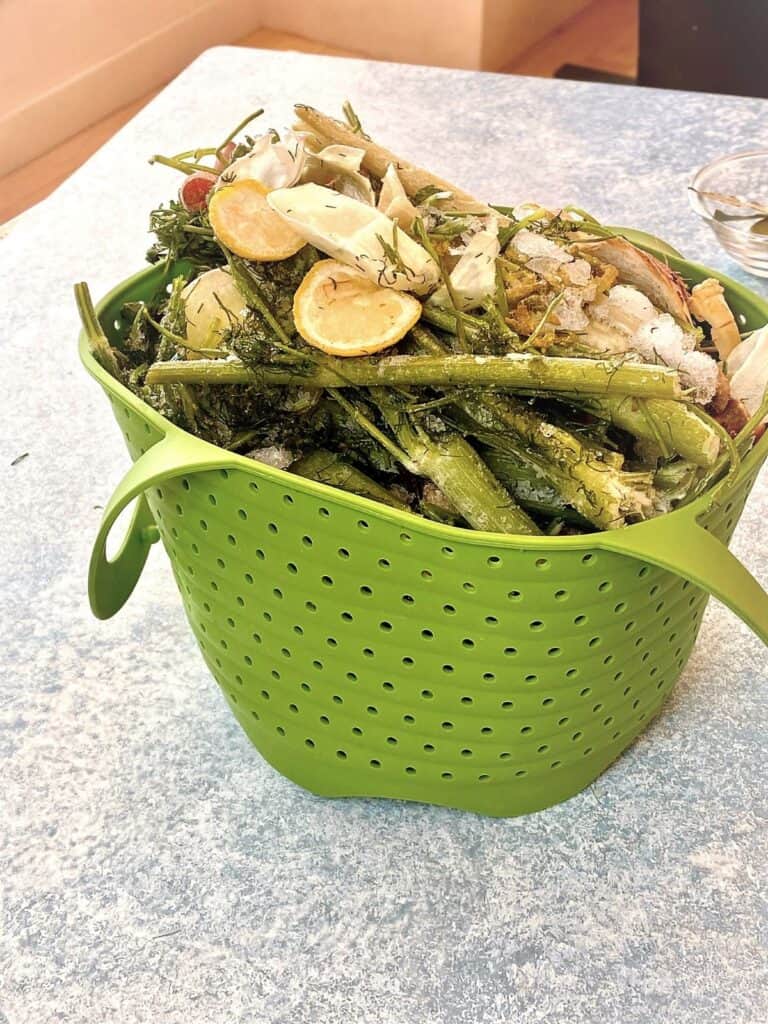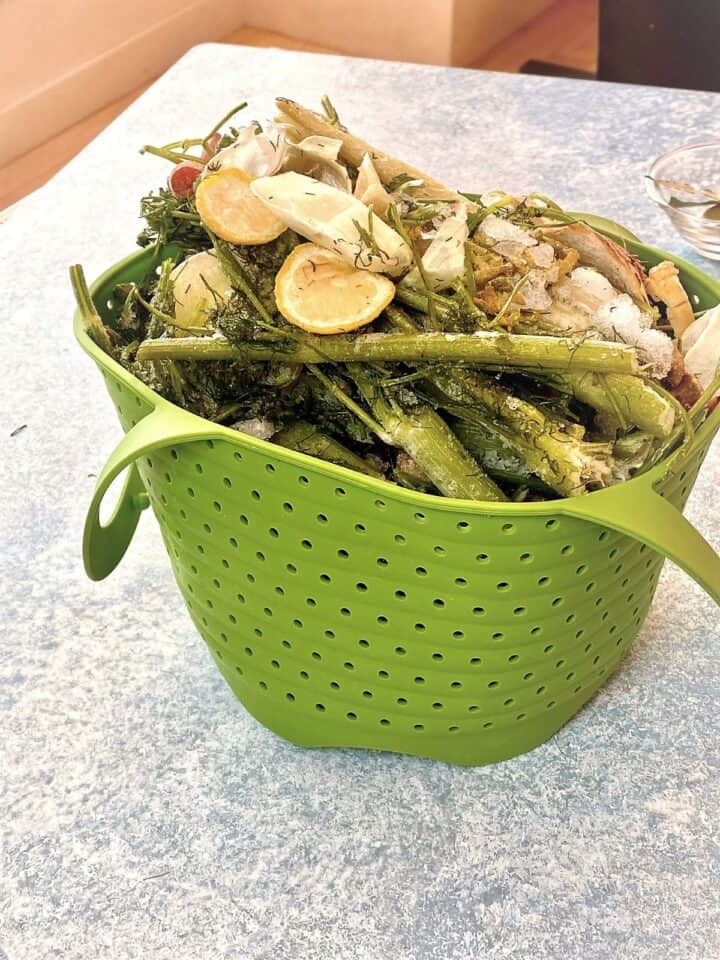 You don't have to use the basket! But, it corrals all the veggie bits and makes removing them from the finished broth a snap.
At no cost to you, I will earn a commission when you make a purchase through the Amazon links in this post.
Put the basket of veggie scraps in the pot, plus the bay leaves, peppercorns, garlic, salt and any add-ins of your choice. Add water to just below the fill line.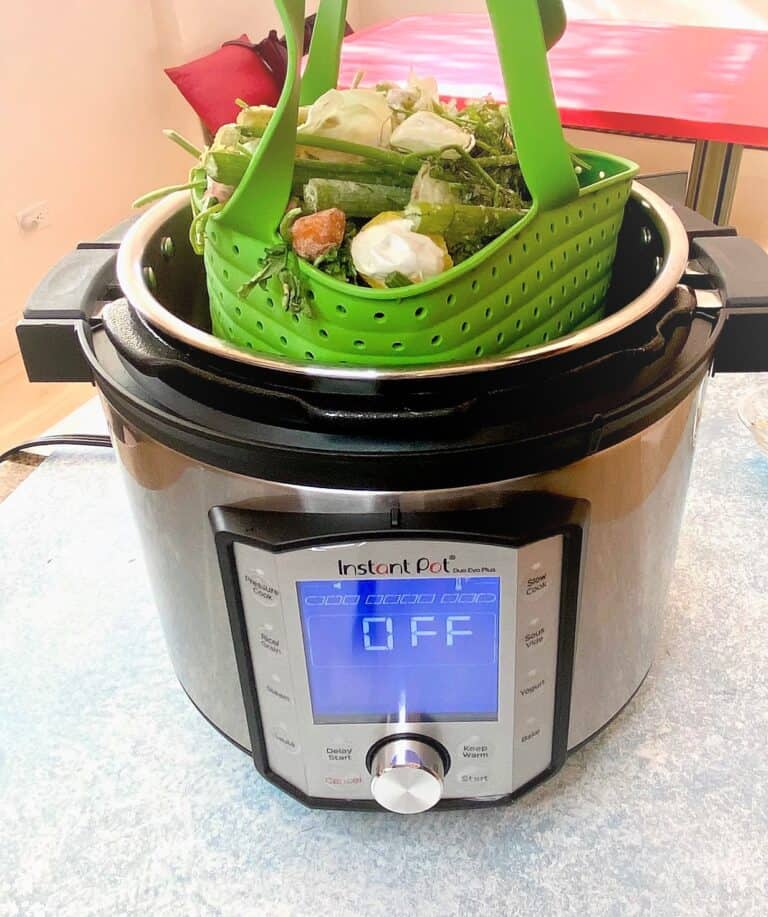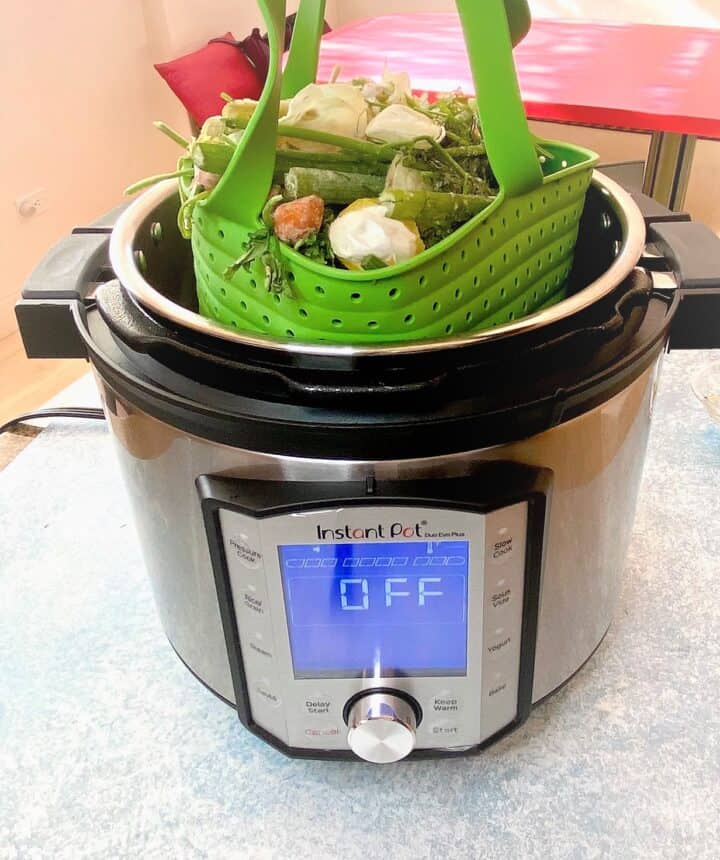 Secure the lid, seal the vent, and set the pressure for 15 minutes on high.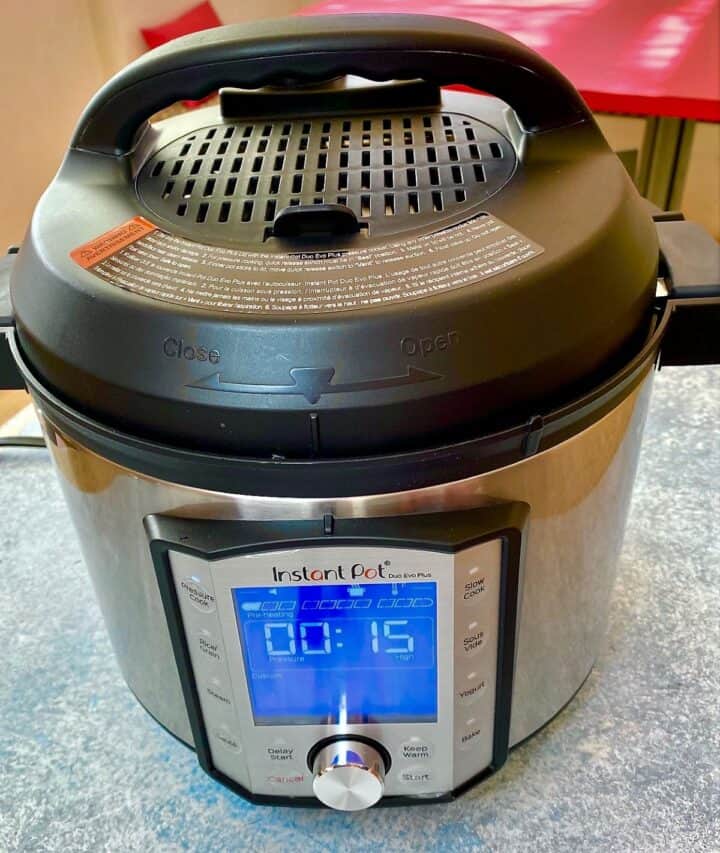 When the cooking cycle has finished, let the Instant Pot release naturally for 15 minutes. (You can leave at it pressure for up to 30 minutes. Longer cooking/simmering will give the broth a sweeter taste.)
Open the vent to release any remaining steam if the pressure valve hasn't dropped.
Remove the steamer basket of cooked veggie scraps to a large bowl to finish cooling. Place the Instant Pot insert on a heat-safe surface so the broth will cool more quickly.
Add any juices from the bowl with the steamer basket to the broth in the Instant Pot insert, You can lightly squeeze the cooked scraps to encourage them to release more liquid gold.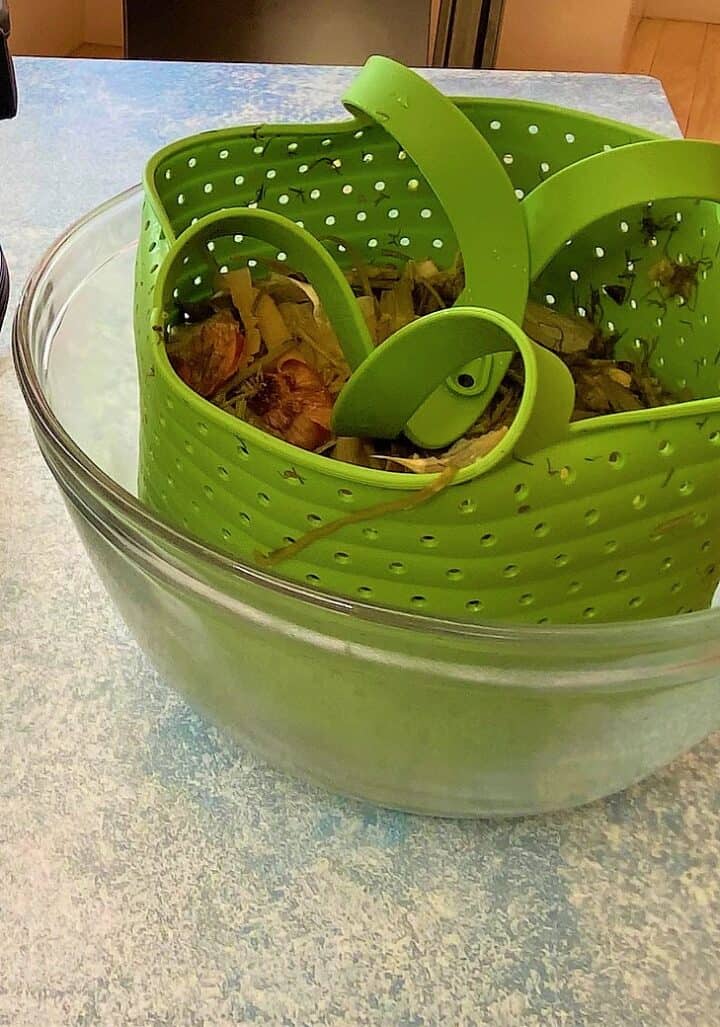 (Just don't press on them so hard that mushy vegetables extrude through your basket holes!)
Use a pitcher or large pyrex measuring cup to pour the cooled broth into containers for storage in the fridge or freezer.
Storage for veggie scraps broth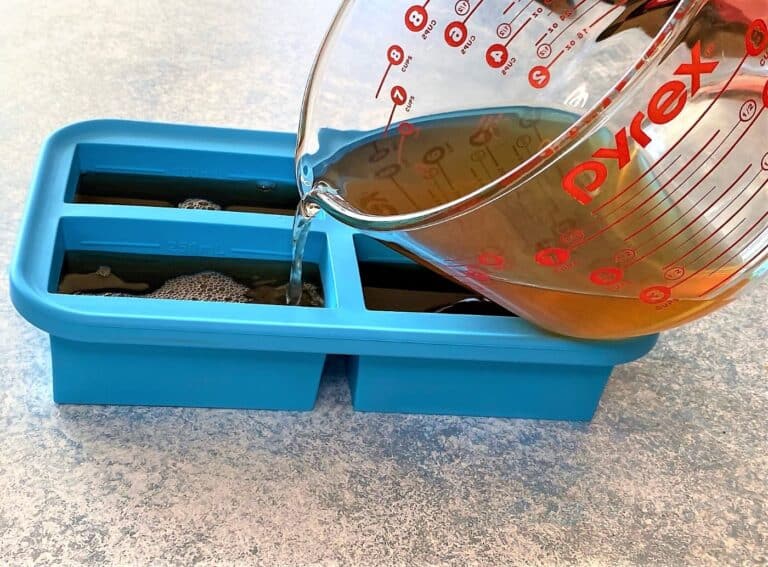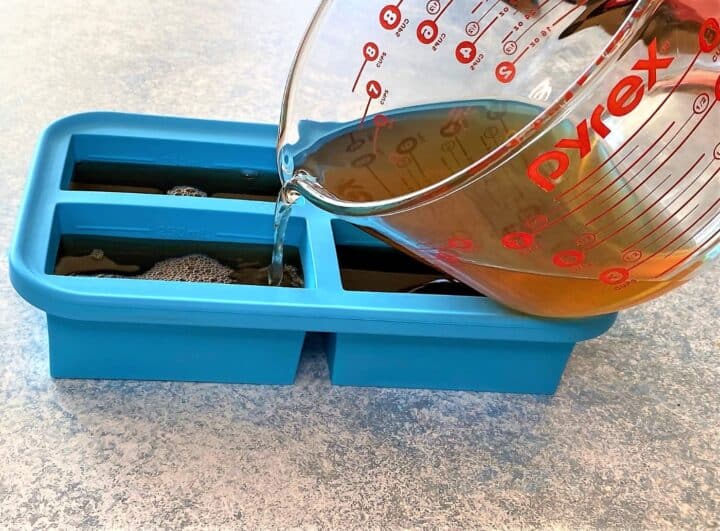 Wide-mouth pint jars are nice if you prefer glass for storage. Leave room at the top of the jar for expansion as the broth freezes.
Silicone or plastic ice cube trays are excellent for broth storage. After freezing, pop the cubes out and put them in a large zip bag, so you can grab one or two as needed. The cubes thaw very quickly.
Often, I will freeze broth and soups in larger silicone containers that have lids.
Trays with a variety of storage sizes, such as half-cup, one-cup, and two-cup are available.
(They're great for sauces, too, such as pesto, chimichurri, and marinara.)
Another favorite storage hack is to use pint and gallon zip bags. You can lay these flat in the freezer.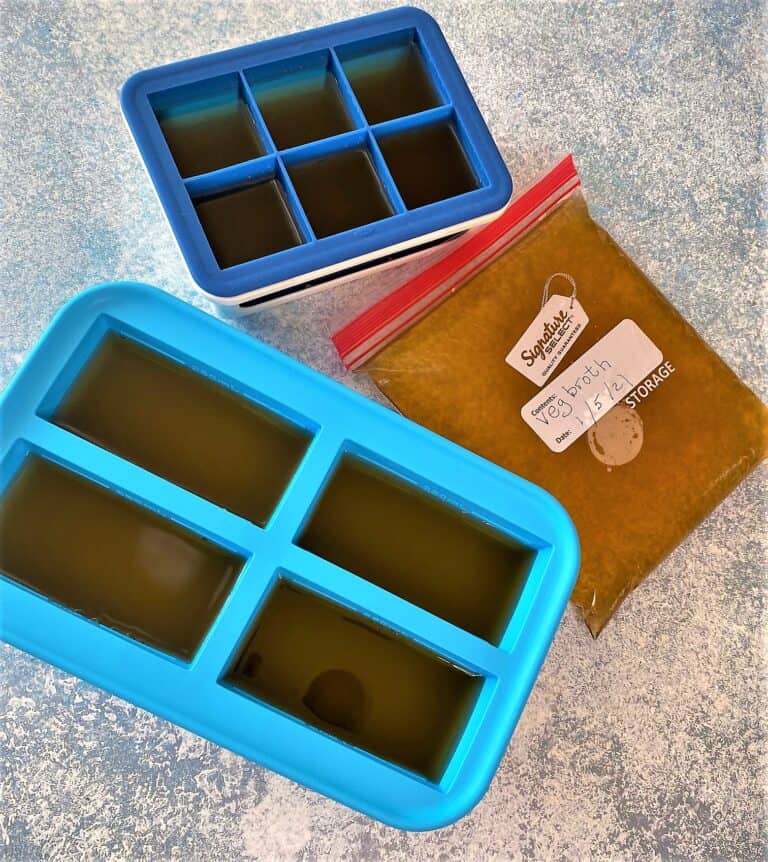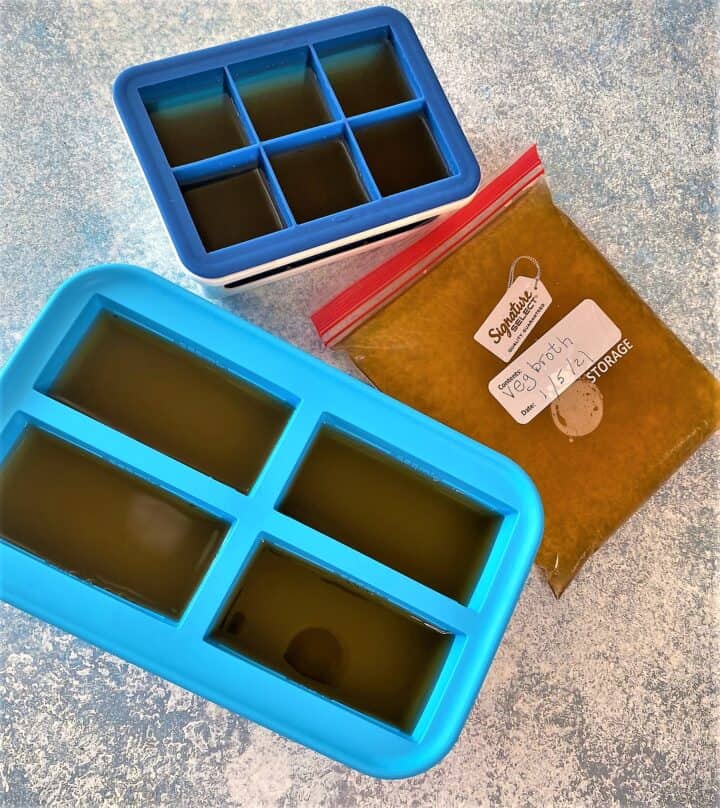 How long does veggie broth stay fresh?
4 days in the refrigerator
6 months in the freezer
Nutrition in veggie broth vs animal-based broths 🐔
The peel and skin of a vegetable are where you'll find much of the nutrition. So, your vegetable broth will boast good amounts of minerals, especially potassium.
In addition to potassium, here are some of the minerals and vitamins you can expect to find:
Calcium
Folate
Iron
Magnesium (small amount)
Selenium
Vitamins A, C, and E
Veggie scraps broth doesn't have the collagen you find in bone broth. It won't become jelly-like. To make it richer, use plenty of mushroom stems and the additions in the recipe card below, especially the seaweed.
Seaweed is a vitamin and mineral powerhouse. It's a source of calcium, folate, potassium, and iodine and will intensify the flavor of the broth, adding umami!
Customize your veggie scraps broth
For most uses, three-quarters of your veggie scraps should be typical soup base veggies, carrot-onion-celery. Save other things like herbs, mushrooms, sweet potato ends, tomato cores for the remaining quarter (1 cup). 🌿
Bear in mind, that a generous amount of onions will make the broth sweeter. So, cut back on those allium parts if you want a more savory broth.
For Asian-inspired soups and dishes, throw in some lemongrass, ginger root, star anise, cardamom pods, and/or coriander seeds. (Be careful not to overdo it.)
To increase your broth's anti-inflammatory qualities, add turmeric and extra garlic. Turmeric turns the broth yellow, which is pleasant for cooking rice.
You don't have to use all the veggie scraps in your bag for broth. Having a bag of frozen vegetable fragments is handy. Grab a celery end or a parsnip head to add flavor and balance to a sauce or soup.
Dishes for vegetable broth:
Soups
Sauces
Gravy
Grains
Poached fish
Blanching vegetables
Braises
Sub the broth in any savory recipe application that calls for water, wine, or other liquid.
---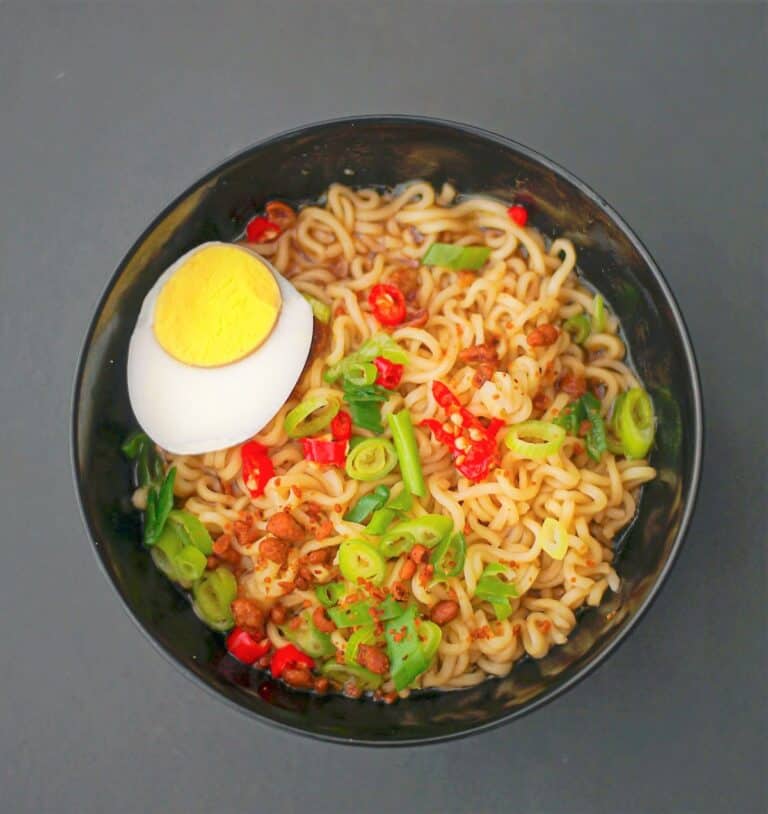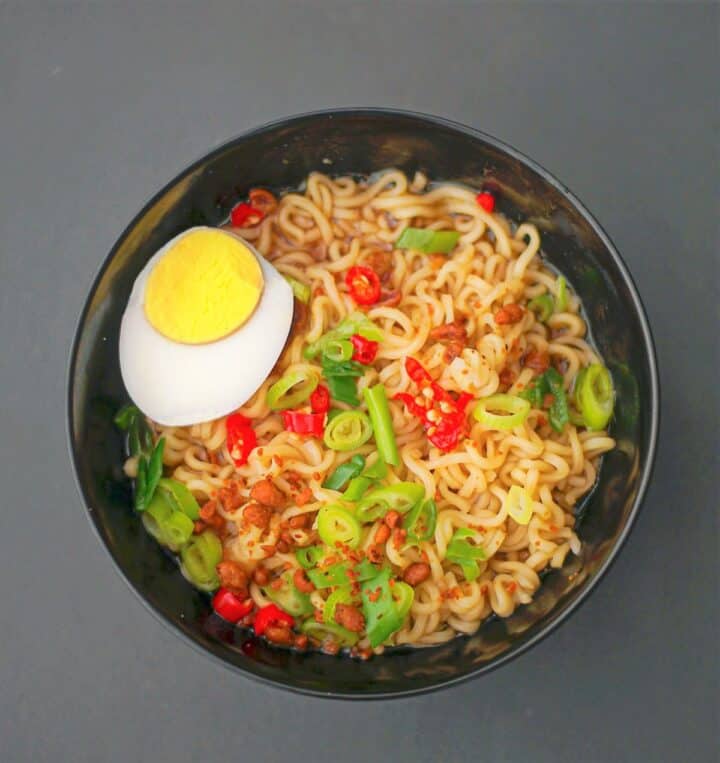 Fast homemade ramen:
A quick and easy use for frozen broth cubes is a cup of noodles.
Place cubes and noodles in a microwave-safe bowl or small pot on the stove and heat to thaw cubes and cook the noodles. Add a quarter cup of frozen carrot-pea mixture, a piece of nori or wakame, a splash of soy sauce, and/or sriracha.
Optional protein addition: hard or medium-cooked eggs.
Other recipes you might like
Use some of your vegetable broth in Oven Turmeric rice pilaf or Minestrone di verdure. Try it in this squash soup from the delicious meets healthy blog
For non-vegetarians, chicken-rice soup boosts immunity and is chockful of nutrition, including collagen!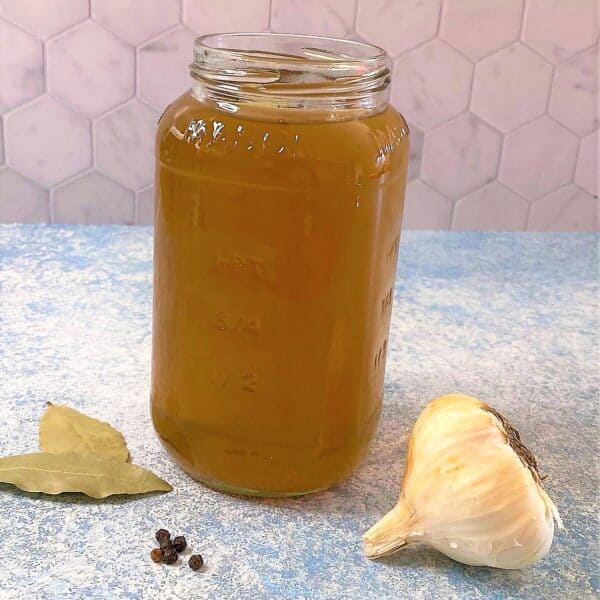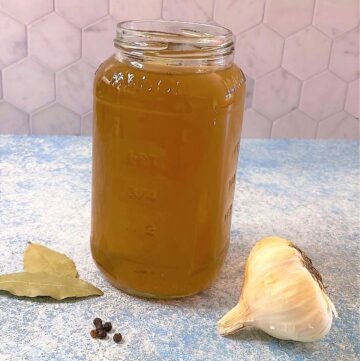 Vegetable Scraps Broth
A flavorful golden liquid for soups, cooking grains, braises, poaching, and more! Create this simple, sustainable broth in an Instant Pot or slow cooker.
Equipment
Instant Pot or slow cooker

Instant Pot steamer basket

silicone or wire mesh

Strainer

for slow cooker broth

Cheesecloth
Ingredients
3-4

cups

frozen vegetable scraps,

especially onion ends, carrots, and celery

1

clove

garlic,

crushed

5-6

peppercorns

2

bay leaves

1

teaspoon

kosher salt
Optional add-ins
1

teaspoon

turmeric

1

inch

ginger root,

roughly chopped

1

teaspoon

coriander seeds

1

teaspoon

cardamom pods

½

sheet

seaweed,

crumbled or 1 Tablespoon kombu flakes
Instructions
Pour frozen vegetables into an Instant Pot steamer basket. Place the basket inside of Instant Pot.

Add garlic clove, peppercorns, bay leaves, salt, and any optional add-ins.

Pour enough water into the Instant Pot so it reaches just below the fill line. Put the lid on the pot, and close the vent.

Set the pressure cook time at high for 15 minutes. When it has finished, let the pressure release naturally for another 15 minutes.

If the valve has not dropped after 15 minutes, open the vent to release any remaining steam.

Open the pot, and carefully remove the steamer basket full of vegetables, using tongs to grab the handles.

Place the basket in a large bowl and let it cool. When cool, gently squeeze to remove any remaining liquid, being careful not to push any mushy vegetable bits through the basket holes.

Discard cooked vegetables. (You can add them to compost if you want.)

Store cooled broth in containers, such as wide-mouth pint-size glass jars, silicone soup trays, ice-cube trays, and/or pint and gallon zip bags. Freeze and use as needed.

*If your veggie bag contained many herbs or fennel fronds, you may want to strain the broth through a cheesecloth. Tiny herb particles tend to migrate through the holes of the steamer basket.
Slow Cooker Method
Pour a gallon zip bag of frozen vegetable bits into a slow cooker.

Add garlic clove, peppercorns, bay leaves, salt, and any optional add-ins.

Cover the veggies, herbs, and spices with 3 quarts of water. Put the lid on.

Set the cooker for high, and let the mixture come to a boil. (This could take some time because the veggie scraps are frozen.) Reduce heat to low and simmer for 2 ½ hours.

Let the broth cool, and then use a skimmer to remove vegetables and large spices or roots.

Pour the broth through a cheesecloth-lined strainer into a large pitcher or measuring cup.

Use the pitcher or measuring cup to pour the broth into storage containers, like ice-cube trays, pint-size glass jars, or zip bags.

Freeze or use immediately to make a soup or other dish.
Notes
For general use broth, about three-quarters of your vegetables should be onions, carrots, and celery. The other fourth can be things like fennel stalks, mushroom stems, sweet potato peels and ends, leek and green onion trimmings. 🥕
Your broth will taste like the veggies that you choose. For general use, boost the flavor by adding plenty of mushroom stems.
If using the broth for a soup or dish with more Asian influences, add ingredients like lemongrass, ginger, and coriander.
I enjoy plenty of parsley stems (and we always have a bounty), but not everyone enjoys a strong, herbal taste. Keep this in mind when including tender herbs, i.e. cilantro. 🌿
All of the optional add-ins have health properties. Most are anti-inflammatory. ☯
Nutrition
Calories:
46.8
kcal
Carbohydrates:
10
g
Protein:
0.9
g
Fat:
0.4
g
Saturated Fat:
0.1
g
Trans Fat:
0
g
Cholesterol:
0
mg
Sodium:
642.9
mg
Potassium:
24.3
mg
Calcium:
45.9
mg
Iron:
0.6
mg