Warm winter spices flavor homemade apple pear bread. An irresistible aroma will fill your kitchen while this healthy loaf bakes in the oven.
Family and guests coming to stay during the holidays will enjoy a slice of this moist, fruity bread. It's perfect for breakfast or as a snack with coffee or tea.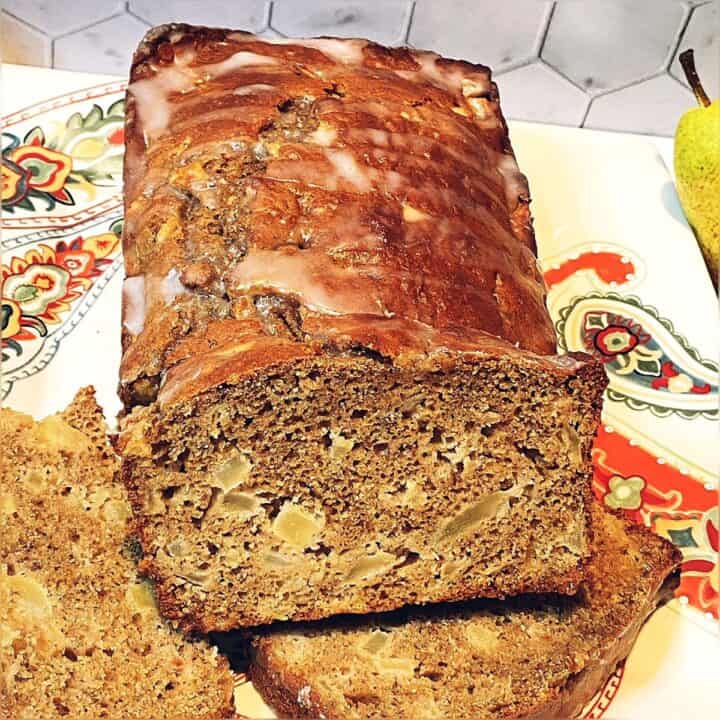 Ingredients:
1 ¾ cups flour (1 cup whole grain + ¾ cup all-purpose)
2 Tablespoons ground flaxseed
1 teaspoon baking powder
½ teaspoon baking soda
½ teaspoon (or less) salt
1 teaspoon cinnamon
½ teaspoon allspice
¼ teaspoon ground cloves
1 fresh pear, mashed (or use a 14.5-ounce can of sliced pears)
1 apple, peeled, and cut into small cubes
1 Tablespoon lemon juice
½ cup canola oil
½ cup low-fat dairy or plant milk
¼ cup dark brown sugar, packed
¼ cup brown stevia-blend sweetener, packed
2 eggs
1 ½ teaspoons vanilla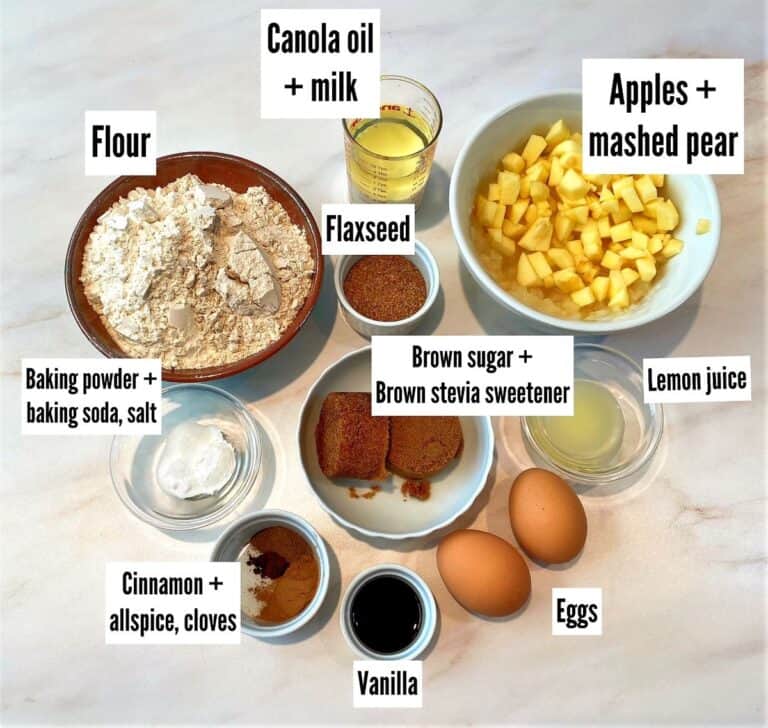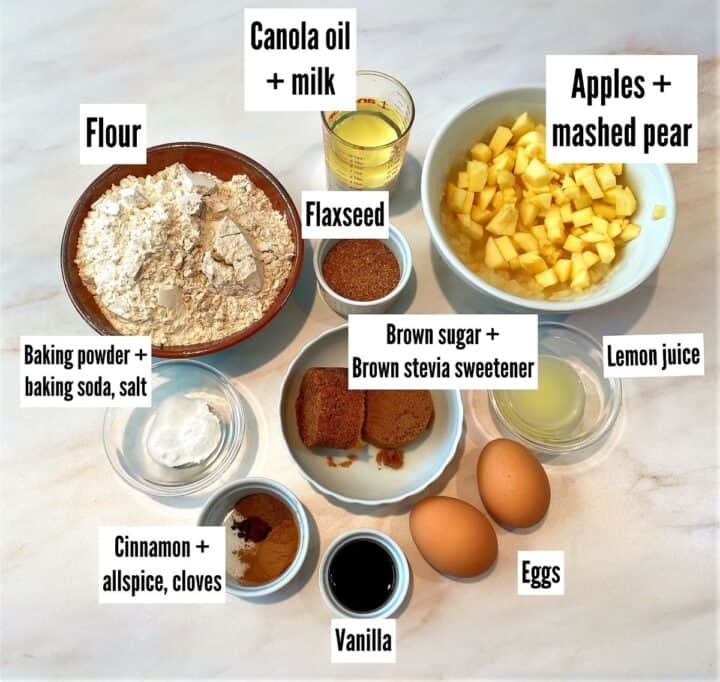 Flour: If you're in rush, use just one type of flour. Add some whole-grain goodness to your apple pear bread with whole-wheat pastry flour or white whole-wheat flour. If desired, use gluten-free in place of all the flour.
Flax adds anti-inflammatory omega-3 fats, fiber, and a subtle nutty flavor to the loaf.
Spicing: Cinnamon, allspice, and cloves add a warm wintry taste that is perfect for cold weather and the holiday season.
Feel free to add your favorite warm spices, such as ginger, cardamom, nutmeg, star anise, etc!
Pear varieties: Choose a ripe, soft pear with thin skin, like a Bartlett, for this recipe. You won't need to peel them! Remove the peels from thick-skinned varieties, like D'Anjous and comice.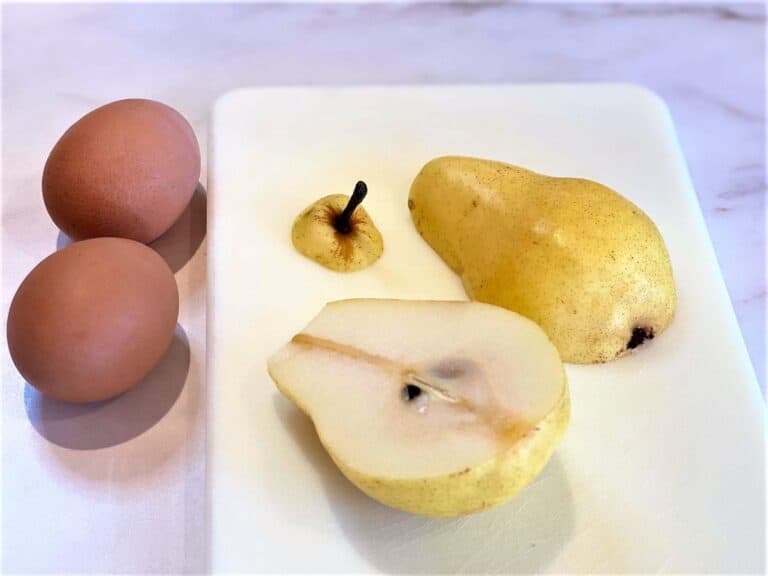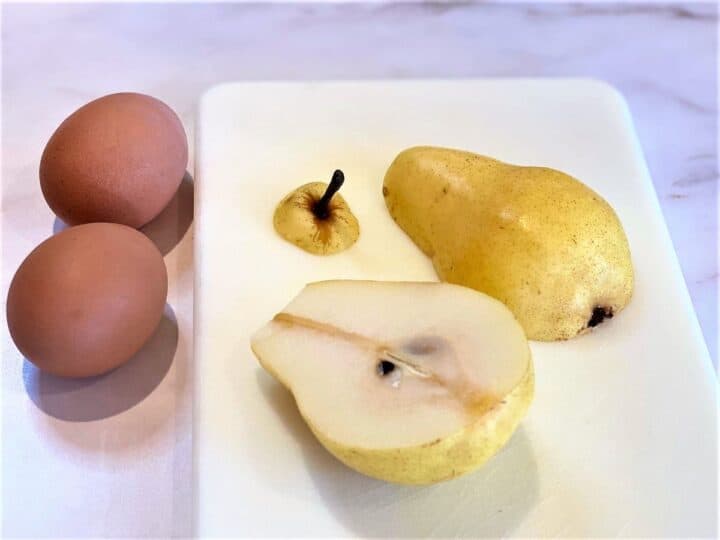 Apple varieties: Galas and other apples with slightly softer flesh are best. But, use whatever is in your refrigerator! Unlike the pears, the apples should be peeled.
Canola oil: Any oil with a neutral flavor is fine and will help your bread stay moist. Melted butter has a good flavor, but will not help with moistness or health! The polyunsaturated fats in canola oil are good for heart health.
Sweetness: In the recipe, half the apple pear bread's sweetness comes from a stevia-blend sweetener. It tastes and cooks like brown sugar. Double the amount of brown sugar if you want to leave out the stevia-blend sweetener.
How to make
Wash your hands well and spray a 9"x 5" loaf pan with non-stick baking spray. Set the oven to 350 degrees.
Combine all the dry ingredients in a large bowl and whisk.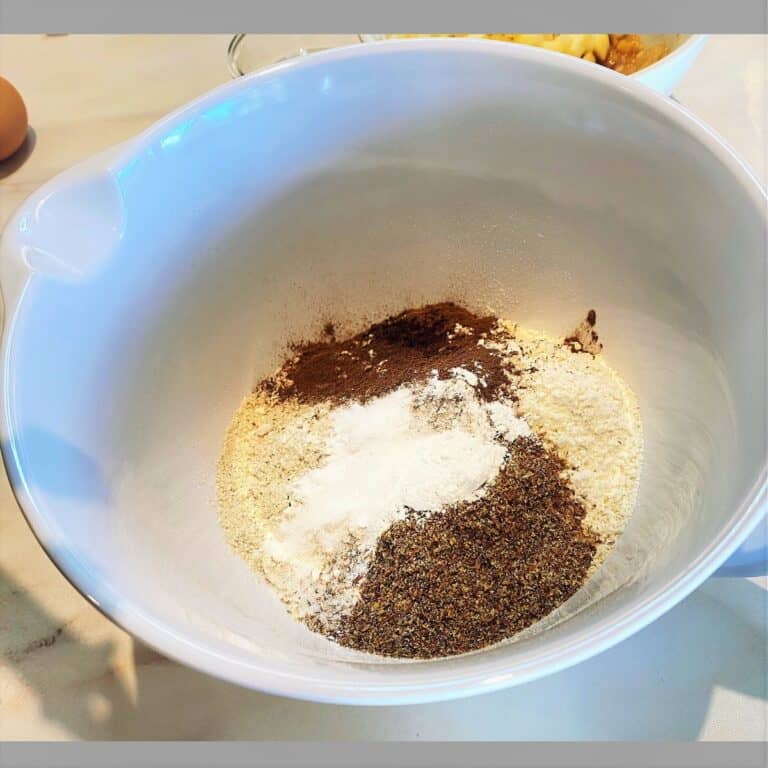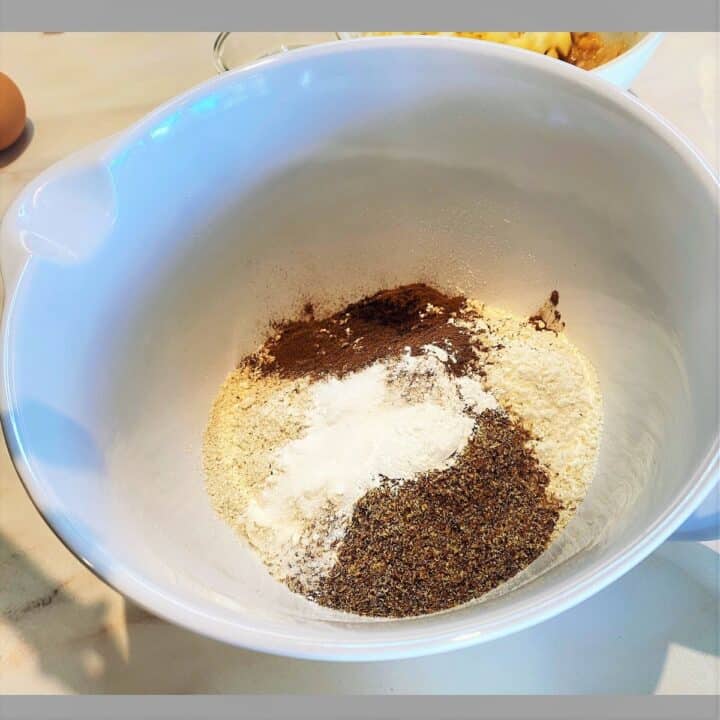 2. Prep the fruit by chopping the pear into small cubes. Put the pear cubes in a medium bowl. Reduce to mush with a potato masher.
Chop the apple into small cubes and add to the pear mush along with the lemon juice. Stir to blend and set aside.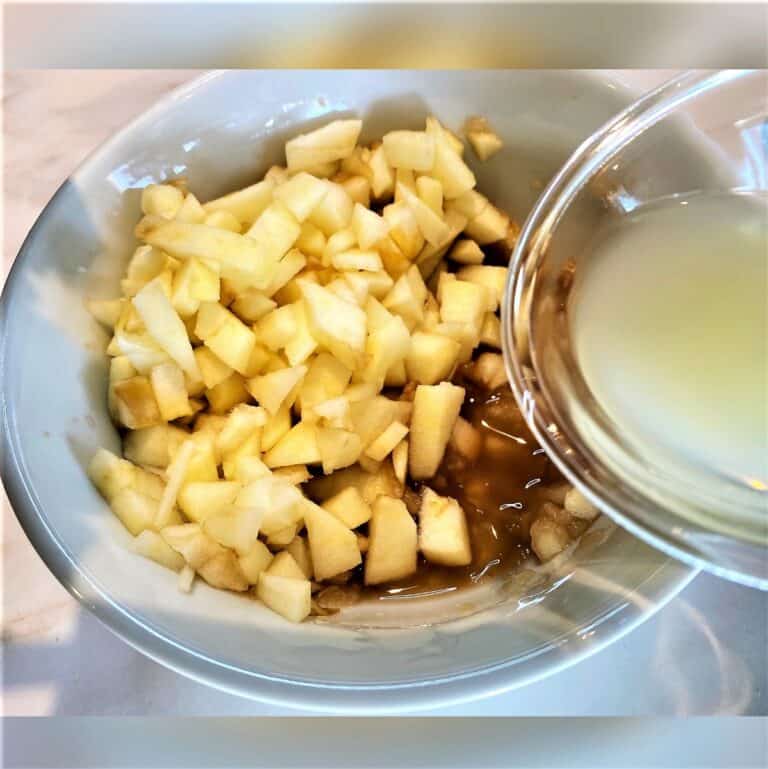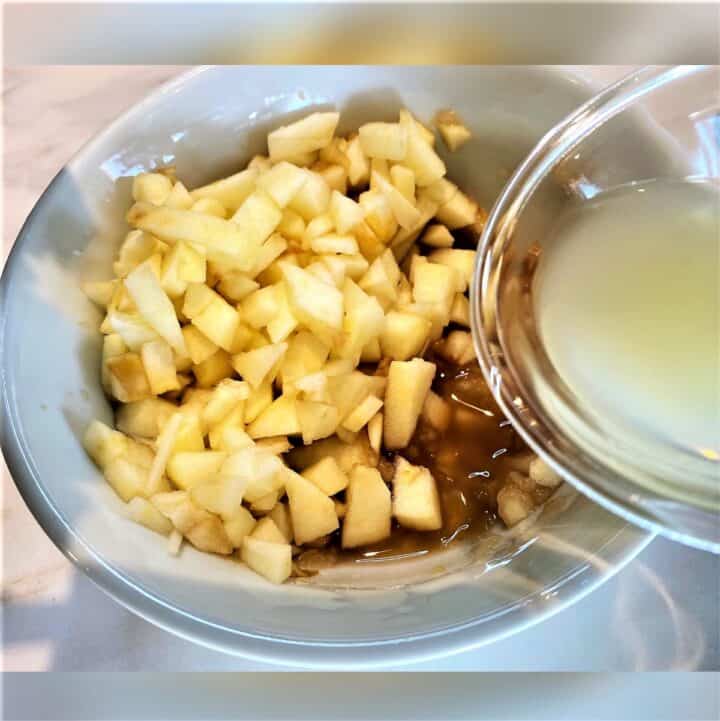 3. In a medium bowl or large measuring cup, combine the canola oil, milk, stevia-blend sweetener, brown sugar, eggs, and vanilla. Whisk thoroughly, until the sugar is mostly dissolved. It's okay if a few lumps remain.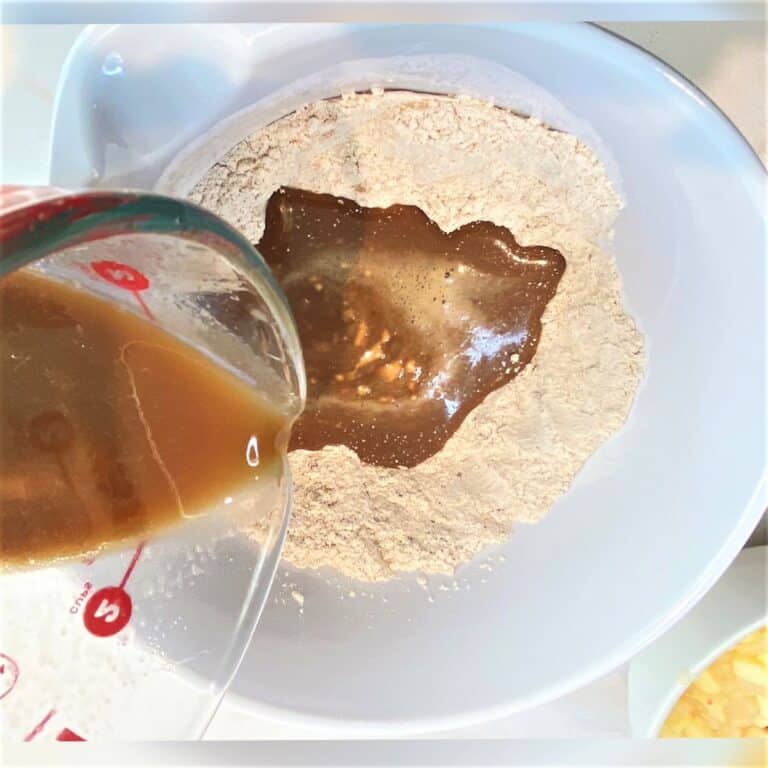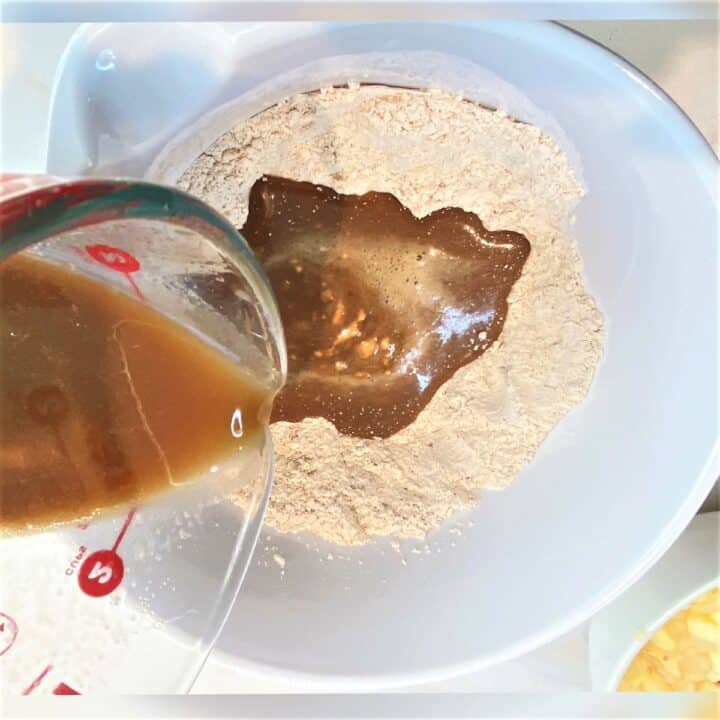 4. Make a well in the center of the dry ingredients. Pour the wet ingredients into the well and stir gently until just a few dry spots remain.
5. Add the fruit and continue to stir until there are no more dry spots. Be careful not to beat the batter!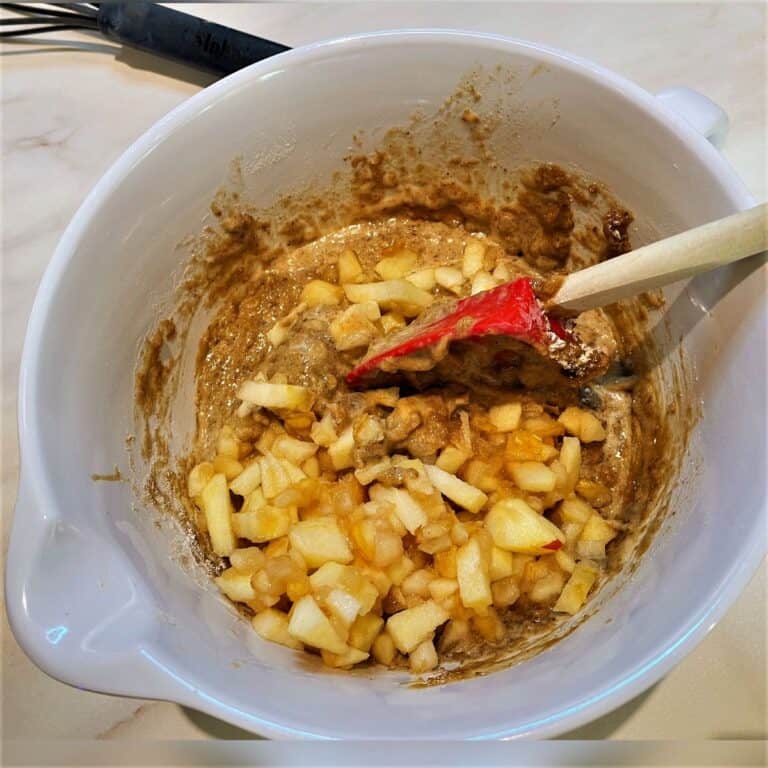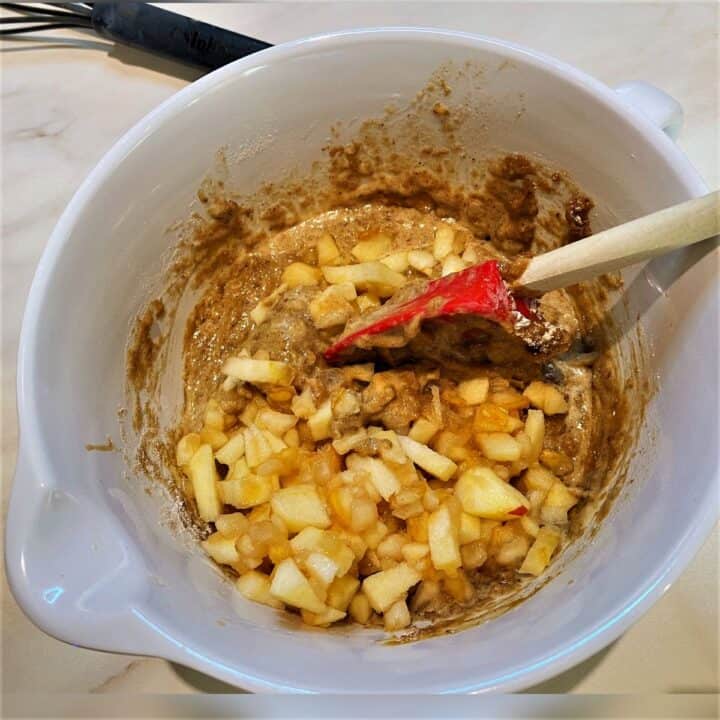 6. Pour into the prepared loaf pan and gently tap and move back and forth on the counter to remove any air bubbles.
Place in the oven and bake for 55 minutes to an hour.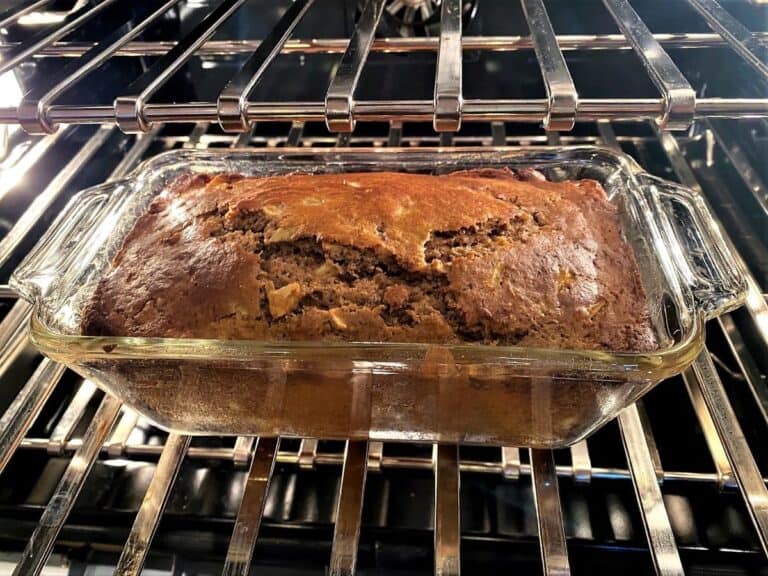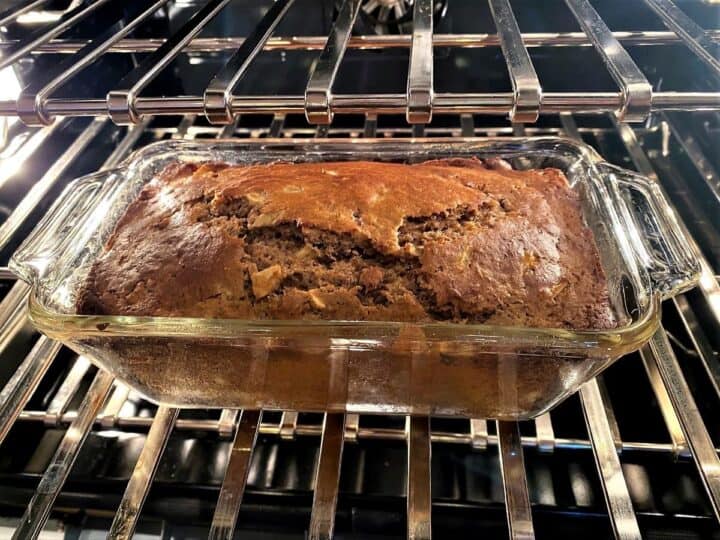 When the loaf is finished baking, let cool on a rack. After 10 minutes, remove the loaf from the pan and continue cooling on the rack.
After another 10 minutes, you can glaze and serve the bread.
If you plan to freeze the bread instead of eating immediately, let it sit at room temperature for at least an hour.
Ideas for delicious additions
Chopped toasted walnuts or pecans, dried cranberries or golden raisins: Mix these into the batter at the end when you add the fruit.
Ginger: Two tablespoons chopped crystallized, a teaspoon of powdered, or a tablespoon freshly grated.
Here's how to add the different kinds of ginger when making the batter:
Combine crystallized ginger with the fruit at the end of the mixing.
Stir freshly grated into the wet ingredients.
Combine powdered with the dry ingredients.
Nutrition bonuses per slice 🍞
Fiber: 4 grams from whole grains, flaxseed, apples, and pears.
Increased daily fruit intake: The 2020-2025 Dietary Guidelines for Americans recommend 1 ½ to 2 cups of fruit per day (p.33). Each slice contains about a ¼ cup of fruit.
💪🏽 Iron: Excellent source of iron for men and a good source for women.
Protein: 6 grams–not bad!
Anti-inflammatory antioxidants and dietary fats
🍐 Apples and pears offer nutrition benefits for chronic diseases. Many of their health-promoting nutrients are found in the skin. This includes antioxidant flavonoids and phytochemicals like quercetin and terpenoids.
Many of these are in the peel. So, use a thin-skinned type of pear in this recipe, and don't peel it!
🍎 Apples contain chlorogenic acid in their flesh, which may help with cardiovascular health, obesity, and blood sugar management.
The good amount of fats in each slice are mostly better-for-you monounsaturated and polyunsaturated fatty acids. They are linked to improving cardiovascular markers and eye health.
Storage
💧 Keep the bread at room temperature on the day it is baked. In the evening, wrap the loaf in foil or plastic or place it in a container and transfer it to the refrigerator. It keeps for two to three days (if it isn't gobbled up first!).
♨ Gently reheat a full or half loaf in a warm oven (250 degrees). Microwave individual slices for 10 to 20 seconds at 80% power.
🧊 Freezing: Place an unglazed loaf in wax paper or plastic wrap. Cover with aluminum foil and freeze for up to three months.
Apply Simple Glaze (recipe below) to thawed bread if desired.
FAQs
Can I use grated apples instead of chopped ones?
Yes, grated apples are great!
Can I use canned pears instead of fresh?
Of course! Canned pears are easy to mash, but you won't get as many nutrition benefits.
What about using overripe pears?
The apple pear bread recipe is perfect for overripe pears.
Can I make muffins instead of bread?
Yes. The recipe, however, makes more than a dozen muffins so that you may have extra batter. Bake muffins for about 20 minutes at 375 degrees in a convection oven.
Is apple pear bread good for you?
Generally, the answer is yes!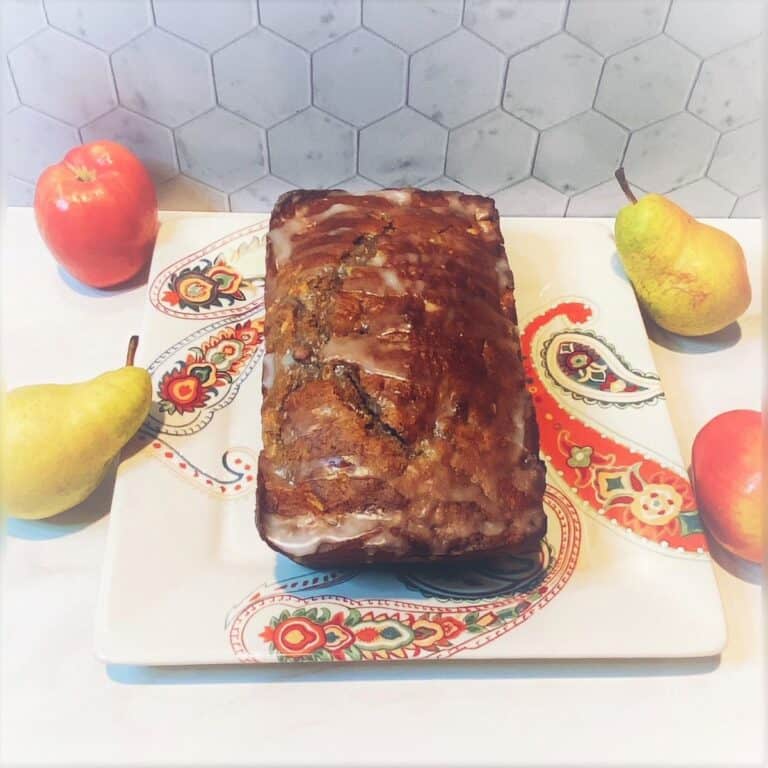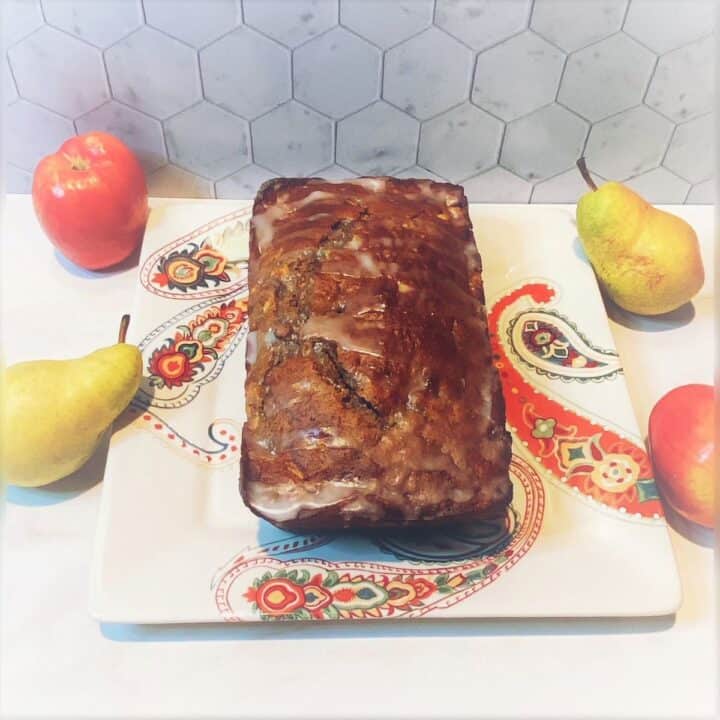 It has anti-inflammatory benefits. (See the nutrition bonuses above.) But, anyone with gluten sensitivity or celiac disease should use gluten-free flour.
Also, apple pear bread is not particularly low in calories or sugars, especially if you glaze it and don't use a stevia-blend sweetener. With the sweetener, one slice is much lower in sugars than a bakery muffin or quick bread.
Made with confectioner's sugar, the toothsome glaze adds 32 calories and 8 grams of sugar per slice.
🎁 Holiday gifting?
This loaf makes a lovely holiday gift. You could even make mini-loaves and freeze them until you are ready to give them away!
Other holiday gift ideas on the blog include:
Banana Dog Treats with Peanut Butter (for your best friend) 🐕‍🦺
Apple Butter (instructions for both instant pot and slow cooker)
All are healthy and delicious!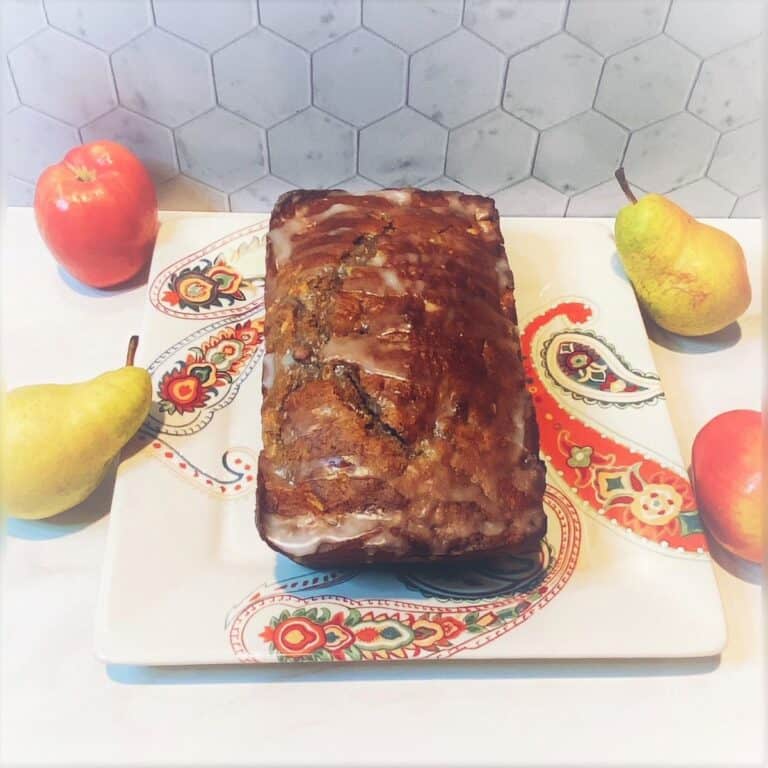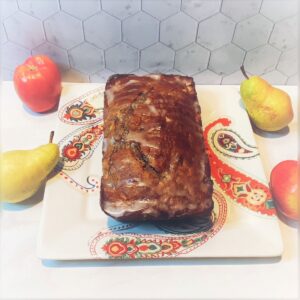 Healthy Homemade Apple Pear Bread
An easy loaf flavored with warm spices and fall harvest fruits. Slice and enjoy this moist bread with your favorite hot beverage!
Ingredients
1

cup

whole-wheat pastry flour

¾

cup

all-purpose flour

2

Tablespoons

ground flaxseed

1

teaspoon

baking powder

½

teaspoon

baking soda

1

teaspoon

cinnamon

½

teaspoon

allspice

¼

teaspoon

cloves

1

large pear

finely chopped or mashed

1

large apple,

finely chopped

1

Tablespoon

lemon juice

½

cup

canola oil

or other neutral-tasting vegetable oil

½

cup

low-fat milk

use dairy or plant milk

¼

cup

dark brown sugar

¼

cup

stevia-blend brown sweetener

like Truvia or Swerve

2

eggs

beaten

1½

teaspoons

vanilla
Simple Glaze
½

cup

confectioner's sugar

½

teaspoon

almond extract

1

Tablespoon

low-fat milk

or use water
Instructions
Wash hands for 20 seconds before beginning the recipe.

Set oven to 350 degrees, and coat a loaf pan with non-stick baking spray.

In a large bowl, combine flours, ground flaxseed, baking powder and soda, spices, and salt. Whisk.

In a medium bowl, toss the mashed pear with chopped apple and the lemon juice.

In a large measuring cup or medium bowl combine the remaining ingredients and beat well.

Make a well in the center of the dry ingredients and pour in the wet ingredients. Stir with a spatula or wooden spoon until there are only a few dry spots in the batter. Add the fruit and gently mix, but don't beat the batter!

Pour batter into the prepared loaf pan. Bake for 55 to 60 minutes. Test the loaf by inserting a skewer or knife in the center.

It should come out clean, but a little damp with maybe a crumb or two sticking to it.

Remove the loaf from the oven and set it on a rack to cool for about 10 minutes. Then, remove the bread from the pan by turning the pan upside down. Continue to cool.

If desired, make the Simple Glaze while the bread continues to cool.
Simple Glaze
Place confectioner's sugar and almond extract in a glass measuring cup or small spouted bowl.

Add milk or water a half a tablespoon at a time until the glaze is thin enough to run off the end of a spoon.

Pour glaze over the length of the apple pear loaf.
Notes
If your fruit is in large chunks, it may sink to the bottom of the loaf. Soft pears are easy to mash and will be incorporated easily into the grain of the bread.
Use gluten-free flour in place of all the wheat flour if you prefer it.
Don't glaze the bread if you plan to freeze it for later.
To keep the confectioner's sugar from lumping, pour it through a small strainer.
The glaze adds 32 calories per slice. You can cut that in half by substituting a ¼ cup of stevia-blend sweetener similar to a confectioner's sugar for half the sugar.
Nutrition
Calories:
307
kcal
Carbohydrates:
49
g
Protein:
6
g
Fat:
17
g
Saturated Fat:
2
g
Polyunsaturated Fat:
5
g
Monounsaturated Fat:
9
g
Trans Fat:
0.1
g
Sodium:
148
mg
Potassium:
192
mg
Fiber:
4
g
Sugar:
12
g
Vitamin A:
117
IU
Vitamin C:
3
mg
Iron:
2
mg
Copyright © 2022 Jani H. Leuschel