This simple soup gets sweetness from carrots, which balance celery's vegetal, green flavor. The combo has a Yin-Yang vibe that is deliciously nutritious.
Enjoy it warm or cold with a hearty salad or thick slices of toast. Pair with grilled fish, chicken, or pork for a more substantial meal. It's the perfect vegetable side–so easy, tasty, and healthy!
The essence of a vegetarian soup, this is one of those recipes with carrots, celery, and onion, the culinary trinity known as mirepoix.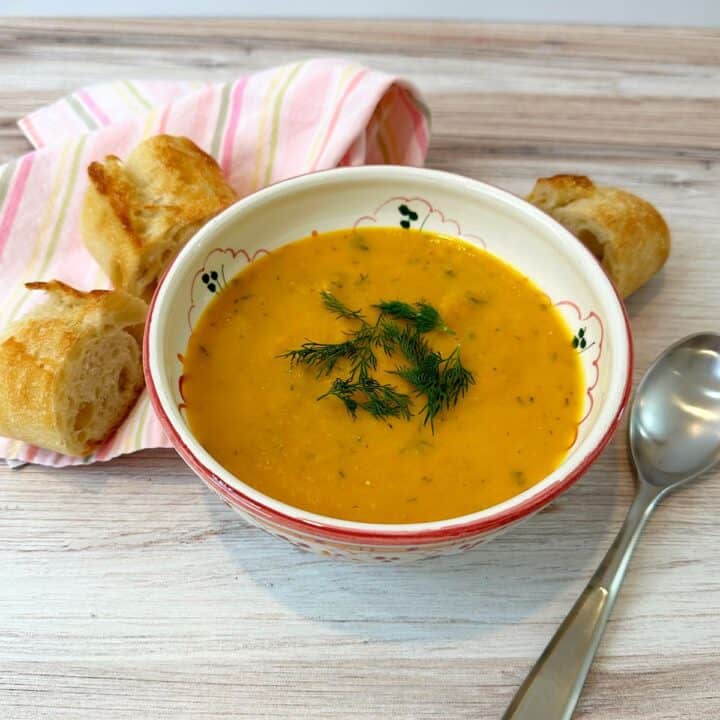 Leave out the Greek yogurt to keep the recipe vegan.
I earn from qualifying purchases at no extra cost to you as part of the Amazon Affiliate program.
Ingredients: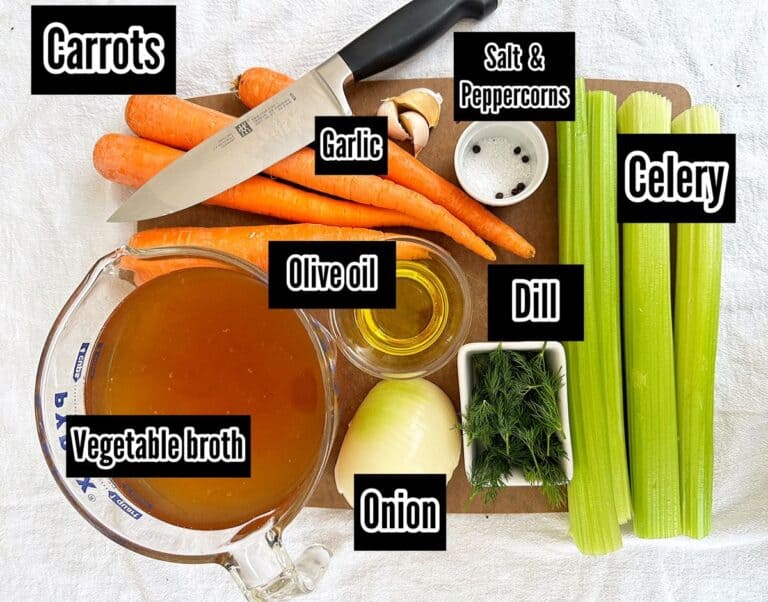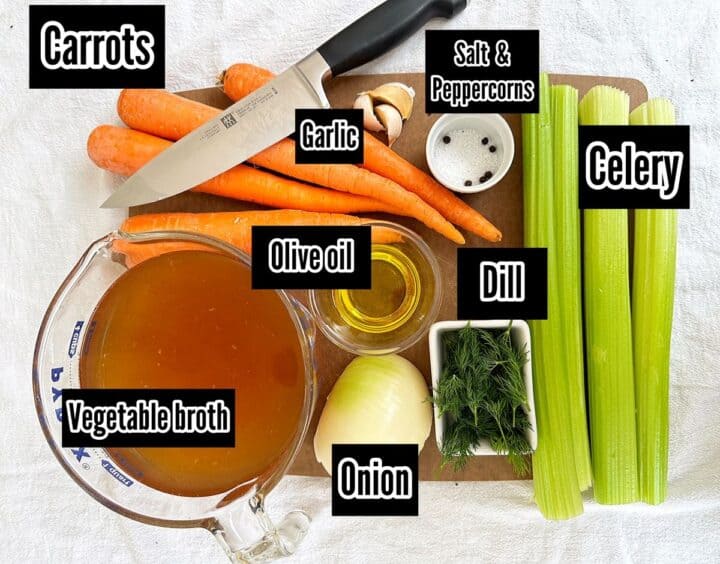 Olive oil
Onions, chopped
Carrots, chopped
Celery, chopped
Garlic, minced
Vegetable broth
Greek yogurt (optional)
Dill
Olive oil: Use a good quality olive oil that is smooth and not too acidic because the flavor is important in this simple soup. Extra-virgin is fine unless it has a very strong taste.
🧅 Onions: Use your favorite kind. I like sweet yellow in the soup, but you can use white or red. Pull a bag of frozen, chopped onions out of the freezer if you're in a hurry. (Thaw before using.)
🥕 Carrots: Because they are the main taste, look for sweet, fresh ones. Carrots sitting in the refrigerator or produce section for a long time can get woody and lose sweetness.
With this veggie, small size does not always equal sweetness. Frozen may be preferred to fresh carrots in storage for a long time.
Celery: Again, freshness is important. Juicy stalks are less likely to taste bitter. (And, bitter can be a problem with celery!)
Garlic: If your cloves have green stems, remove them. They might cause a harsh note in your soup. You can also substitute garlic powder for fresh cloves.
Vegetable broth: Substitute chicken broth or water if you do not have veggie broth. You'll need to add more salt to the soup when using water.
Save your veggie trimmings and check out my sustainable Veggie Scraps Broth recipe for homemade veggie broth.
Greek yogurt: This optional ingredient adds a bit of protein and slight creaminess to the soup. Use full fat for the most flavor and creaminess.
Dill: It gives the soup a fresh taste that is especially nice in spring and summer. Any herb, however, like flat-leaf parsley, cilantro, oregano, or thyme, will be fine.
When substituting a dried herb for fresh, add them with the garlic when the vegetables are almost finished. Use a third as much dried herb as fresh.
How to make this soup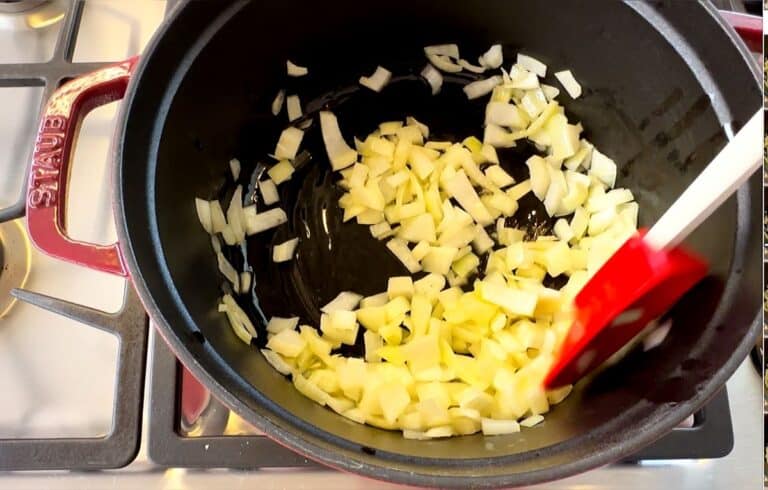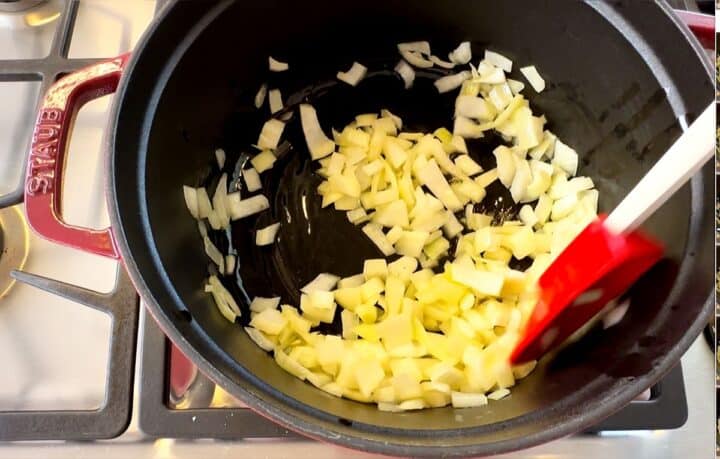 1.) Heat the olive oil in a deep, heavy-bottomed pot. Add the onions and cook until they are translucent.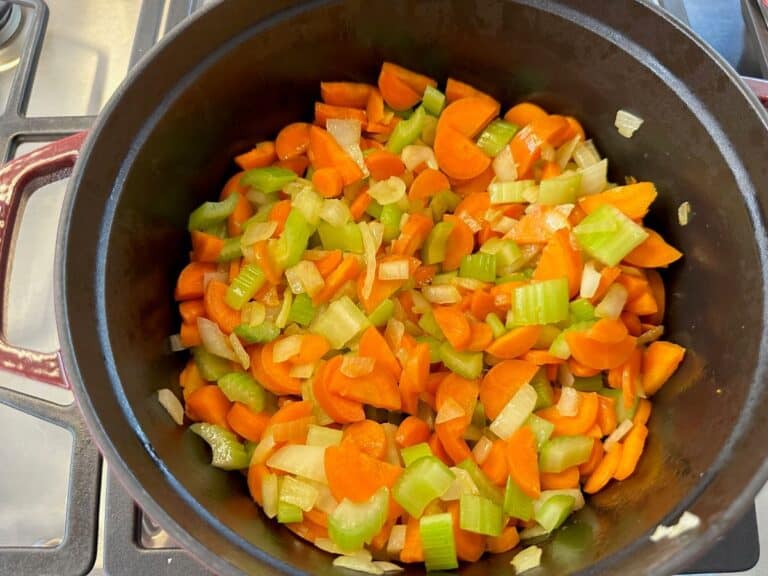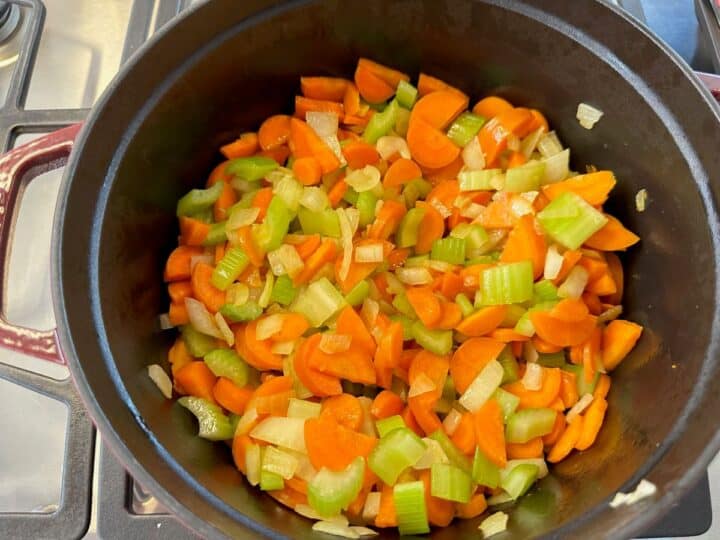 2.) Add the carrots and celery and cook until brightly colored and slightly softened, stirring.
3.) Toss in the garlic, salt, peppercorns (and dried herbs, if used). Cook, stirring until fragrant.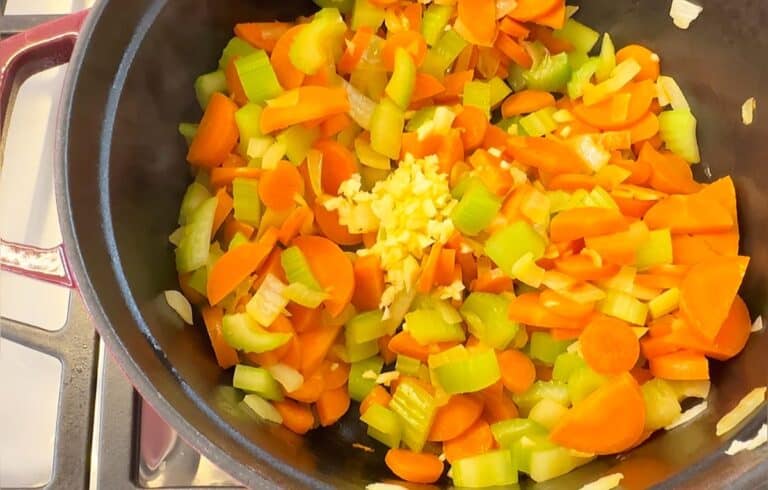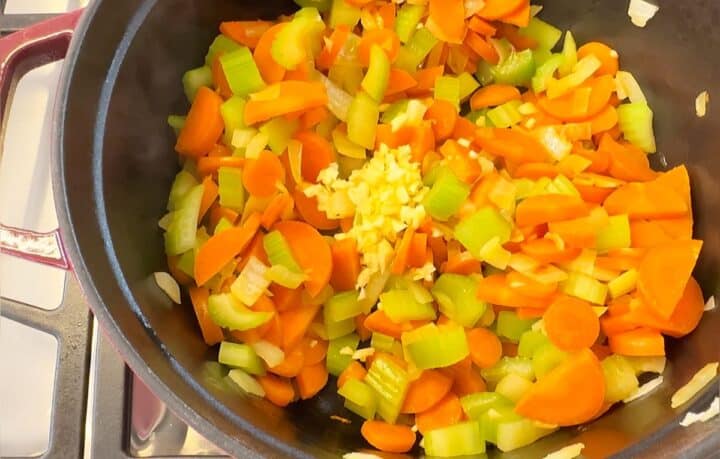 4.) Pour in the broth and scrape up any bits of vegetable stuck to the bottom of the pot.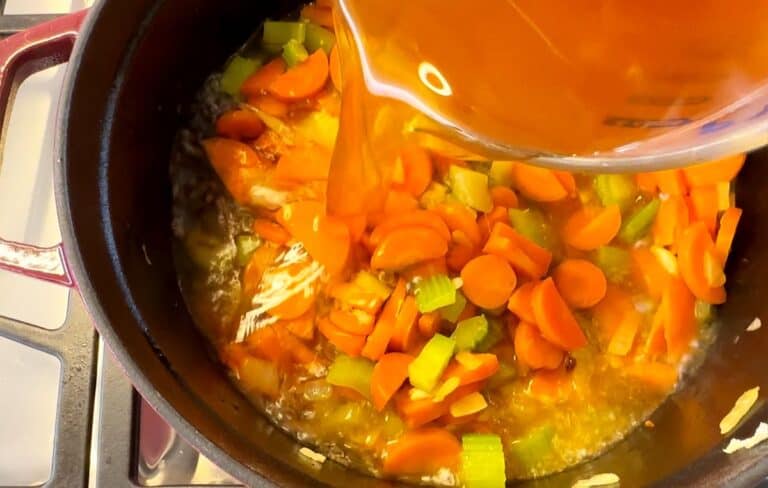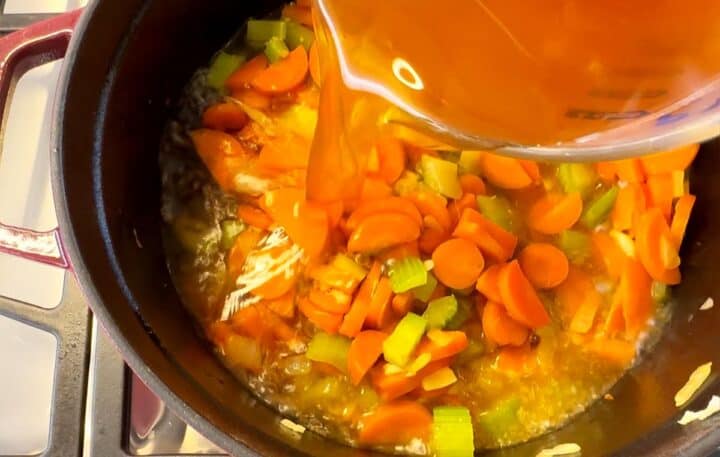 6.) Bring mixture to a boil, then reduce to a simmer and cover partially. Simmer until vegetables are completely soft.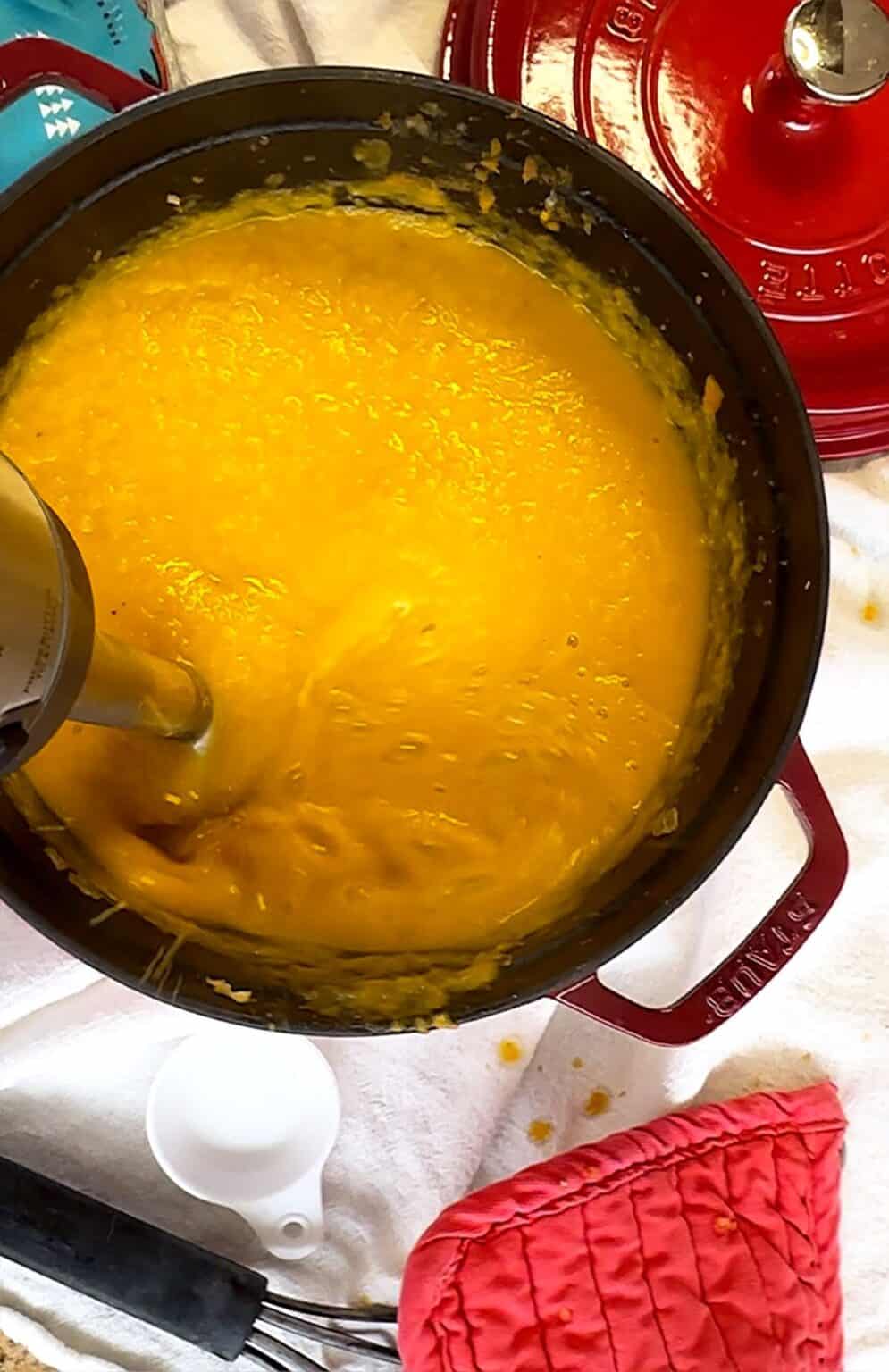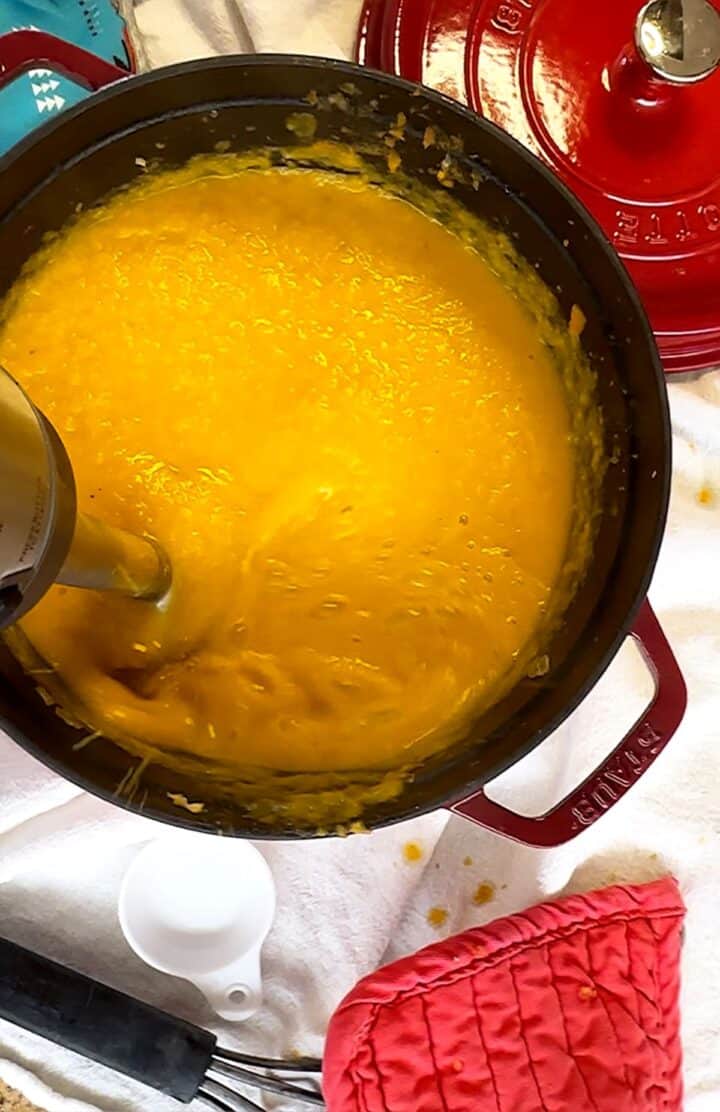 7.) Remove from heat and puree with an immersion blender.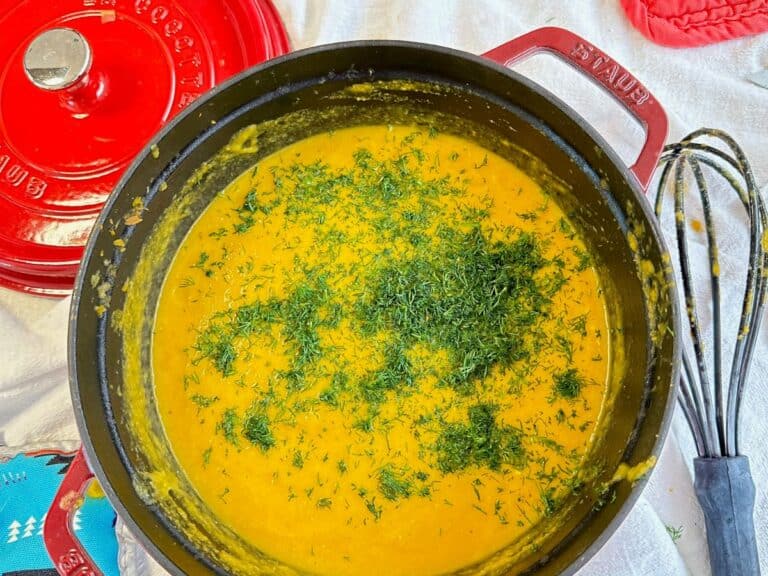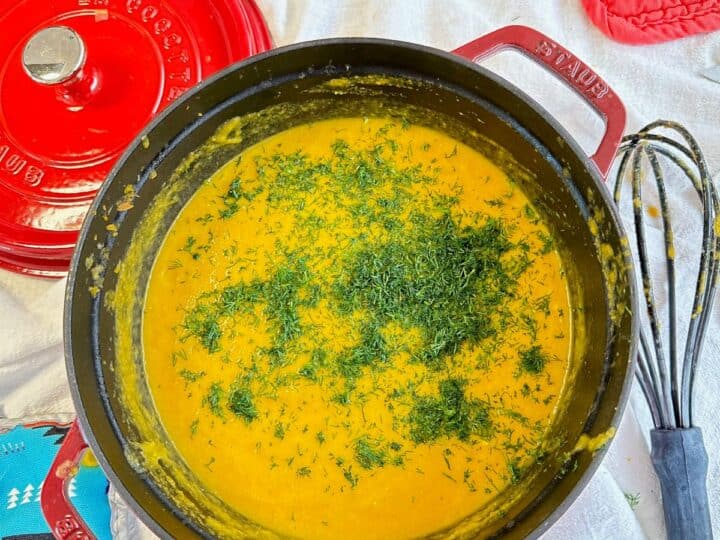 8,) Stir in the yogurt and dill and gently reheat. Do not let the soup boil vigorously.
Serve in bowls with a drizzle of balsamic syrup and olive oil on top. Croutons are also a nice touch.
For complete instructions with amounts and times, see the printable recipe card at the end of the post.
Cooking tips
🔪Veggie prep
Cut veggies into similar size pieces so they cook evenly. Exception for the carrots, which can be cut a little smaller since they are denser.
Pre-cut or frozen vegetables can save time. Bags of frozen carrots and onions are easy to find. You can also find prepped (hello, baby carrots!) or shredded carrots in the produce aisle or salad bar.
👉 Vegetables are usually at their peak freshness when frozen, so their flavor and nutrition are nearly as good as raw produce. It can even be better, depending on the age of what's in your fridge.
⌚ Want to make the soup in a hurry?
Skip the sauté. It adds flavor, but the soup will taste good if you heat all the veggies in the broth and simmer until soft. No oil is necessary. This equals fewer fat grams and calories.
🧄 Use granulated or powdered garlic.
🌿 If using dried herbs, add them at the end of the vegetable cooking time, coating them with vegetable juices and oil before adding broth to the pot.
Note: Use a third as much dried herb as fresh. They're more concentrated!
Variations
Carrot Celery Soup is a great base for other ingredients like cooked chicken, ham, or crumbled strips of cooked bacon.
Keep it vegan and up the protein with a sprinkle of nutritional yeast. A Tablespoon has 15 to 20 calories and almost 2 grams of protein.
Stir in ½ cup heavy cream, half and half, low-fat cottage cheese, or part-skim ricotta. Increase the amount of Greek yogurt to half a cup. Bear in mind that this may add saturated fat and/or calories.
At the finish of cooking, stir in the juice of half a lemon and perhaps grate a little zest over the top. A Tablespoon of Sherry vinegar is another delicious option instead of the lemon.
Or–my favorite–drizzle some balsamic reduction over the top for that sweet-sour flavor that tastebuds love!
Ginger and thyme version:
Carrots and ginger go together almost like peanut butter and jelly. Dill, however, is not as yummy with ginger. So, use thyme instead and enjoy ginger root's anti-inflammatory benefits.
Nutrition Benefits and Bonuses
Hydration: Carrot Celery Soup is especially hydrating since it's made with broth and watery veggies.
Digestion: Although rich in fiber and gut-annoying FODMAPs (Fermentable Oligosaccharides, Disaccharides, Monosaccharides, and Polyols), cooking and pureeing the vegetables makes them easier for your GI to break down.
Low saturated fat: The amount of saturated and total fat is not high, but because the soup is low in calories, almost half the calories come from fat if Greek yogurt is added,
Celery nutrition deets
There is support for the idea that celery helps the gastric mucosa. It's a popular veggie for many purposes in traditional medicine, and it's pectin-based polysaccharides, including apiuman, may fortify the stomach lining.
Vascular health: Celery may relax the walls of your blood vessels, acting as a mild vasodilator due to phytochemicals called phthalides. This might help high blood pressure.
Celery contains healthy antioxidants, vitamins, and minerals. It's an excellent source of vitamin K, a good source of vitamin A, and rich in folate. It supplies a decent helping of calcium and the antioxidants beta-carotene, lutein, and zeaxanthin.
| Celery–nutrients, 3.5 ounces | Amount |
| --- | --- |
| Vitamin K | 29.3 mcg, almost a third of the RDA for adult women |
| Vitamin A | 449 IU, about 15% of the RDA for adult women |
| Folate | 36 mg, 9% of the RDA |
| Calcium | 40 mg, 4% of the RDA |
| Beta-carotene | 270 mcg |
| Lutein and Zeaxanthin | 283 mcg |
| Potassium | 260 mg, good source for adult women |
| Source | USDA Food Data Central |
Carrot nutrition deets
Rich in vitamin A and its antioxidant derivatives, beta-carotene, lutein, and zeaxanthin, carrots are loaded with potassium and fluoride and supply some calcium.
| Carrot–nutrients, 3.5 ounces | Amount |
| --- | --- |
| Vitamin A | 16,700 IU, more than 5.5 times the RDA of 3,000 IU for adult women |
| Folate | 19 mcg, almost 5% of the RDA |
| Calcium | 33 mg, more than 3% of the RDA |
| Fluoride | 3.2 mcg, more than 100% of the RDA for adult women |
| Beta-carotene* | 8280 mcg |
| Alpha-carotene** | 3480 mcg |
| Lutein and zeaxanthin*** | 256 mcg |
| Potassium | 320 mg, good source for adult women. |
| Source | USDA Food Data Central |

*While beta-carotene in foods acts as an antioxidant and may protect against certain cancers and heart disease, taking beta-carotene supplements can be risky.
**Alpha-carotene is far less active in the body than beta-carotene.
***There is no limit set for the intake of lutein and zeaxanthin. They are bioactive without an RDA, although they are associated with better vision and reduced risk of age-related macular degeneration.
If you eat large amounts of vitamin A foods rich in carotenes, lutein, and zeaxanthin, you may notice that your skin takes on a yellowish or orange glow. This is especially evident in the palms of your hands! 🙌
As a root vegetable, carrots have some starch and more sugar and carbs than celery or onion. The native sugars help make the soup sweet and delicious!
FAQs
Do I have to use a hand-held immersion blender?
No. A regular blender or food processor will get the job done.
Strain the veggies and put them in a blender or processor. Add a cup or so of broth and puree. Then, pour the puree back into the remaining broth, stirring to combine. Proceed with the recipe.
Does the color of the carrots matter?
No. But the color of the soup may change depending on the color of your carrots.
Is this soup good for weight loss?
It's likely to help you stay on track with eating plans since it is filling, low-calorie, fibrous, and highly nutritious.
Yes. If possible, it's best to freeze it before adding the Greek yogurt. But, the amount of yogurt is not large, so it should thaw fine. Just don't boil vigorously when reheating.
It will last up to three months in the freezer and 3 days in the fridge. These single-serving soup containers are an excellent investment for freezer storage if you make soup often!
Other soups you might enjoy
Mushroom Barley Soup and Minestrone di Verdure are hearty vegetarian bowls. They are both simmered with a Parmesan rind for enrichment. (You can put one in this Carrot Celery Soup, too.)
Sometimes there's nothing like a bowl of comfort when feeling low. This homemade, simple Chicken Rice Soup is a soothing bowl for those days.
Serving ideas
Drizzle a little balsamic vinegar on top–it looks beautiful against the carrot-colored soup. While you're at it, add a few drops of olive oil. Pepitas are also a nice touch that will add a smidge of protein.
Croutons are always welcome when eating soup. Offer them on the side for the carb-conscious.
Lately, I've been making simple no-knead loaves of bread. However, you must start them a day or two in advance. You could try this popular recipe from Zoe Bakes. With good results, I have substituted white whole wheat flour for half the total flour!
Cornbread can be made while the soup simmers, and so can quesadillas! Both are marvelous with soup!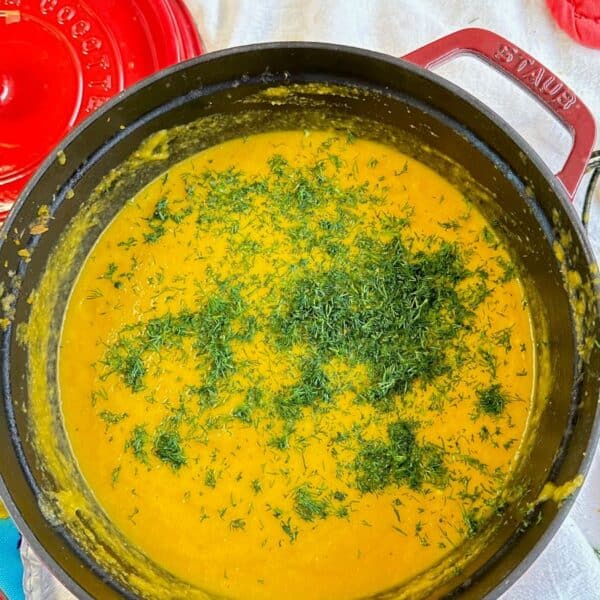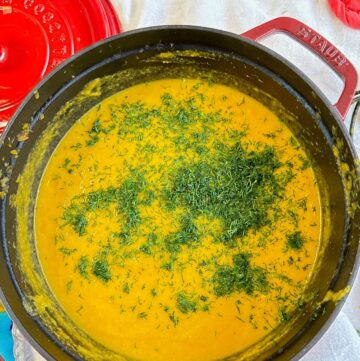 Carrot Celery Soup
A light and tasty soup that's easy to make on a weeknight and also works well for meal prep!
Ingredients
2

Tablespoons

olive oil

1

cup

onion,

chopped

4

carrots,

chopped

4

celery stalks,

chopped

1

Tablespoon

garlic,

minced

6

peppercorns

4

cups

vegetable stock

½

teaspoon

salt,

Kosher

¼

cup

Greek yogurt,

optional. Use whole milk or low-fat.

2

Tablespoons

fresh dill,

or 2 teaspoons, dried
Instructions
Wash hands for 20 seconds and begin chopping the vegetables.

Heat the olive oil in a heavy-bottomed pot and add the chopped onion. Sauté over medium heat for about 5 minutes, until onion begins to lose its color.

Add chopped carrot and celery, and cook for another 5 to 8 minutes, until vegetables turn a bright color and start to soften.

Add garlic, salt, and peppercorns, and cook a minute or two until garlic is fragrant.

Pour in the vegetable stock, and bring to a boil. Turn heat down and simmer for 10 to 15 minutes, until the vegetables are soft.

Remove from heat. With an immersion blender, pureé the soup in the pot.

Or, remove the vegetables from the broth, transferring to a regular blender along with small amount of the broth. Pureé and return to the pot.

Stir in the Greek yogurt and the chopped fresh dill. Serve hot or cold.
Notes
Enjoy this soup as a vegetable side with a main dish salad. It pairs well with egg-centric main dishes like frittata, quiche, or strata. It's also nice with grilled fish, chicken, and pork.
For a simple dinner, serve it with a quesadilla or some thick slices of whole wheat toast.
Nutrition
Calories:
126
kcal
Carbohydrates:
14
g
Protein:
2
g
Fat:
7
g
Saturated Fat:
1
g
Polyunsaturated Fat:
1
g
Monounsaturated Fat:
5
g
Cholesterol:
1
mg
Sodium:
1283
mg
Potassium:
293
mg
Fiber:
3
g
Sugar:
7
g
Vitamin A:
10727
IU
Vitamin C:
7
mg
Calcium:
50
mg
Iron:
0.4
mg
Copyright © 2023 Jani H. Leuschel