This sweet-tart chutney with pears and cranberries deserves a spot on the holiday table to enliven roasted turkey or ham. It's a nice addition to a charcuterie board, pairing well with cheeses and meats.
The healthy chutney also makes a deliciously different and festive gift, especially if you're not an avid baker.
As an Amazon affiliate, I earn from purchases made through links on this blog. Thanks for your support!
Ingredients:
Canola oil
Onion
Garlic
Dried pears
Fresh or frozen cranberries
Orange juice
Honey
Stevia sweetener
Orange zest
Star anise
Apple cider vinegar
Ginger
Dried whole Thai chiles
Cinnamon stick
Cloves
Salt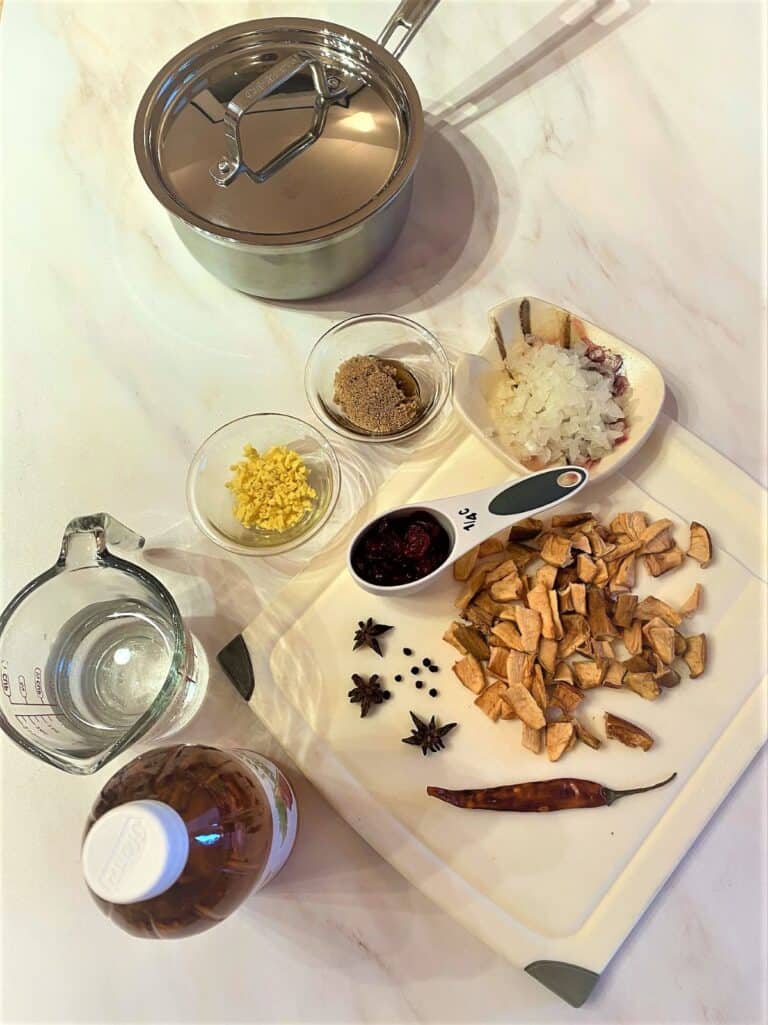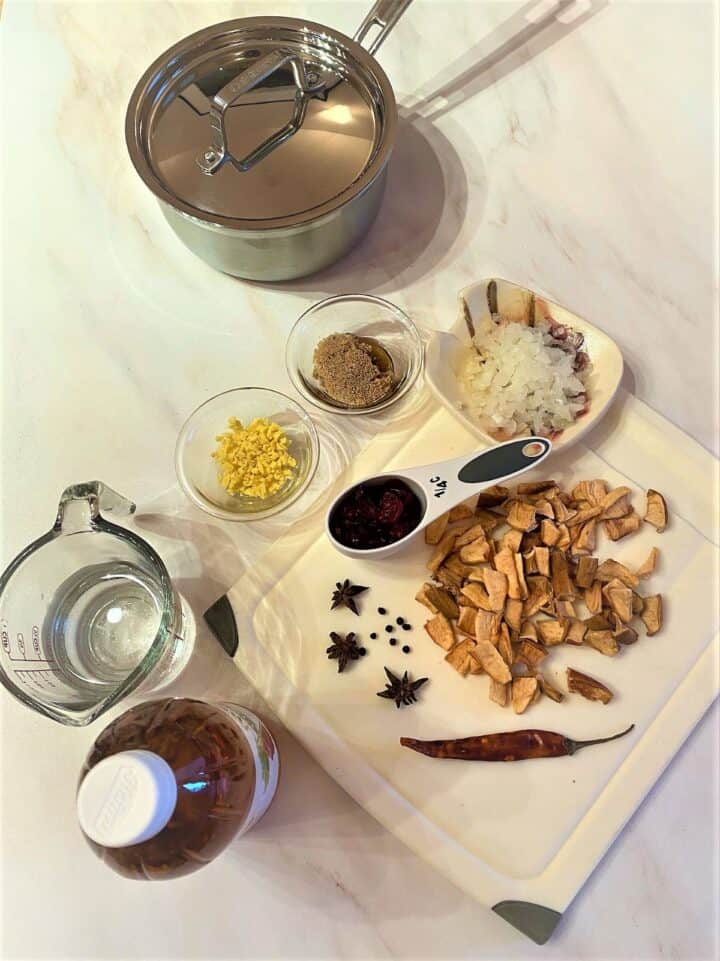 Although it has a holiday vibe, you can throw this quick chutney together any time of the year as long as you have dried pears and some cranberries in the freezer.
Feel free to substitute dried cranberries. Remember, however, that they will make the chutney sweeter since packaged, dried cranberries usually have additional sugar!
⭐The plethora of spices--star anise, ginger, cloves, and cinnamon--make the chutney taste complex. Other spices that would taste nice in it are cardamom, nutmeg, and/or garam masala.
The chutney is enlivened by Thai chiles, but not too many. Add more or less spiciness as you see fit by removing or adding a chile. Red pepper flakes are fine to use if you don't have the whole chiles.
How to make
Heat the oil in a large pot and cook the onion until it loses color. Add the garlic and cook briefly until fragrant.
Add the fruit, chilies, and spices to the onion and garlic and stir to coat. Pour in the liquid ingredients and stir to blend.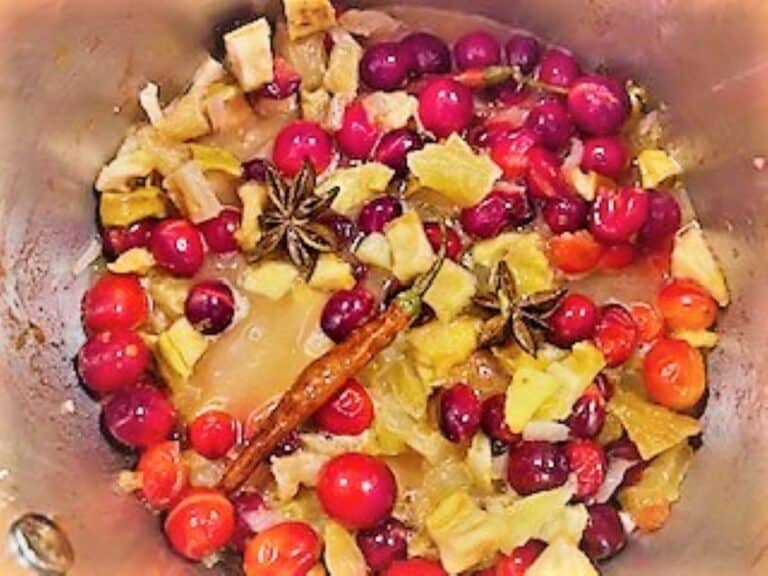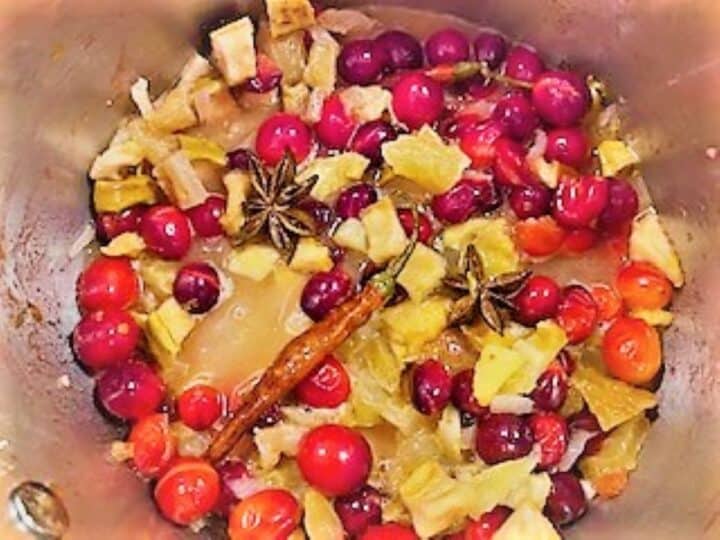 Heat to boiling, and then, lower the heat and simmer for a few minutes. Taste and adjust for sweetness or sourness, adding more sugar or vinegar as necessary.
Continue to simmer for 20 to 30 minutes until most liquid is gone and the mixture is chunky and preserve-like.
Pull off the heat and cool--it will thicken more as it cools. Or pack the warm chutney into hot, sterile jars and proceed with canning, if you like.
If you have an Instant Pot and are interested in canning, read this post from Friedalovesbread.com for an explanation of Instant Pot canning.)
Homemade gifts that don't need an oven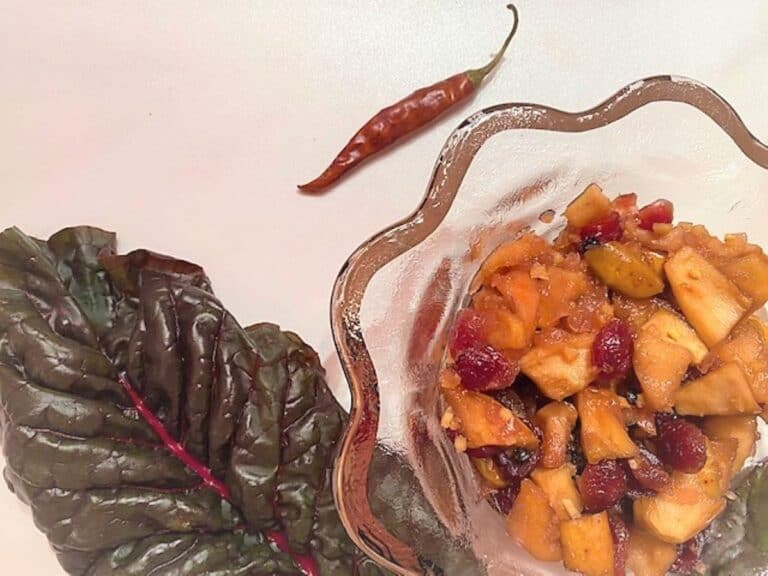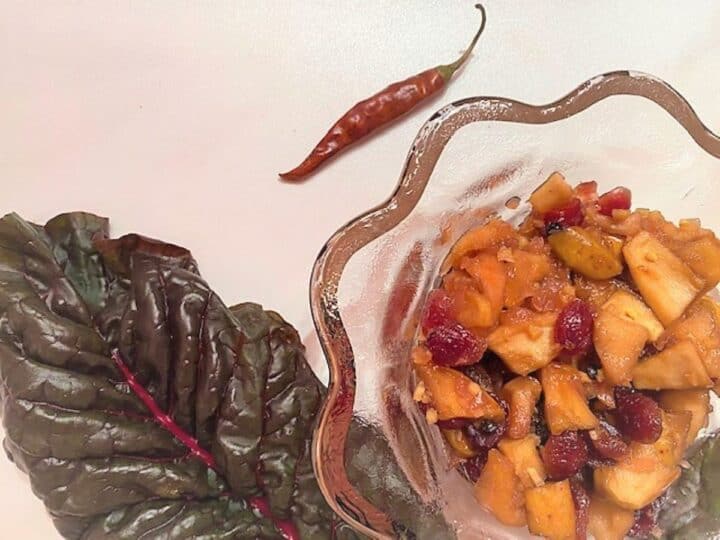 Every year, I enjoy making an edible homemade gift for friends that is not cookies. Don't get me wrong, I do bake holiday treats, but many of my friends and loved ones enjoy getting a different sort of gift!
In addition to this Pear Cranberry Chutney, you'll find several recipes that are deliciously giftable. You won't need a drop of flour for any of these!
Chermoula Spice Blend: A versatile toasted spice mix that's good in dips and marinades--even better on top of roasted salmon and vegetables
Nutrition bonuses of Pear Cranberry Chutney
Pears and cranberries are high in fiber. Cranberries are natural sources of pectin, a beneficial soluble fiber. Both are sources of antioxidants and flavonoids, too.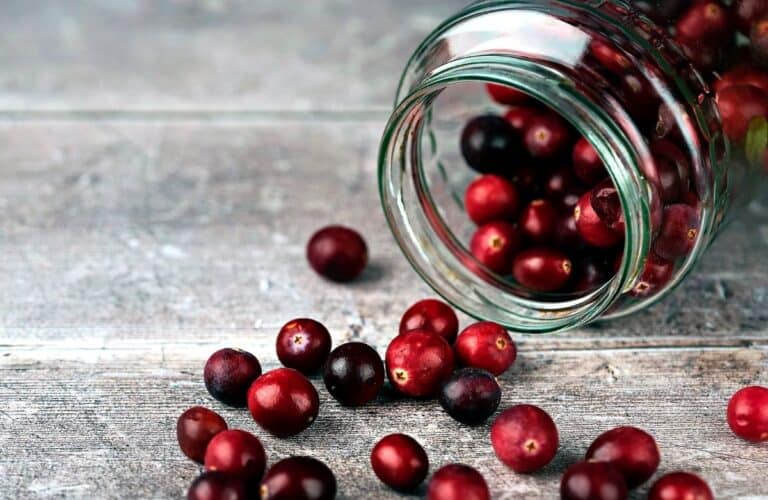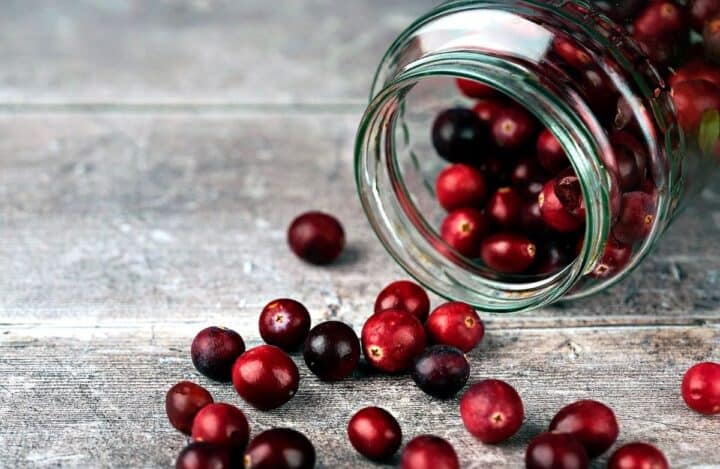 Because it is mostly made from dried fruit, it has a gram of iron per tablespoon. This may not sound like much, but it's more than 10% of an adult man's Recommended Daily Allowance (RDA).
Each tablespoon is also low in sodium and counts as a serving of carbohydrates.
Some chutney facts
Chutney made its way from India to Europe and North America and turned jammy along the way.
Major Grey's chutney, perhaps named after a British officer living in India, is made with mangoes, raisins, brown sugar, vinegar, onions, and tamarind. The recipe dates back to the 1800s.
It tends to be as sweet as jam and may be the most popular chutney in the U.S.
Indian chutneys are sometimes raw, but Western varieties of chutney are usually cooked, low and slow for sour jams, or quickly for a piquant confiture.
The tartness of chutney, however, is what makes it such a tongue-teaser and pleaser. It's also what makes it distinct and different from jam and jelly so that chutneys can serve as a pleasing side to meats, sandwiches, and cheese.
The traditional cooking lexicon Joy of Cooking (Rombauer, Becker, and Becker, 2006*), lumps chutneys in with relishes and pickles. They also appear after relishes in How to Cook Everything (Bittman, 1998).
These cookbooks have recipes detailing how to make chutneys from fresh and dried fruit and vegetables.
(If you've got an abundance of fresh tomatoes, put them to good use in my recipe for roasted tomato chutney, a hybrid sauce-condiment cooked in the oven instead of on the stovetop.)
Categories
Fruit

: Typical fruit chutneys are mango and dried apricot.

Vegetable

: Vegetable standards are onion and tomato.

Herb

: Mint and coriander (cilantro) are classic herbaceous varieties.
Relish vs. chutney
You may wonder, are there any differences between a relish and a chutney?
Generally, relishes are more pickled, preserved, and sour than chutneys and contain little or no sugar. They are made from slightly cooked or raw firm veggies. They tend to keep longer than chutneys.
Usually, fruit and always spices are the main ingredients of chutneys, which are thick, chunky, and soft from longer cooking times. That said, you will find many vegetable chutneys.
Relishes tend to be served with hot dogs and hamburgers. Chutneys are served with meat, other proteins, and even grilled cheese sandwiches. A dollop is good on top of rice, too.
Chutney storage
You don't have to finish it during the holiday season.
It keeps for a month or more in the refrigerator without any special treatment other than clean jars. If you go to the trouble of canning, the chutney should keep unopened in the pantry for 18 to 24 months.
In the freezer, the chutney should last for about six months. Once opened, it should be eaten within four to six weeks and stored in the refrigerator.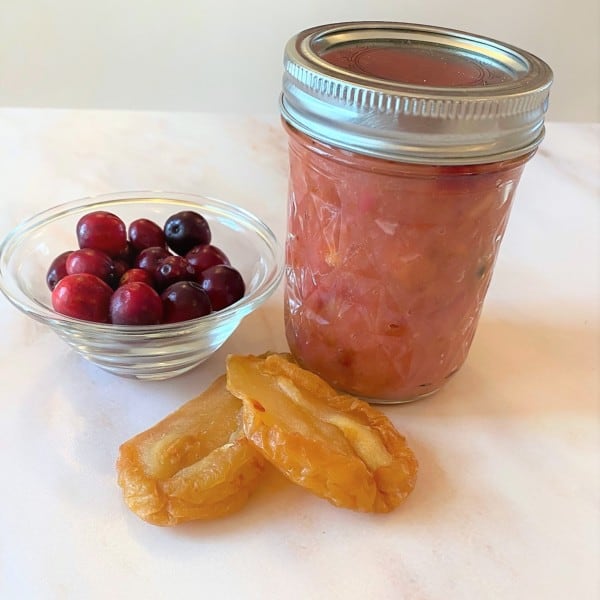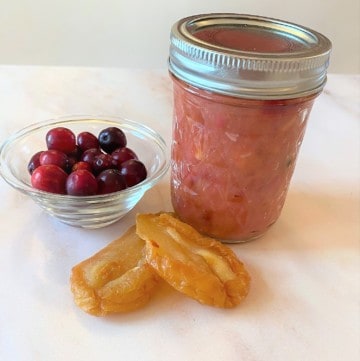 Pear Cranberry Chutney
Dried pears and fresh cranberries combine in this slightly sour and jammy accompaniment to holiday foods.
Equipment
medium saucepan

chef's knives

cutting boards
Ingredients
1

Tablespoon

canola oil

½

cup

onion,

chopped finely

1

teaspoon

garlic,

minced

1

cup

cranberries,

fresh

2

cups

dried pears,

chopped (can use a combination of dried pears and apples)

1

teaspoon

ground ginger

¼

teaspoon

salt

3

Thai red chilies,

whole

3

star anise,

whole

6

cloves.

whole

6

black peppercorns,

whole

½

cup

water,

(more, if necessary)

¼

cup

apple cider vinegar

¼

cup

orange juice,

(fresh squeezed, if possible)

2

Tablespoons

honey

1

Tablespoon

stevia sweetener

1

teaspoon

orange zest

1

cinnamon stick,

optional
Instructions
Before starting, wash hands thoroughly for 20 seconds.

Heat canola oil in a medium saucepan until shimmering. Add onion to pan and cook until translucent. Add garlic and cook 30 to 60 seconds, until fragrant.

Off the heat, combine the dried fruit, cranberries, chilies, star anise, peppercorns, and ginger with the onion and garlic. Mix gently and thoroughly.

Add the liquid ingredients, honey, Truvia, orange zest, and cinnamon stick, if using, to the onion-fruit-spice mixture. Stir and bring to a boil.

(Cranberries should start to pop.) Turn the heat down so that all ingredients are barely simmering. After 10 minutes, taste the chutney and add salt and more honey or stevia as needed if the mixture is too sour.

Continue to simmer for another 20 minutes. Watch the pot, and pour in more water, ¼ cup at a time, if all the water evaporates. Cook until the fruits are softened and the mixture becomes thick and jammy.

Remove from heat. Pour into sterilized jars and proceed with canning. if desired, while mixture is hot. Or, let the chutney cool and pour into refrigerator storage containers.

If canned, it should keep in pantry storage for 18-24 months. In the refrigerator, it should stay fresh for about two months.

Serve as a lively foil to roasted or grilled meats. Fruit chutney is also very tasty on toasted breads or as a topping for rice.
Notes
This chutney recipe is very adaptable. If you like hot spices, add another chili or two, or use red pepper flakes in place of the chiles.

You can also add other spices that you enjoy, like nutmeg, coriander, or garam masala. Just be careful not to add so many that they compete with one another!

As it simmers, the liquid will evaporate. Keep tabs on the consistency of the chutney as it cooks down. If it becomes dry, add water a ¼ cup at a time until it reaches your desired degree of softness and holds together like a preserve.
Nutrition
Calories:
56
kcal
Carbohydrates:
14
g
Protein:
0.4
g
Fat:
1
g
Saturated Fat:
0.1
g
Polyunsaturated Fat:
0.2
g
Monounsaturated Fat:
0.4
g
Trans Fat:
0.003
g
Sodium:
26
mg
Potassium:
102
mg
Fiber:
1
g
Sugar:
11
g
Vitamin A:
10
IU
Vitamin C:
3
mg
Calcium:
10
mg
Iron:
0.4
mg
Copyright © 2022 Jani H. Leuschel