Waffle hacking–to add extra nutrition–is very popular right now! Pumpkin protein waffles get their extra protein from egg whites, protein powder, and cottage cheese.
You won't be hungry for a long time after tucking into these treats!
Your friends and family will relish their seasonal spicing and yummy pumpkin flavor. You'll like putting well-rounded nutrition on the table.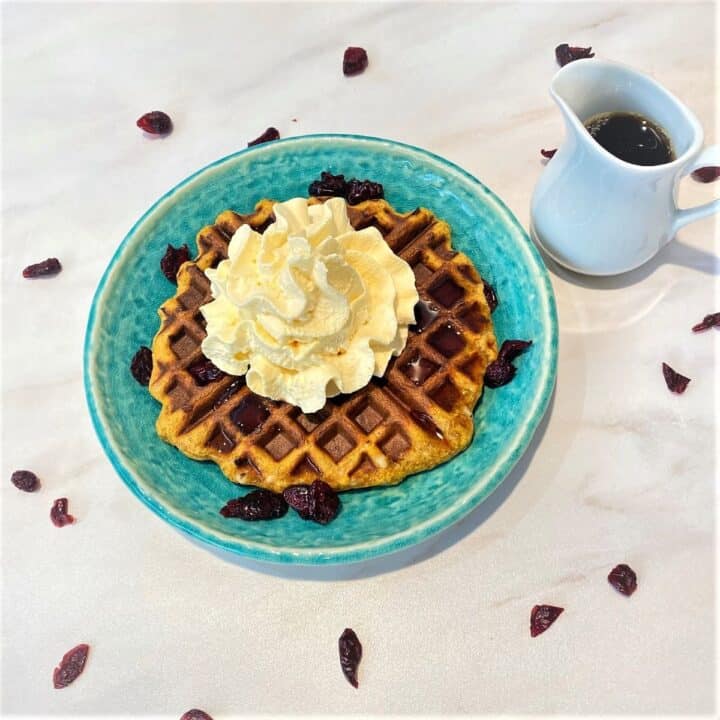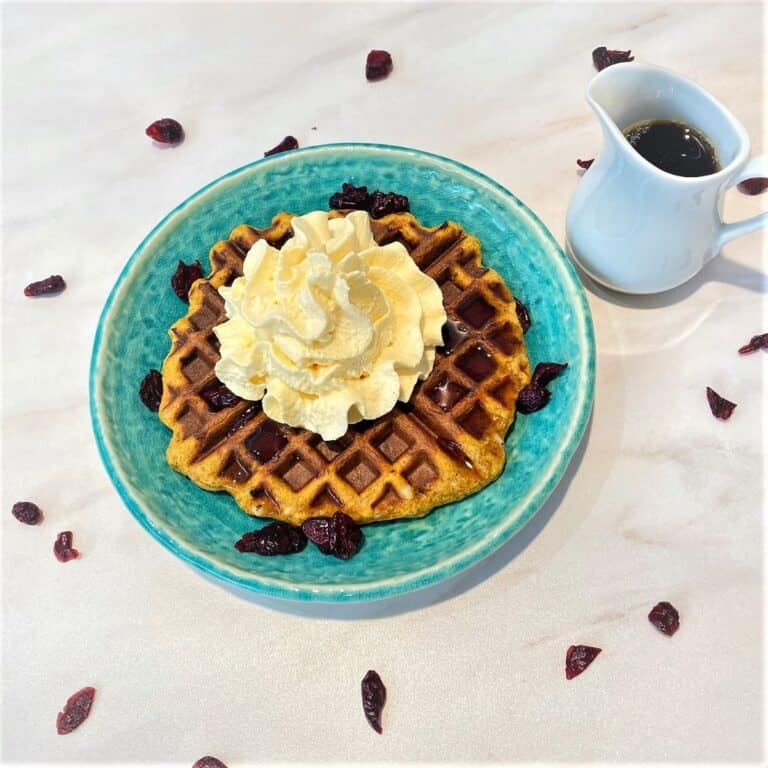 Not only is there extra protein, but the star ingredient, pumpkin, has antioxidants, vitamins, and minerals! But pumpkin is not the only healthy ingredient…read on!
Ingredients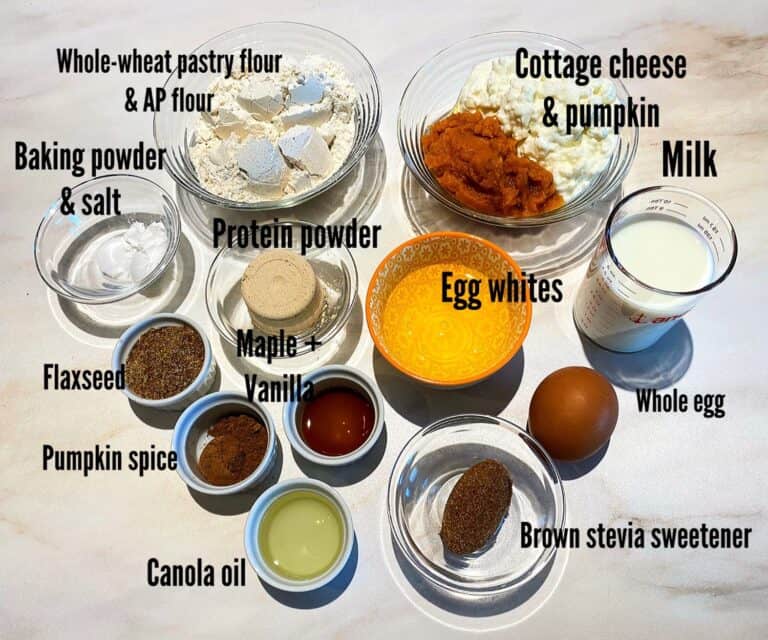 Flour: Use whole wheat pastry flour, all-purpose flour, or gluten-free
Protein powder: Plain or vanilla
Ground flax
Baking powder
Pumpkin spice
Salt
Cottage cheese
Milk
Pumpkin puree
Canola or another neutral oil
1 T brown or white Truvia, Swerve (stevia-based sugar substitutes), or regular sugar
Eggs + egg whites
Maple and vanilla extracts
Optional add-ins: Chopped pecans or walnuts, mini-chocolate chips, raisins or craisins
Flour: Whatever kind you choose, please fluff before measuring. Use a fork, and stir the flour in your bag or storage container, adding air and making it less compact.
Protein powder: Use pea, egg white, or whey, whichever type you prefer.
Baking powder: So the waffles fluff up.
Flax: Adds healthy, anti-inflammatory omega-3 fatty acids.
Salt: A small amount brings out the sweetness in the waffles.
Cottage cheese: Choose 2% for less fat. It boosts the protein, taste, and texture of the waffles.
Pumpkin puree: Be sure the can of pumpkin is puree and not pie filling.
Milk: Use plant or dairy milk (or water). I like ultrafiltered milk because adds extra nutrition. Read about it here.
Canola oil: Any oil with a neutral taste should be fine. Sunflower or grapeseed oils are other good choices. Canola oil has healthy, polyunsaturated fats.
Truvia or Swerve brown sweetener or brown sugar: Truvia and Swerve both have a brown sugar lookalike made from stevia and erythritol. (You can find out more about erythritol here.) If you prefer, just use regular brown sugar.
Eggs + egg whites: Rich in protein and other nutrition. Whip the whites and fold them into the batter for exceptionally fluffy pancakes.
Pumpkin spice: This makes your waffles taste the best! If you don't have any, sub one teaspoon of cinnamon, half a teaspoon of ginger, and one-fourth teaspoon each of nutmeg and cloves.
Maple and vanilla extracts: The maple flavor pairs well with the pumpkin, but if you can't find it, triple the amount of vanilla.
Optional add-ins: Chocolate chips and pumpkin are a tried-and-tasty combo. Chopped, toasted walnuts or pecans and dried mini-fruits like craisins, raisins, and blueberries are yummy and nutritious.
How to Make
Wash hands and heat a waffle maker.
Whisk together the flour, ground flax, baking powder, salt, and spices in a large batter bowl with a spout.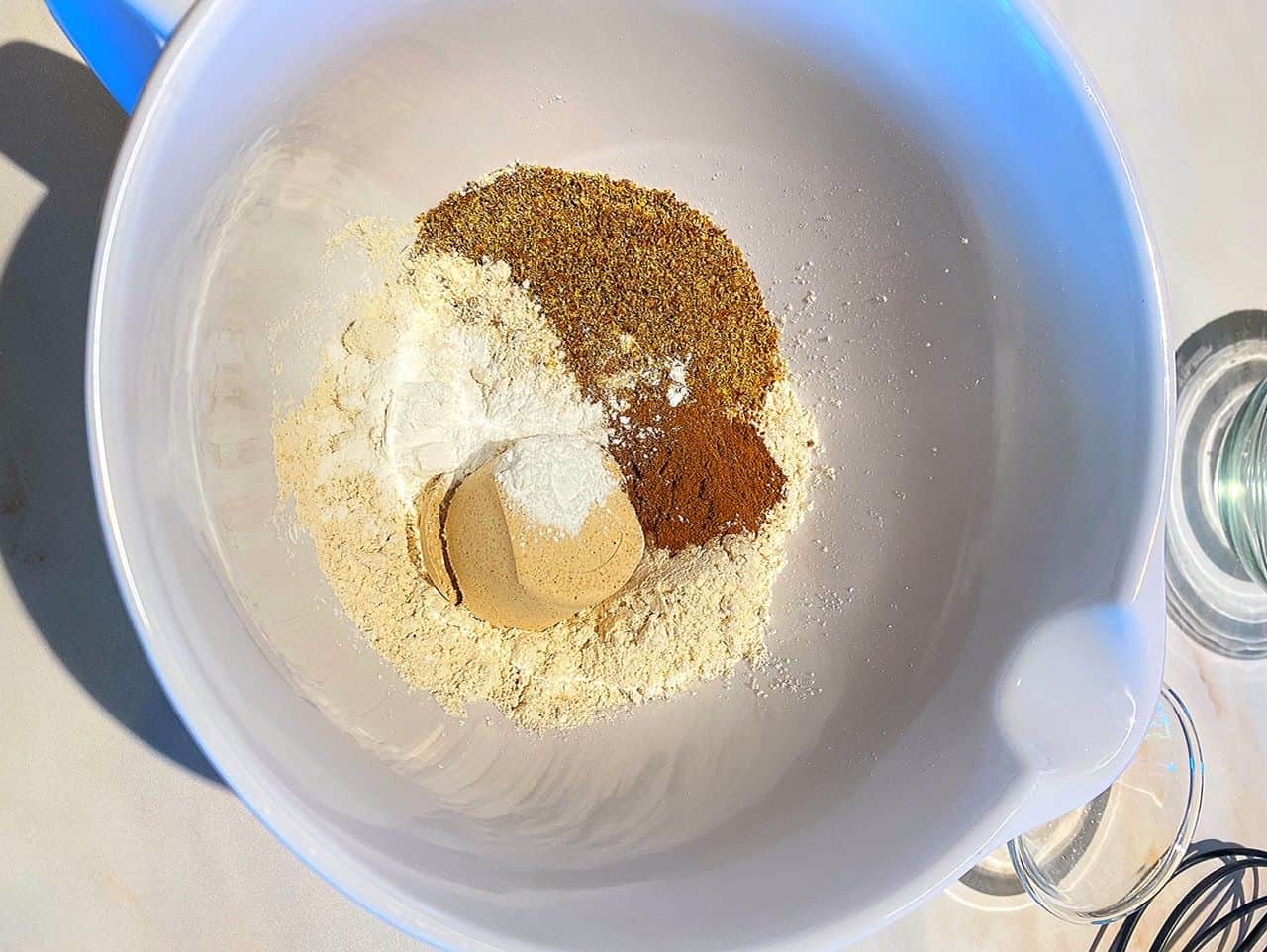 In a large measuring cup or medium bowl, combine the cottage cheese, pumpkin puree, canola oil, stevia blend sweetener or brown sugar, egg, and egg whites.* Beat until thoroughly blended. It will be a thick batter.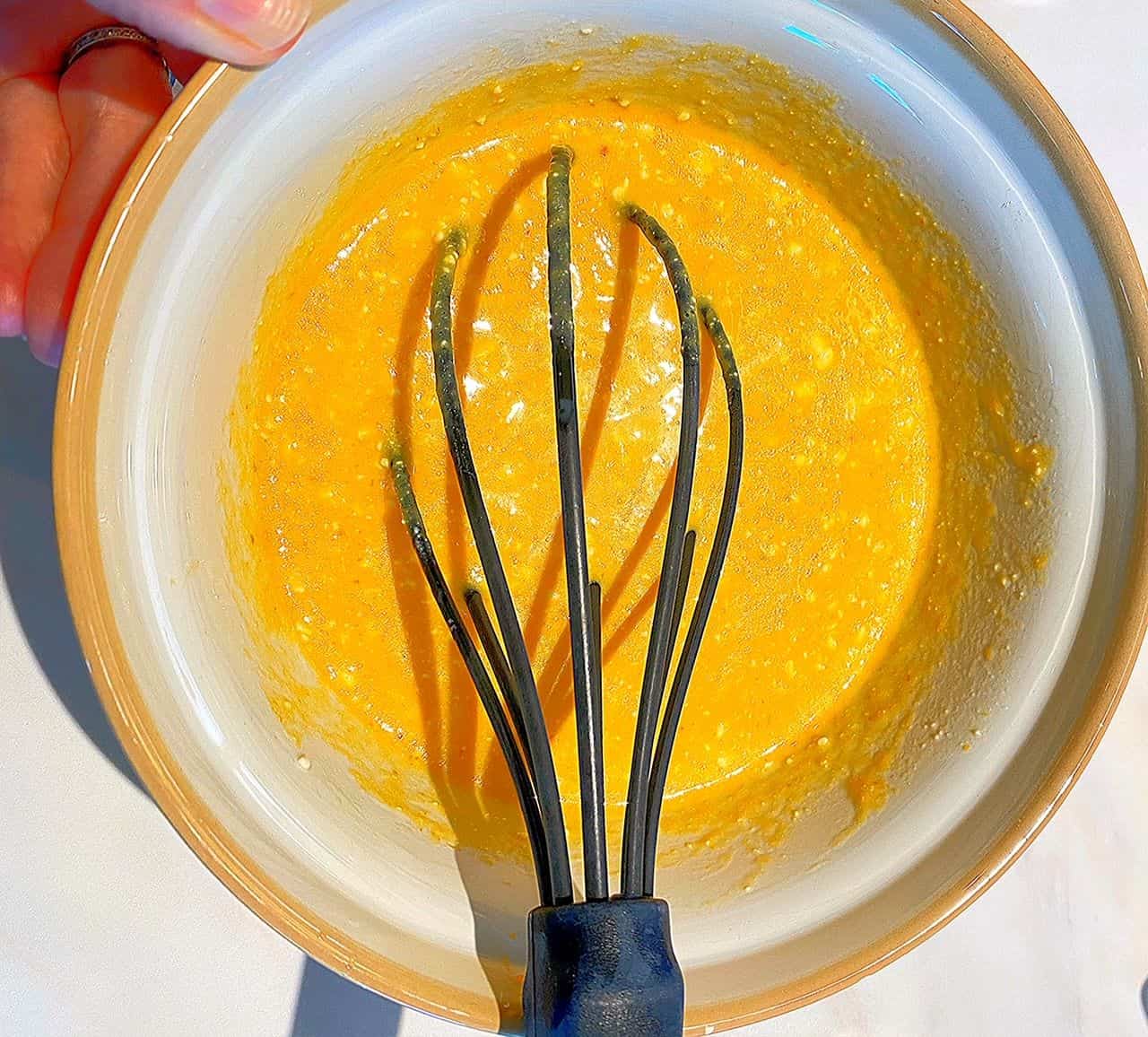 (Note: Wash hands again after handling eggs.)
Pour wet ingredients into the dry ingredients and gently combine until all ingredients are moist. There should not be any dry spots.
Now is the time to stir in any optional add-ins and/or fold in the egg whites if you whipped them.
Pour a fourth to half of the batter onto a hot waffle iron. How much batter is needed will depend on the size of your waffle maker. (Here is the simple Cuisinart waffle maker I used to make these waffles.)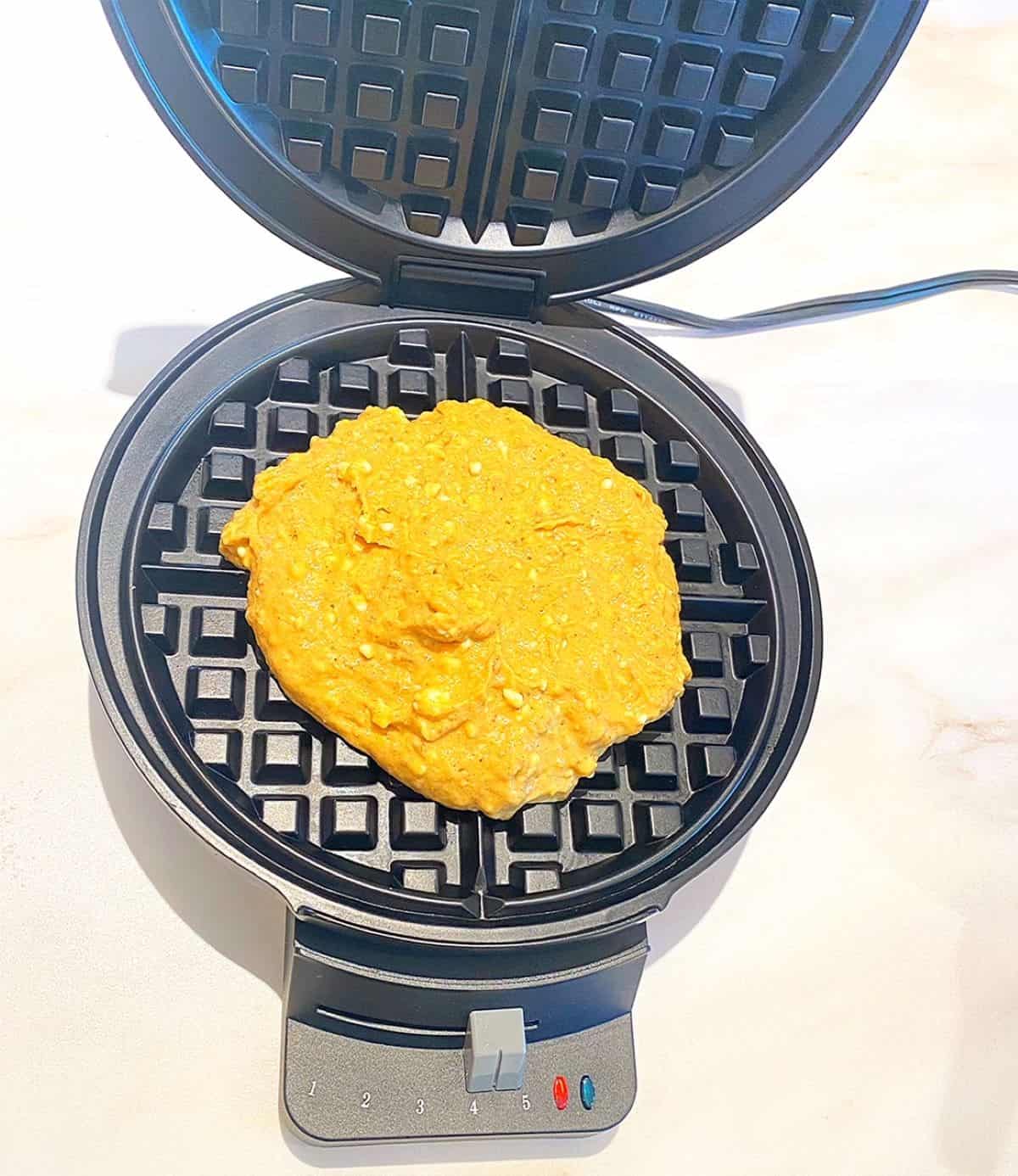 Remove the waffle when it is steaming and releases easily. (If it sticks to the iron, it usually means that it's not finished cooking.)
Keep warm in a low-temperature oven or serve immediately with your choice of toppings.
FAQs ❓❓❓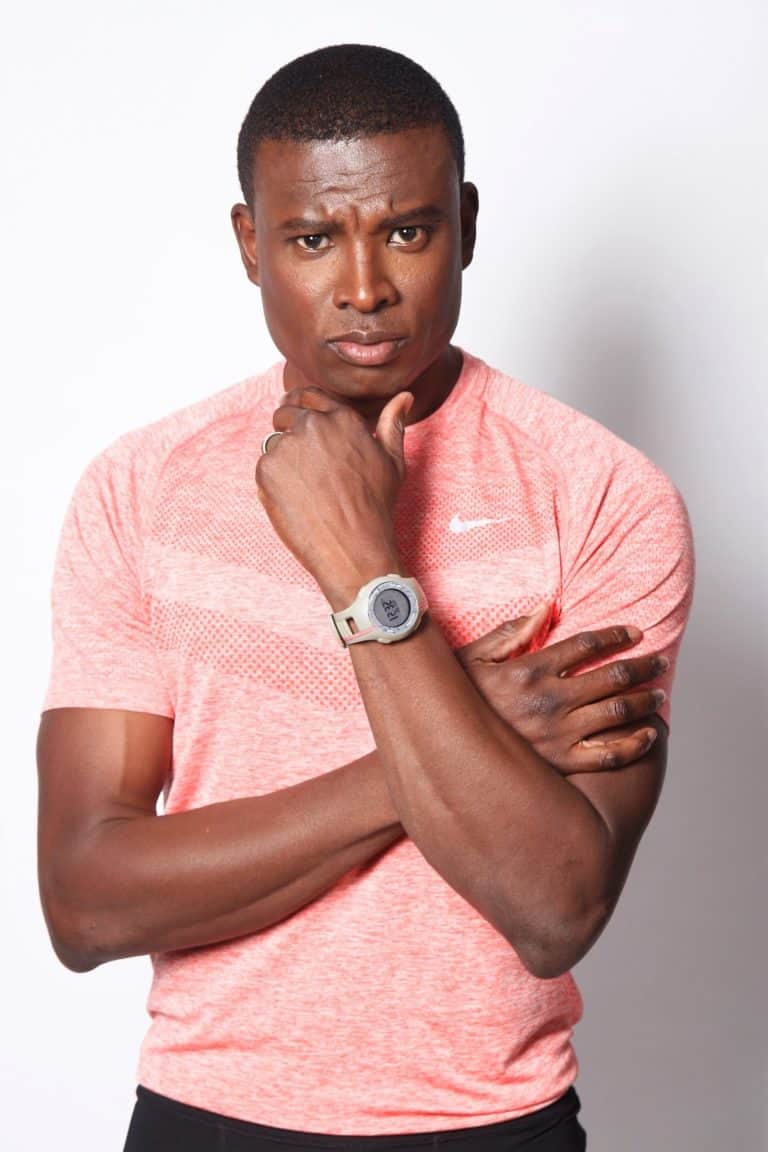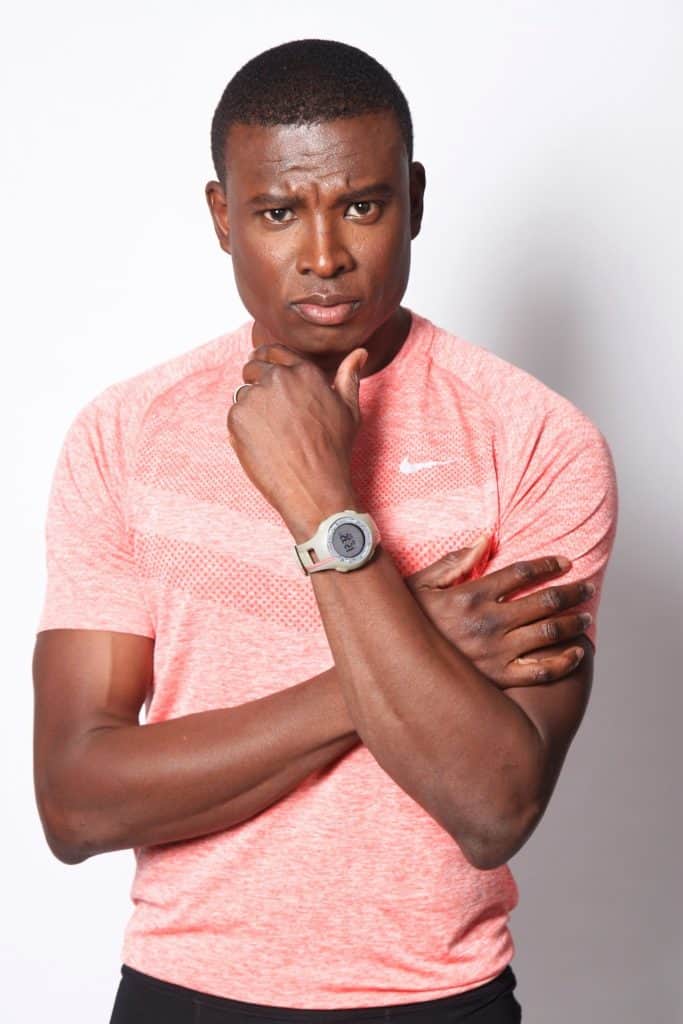 Can I make pancakes out of the batter?
Sure. Double the amount of milk in the recipe. Pro tip: For pancakes, you can cut the amount of oil in half if you want!
Can I use almond flour?
Yes, but only for part of the flour. You can replace a quarter cup of wheat or gluten-free flour with almond flour.
Do I have to use cottage cheese?
No! Plain Greek yogurt is a great, high-protein substitute. (Secret tip: Even water will result in a good-tasting waffle.)
Is flavored protein okay in the waffles?
It's fine but will add sugar and of course, flavor. Vanilla protein powder works the best!
How do I keep the waffles from sticking to the waffle maker?
Many waffle makers are non-stick, but sometimes, even these don't release the cooked waffle properly. Brush the surface with melted butter or oil before adding the batter if you're worried. It helps if the surface is fully heated before adding batter!
What happens if I leave out the protein powder?
The waffles will still taste great. (Some people even like them better!) Although you lose a few grams of protein, they will still extra protein from the cottage cheese, egg whites, and egg.
How to store and reheat
Place wax paper or parchment in between any uneaten waffles. Then, enclose up to three or four of these waffles in foil and place in a quart-size zip bag. Store in the freezer for up to three months.
To reheat, remove as many waffles as desired from the zip bag and pop them into the toaster (or, you can microwave a frozen waffle for a minute).
Toppings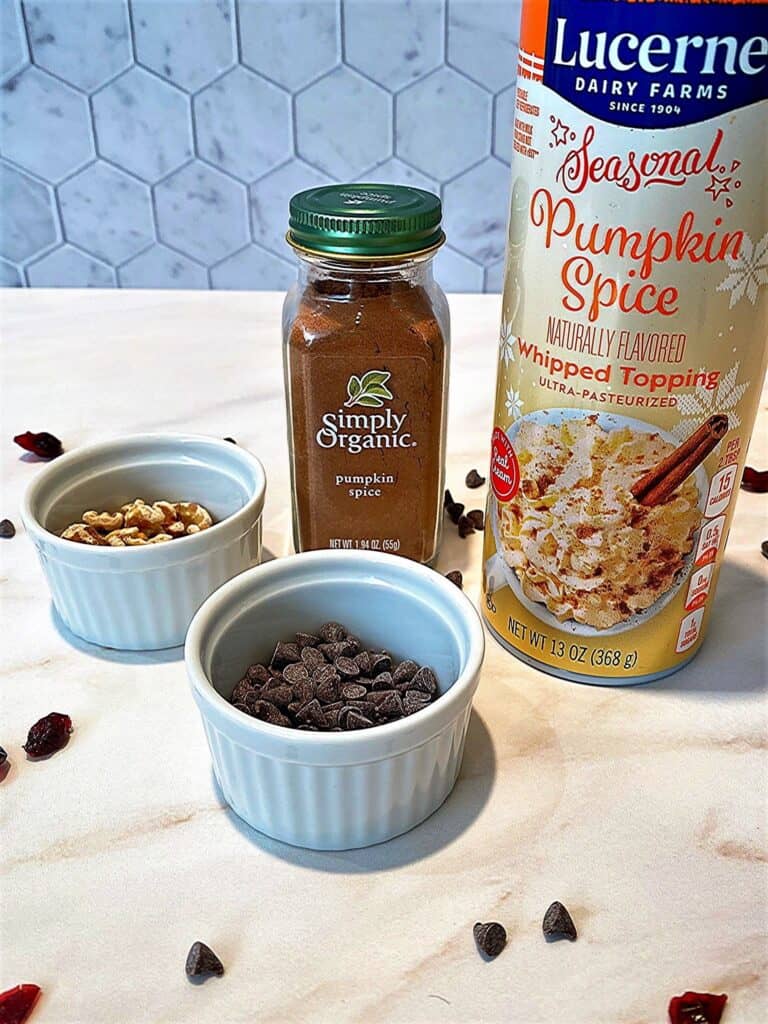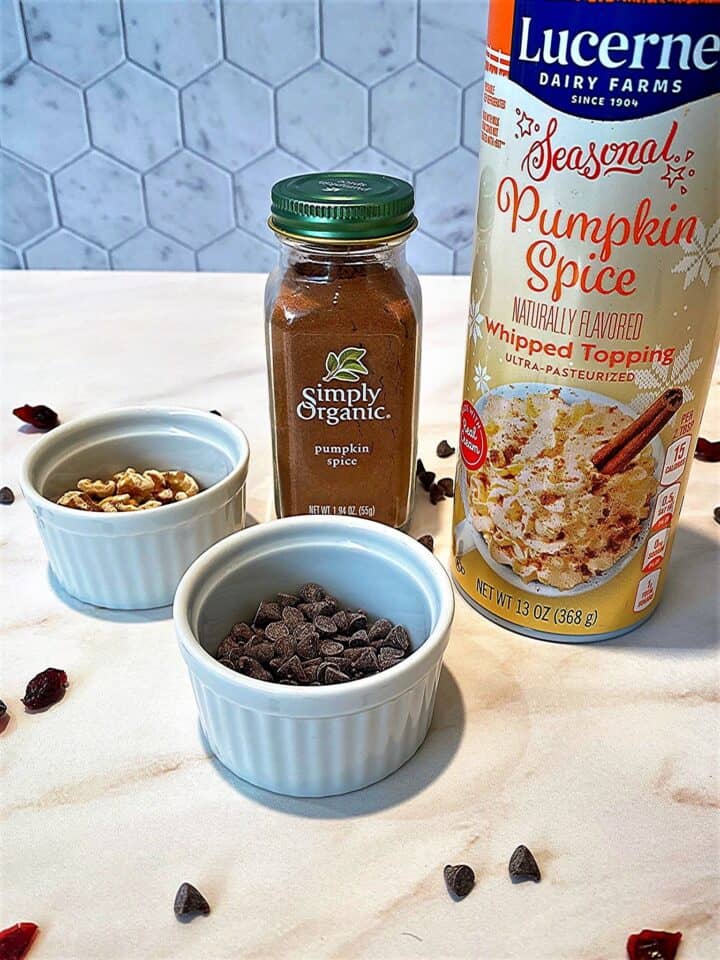 The following numbers are for two Tablespoons;
Real maple syrup: 110 calories and 26 grams of sugar
Sugar-free syrup: 5 calories and 3 grams of carbohydrate

Check the label for sugar alcohols if you have poor digestion

Plain low-fat yogurt: 20 calories and 2 grams of carbohydrate
Plain low-fat (2%) Greek yogurt: 23 calories and 2 grams of carbohydrate
Mini semi-sweet chocolate chips: 117 calories and 17 grams of carbohydrate
Canned whipped cream: 15 calories and less than a gram of sugar
Canned pumpkin spice whipped cream: 15 calories and 1 gram of sugar
A single Tablespoon of butter adds 100 calories, 11 grams of fat (7 of these are saturated), and no carbohydrates.
If you have any apple butter lying around, it's delicious on the waffles instead of syrup!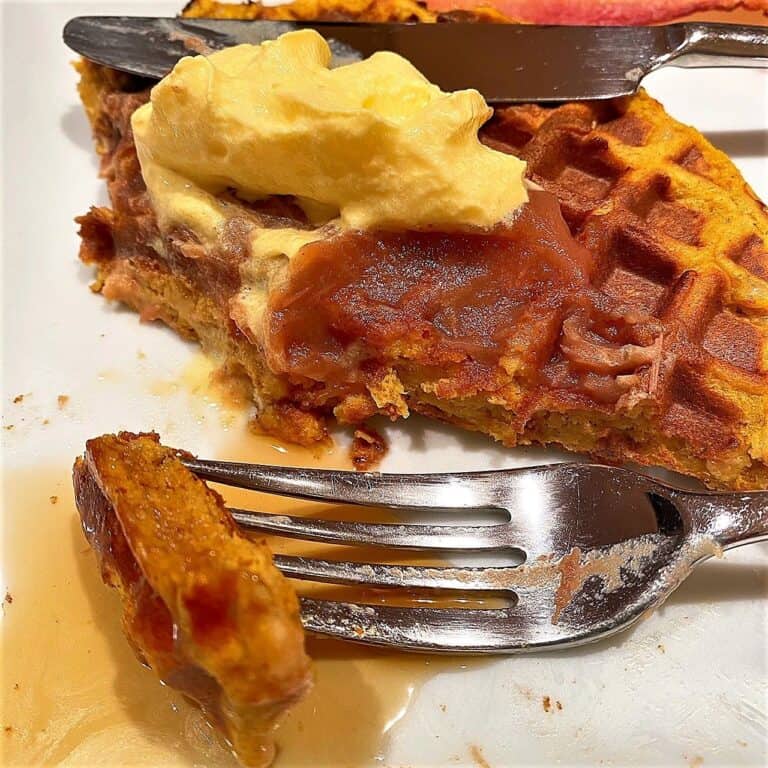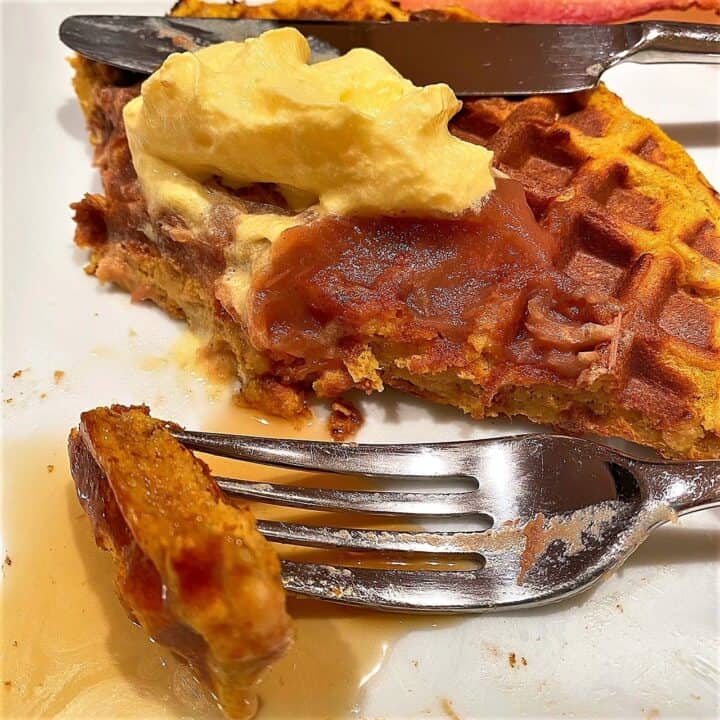 Aerosol whipped cream doesn't add many calories or sugars. It tastes good and you won't weigh down your waffle–not a bad choice!
Nutrition bonuses
Pumpkin protein waffles have plenty of excellent nutrition!
The star ingredient, pumpkin puree, doesn't have many calories, and it keeps your waffle from getting dry.
Pumpkin is a rich source of vitamin A and its antioxidant derivatives, alpha and beta carotene. It also supplies a good amount of iron, a mineral important for healthy red blood cells.
The antioxidants may help get rid of free radicals that can cause disease and premature aging. The iron helps to keep you from feeling fatigued.
Pumpkin also has a little bit of vitamin C, which helps your body absorb iron.
These waffles are not low in carbohydrates, but they are not high either!
Each waffle supplies the following balanced nutrition:
2 servings of carbohydrates, about 34 grams
Protein, about 16 grams
Low saturated fat: 2 grams per waffle
Low sugar: 5 grams per waffle
Excellent iron content: 3 grams per waffle
Healthy fats from the ground flaxseed and canola oil
Calcium from the milk and a little from cottage cheese
That does not include toppings!
Waffles (and pancakes) are like coffee. It's what we add to them that can make them a diet dirigible!

Jani H. Leuschel
Cooking tips
Because the batter is thick, pumpkin protein waffles need a couple of extra minutes on the heat to finish cooking inside before you take them out of the waffle maker.
Set the heat just below the hottest setting. After the waffle maker indicates they are done, wait a couple of minutes before removing them.
(They may burn on the outside before the inside is cooked if you use the hottest setting.)
Waffles should release easily from the grids, which are usually non-stick. If they don't, the waffle has not finished cooking.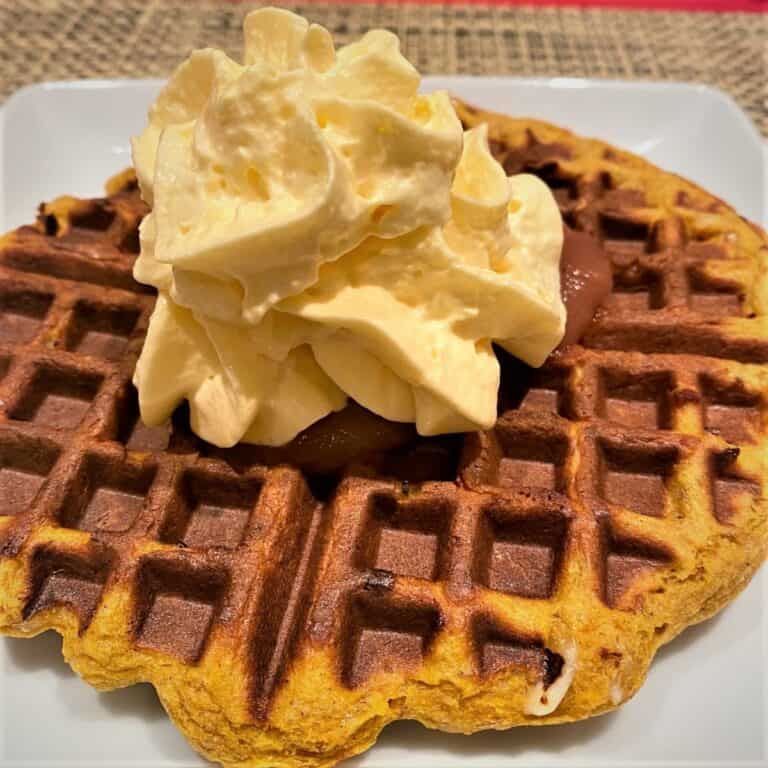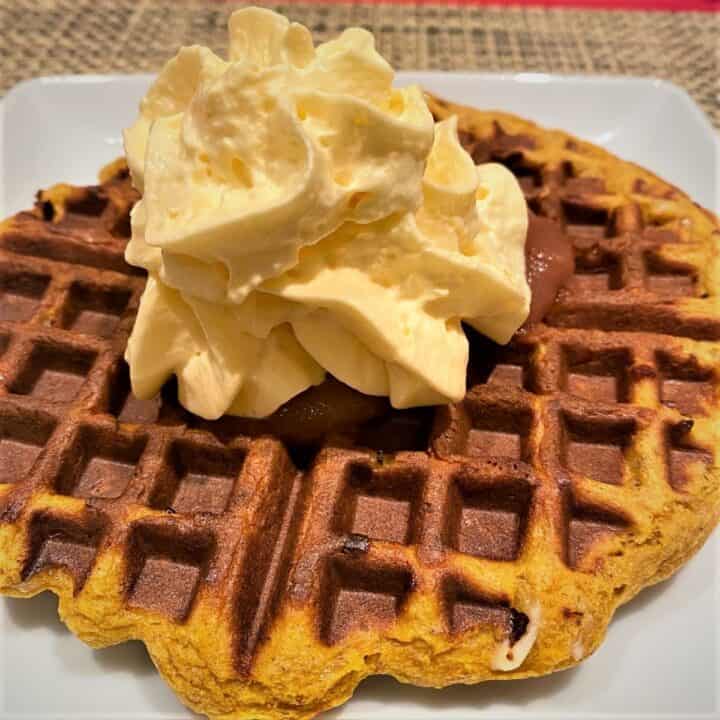 If you don't plan to eat the waffles immediately, it's okay if the middle is not completely set. When reheated, the waffles will be fully cooked. They also tend to cook more for a couple of minutes after they are off the heat.
What to serve with your waffles
In addition to any of the toppings above, you could add more protein as a side. How about a couple of slices of your favorite bacon or turkey or chicken breakfast sausages?
Any type of fruit is perfect with waffles. Sliced pears or apples are particularly nice, but orange slices, grapes, melon chunks, and berries are yummy, too!
More breakfast recipes
Try my Chocolate Protein Pancakes. They're hearty, like these waffles, and delicious as breakfast or brinner.
And if you love chocolate, these Triple Chocolate Muffins are decadent but healthy.
Continuing on that theme, this Banana Bread with Oat Flour is full of melty chocolate chunks.
Or, up your energy quotient with Maca Morning Cakes!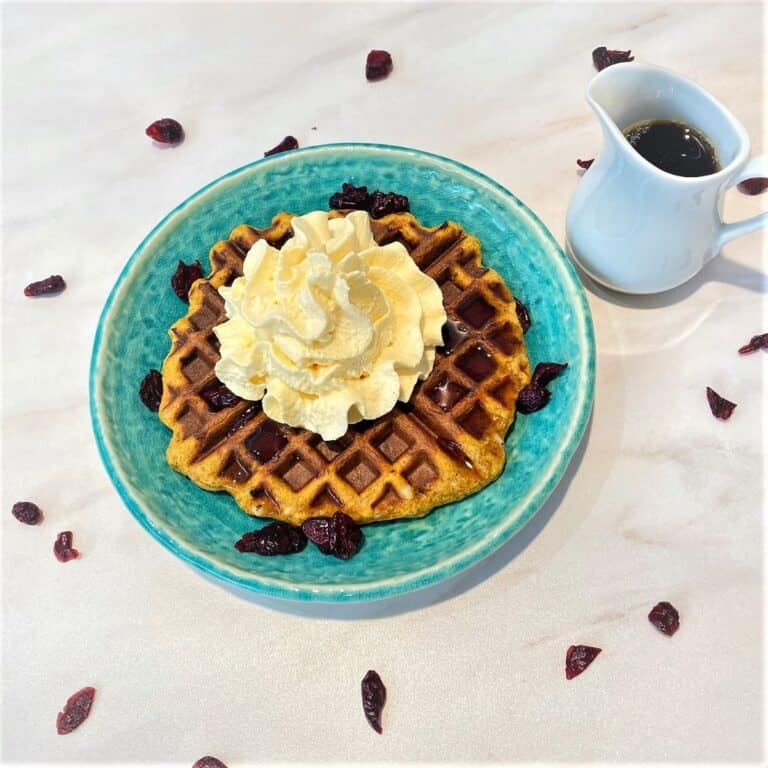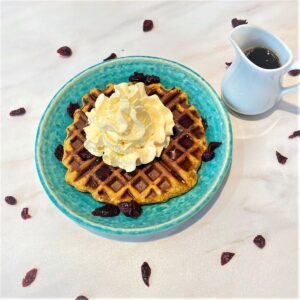 Pumpkin Protein Waffles
Hearty seasonal breakfast waffles that go the distance with extra protein to keep you from feeling hungry!
Instructions
Wash hands carefully for 20 seconds before starting to cook waffles.

Combine flour, baking powder, spices, and salt with a whisk in a large, spouted batter bowl.

In a medium bowl or quart-size measuring cup, combine cottage cheese, pumpkin puree, canola oil, brown stevia sweetener, egg whites*, whole egg, and extracts. Beat well.

Add the wet to the dry ingredients and mix lightly with a large whisk, wooden spoon, or spatula until there are no dry spots. Your batter will be thick and slightly lumpy,

Stir in any add-ins like mini chocolate chips, craisins, or nuts.

Pour a fourth of the batter onto your waffle maker, (If you have a mini waffle-maker, use your judgment, but don't pour to the edges.)

Put the lid down and cook waffle until it is crisp on the outside. This may take extra time because of the pumpkin puree.

If the lid on your waffle maker gives resistance and does not open easily, your waffle is not cooked!

Serve waffles hot with toppings, such as maple syrup, sugar-free pancake syrup, lightly sweetened yogurt, and fresh fall fruits like ripe pears, apples, or orange slices.
Notes
The batter for these waffles is very thick. So, they will take a couple of extra minutes in the waffle maker to finish cooking in the middle. Leave them past the time the waffle maker beeps or indicates they are done.
You can leave the protein powder out of these waffles and they will cook up and be delicious although they will lose a few grams of protein.
🥚 *For even more volume, you can whip the egg whites. Fold them into the batter after mixing the wet and dry ingredients.
Nutrition
Calories:
297
kcal
Carbohydrates:
34
g
Protein:
16
g
Fat:
12
g
Saturated Fat:
2
g
Polyunsaturated Fat:
4
g
Monounsaturated Fat:
6
g
Trans Fat:
0.03
g
Potassium:
1
mg
Fiber:
4
g
Sugar:
5
g
Iron:
3
mg